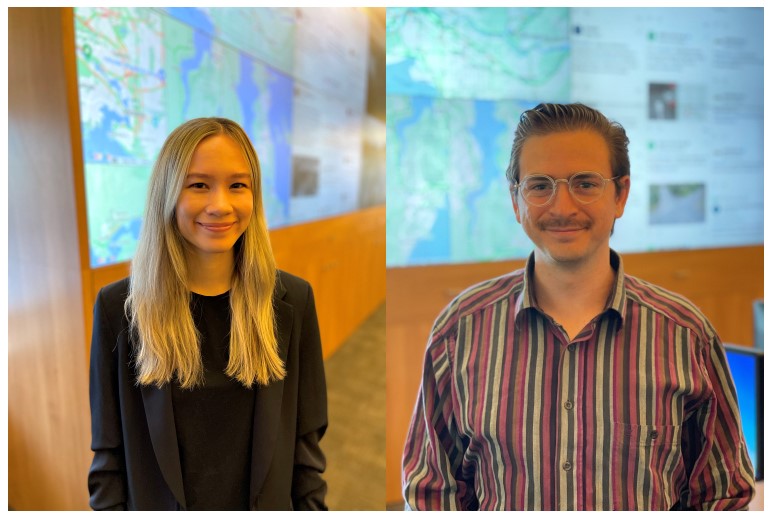 A small group of employees who work at the Transportation Management Centre of BC (TMC) in Coquitlam, has a big job getting BC highway information to travellers via DriveBC and other routes, 24/7.
The agents share current highway information with motorists via DriveBC and DriveBC's nine Twitter accounts (one province-wide and eight regionally focussed). Their work extends beyond our traveller information system, to communicating on dynamic message signs and changing speed limit signs on certain sections of highway. They are also a lifeline to ministry colleagues working in remote, potentially hazardous locations.
We asked two agents, Amita Symons and Aidan Mouellic, to tell us what it's like be part of this essential service at the ministry's hub for highway information.
What does your job involve?
Aidan: Our primary role is to inform motorists and highway users of events occurring on the highway network. We accomplish this using our popular Twitter feeds, the DriveBC website and email service that we update, as well as dynamic message signs. The Variable Speed Limit Signs are another system we operate.
Our tasks change depending on the demands of the season. For instance, in winter we update overhead message boards with road conditions at a much greater frequency than in summer. In summer, we might be sharing information about highways closed due to major construction projects, forest fires, floods or slides.
We also assist staff from a variety of departments and ministries with transportation queries and whatever else may arise. This spring, I was on the phone with someone in Prince Rupert who was coordinating the COVID-19 vaccine rollout and had questions about a highway closure. You never know who will call and we wear many hats!
Amita: Firstly, we act as quality assurance for information that comes through the ministry and contractors and needs to be inputted into DriveBC.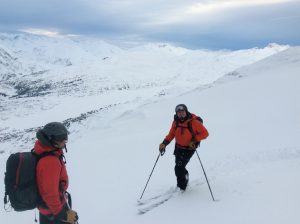 Secondly, we support incident management and receive emergency calls from first responders about hazards such as avalanche control, land and rockslides, weather conditions that affect the roads and vehicle and police incidents, which we dispatch out to the correct maintenance contractors throughout the province. The contractors provide on-the-ground support and continue to update us on the situation – information we share with the public.
Other aspects of the job include performing safety check-ins with avalanche technicians working in the field to monitor them as they do avalanche control for about 1,390 avalanche paths in BC, as well as managing the province's variable speed corridors, and monitoring the traffic webcams that are situated across the lower mainland and throughout the province.
Who do you work with?
Aidan: I work alongside ministry-employed agents as well as skilled contractors from Mainroad Group and Miller Capilano who operate the George Massey Tunnel, Cassiar Tunnel and the Lions Gate Bridge lane counterflow systems. Since we communicate events throughout the province, we are also in regular phone, email and radio contact with our ministry colleagues and various stakeholders from all corners of BC. We receive information about events, incidents and hazards from the RCMP, emergency responders, maintenance contractors, ministry staff, the media and the public – we essentially work with everyone!
Amita: Throughout the day while monitoring various incidents, I am in contact with area managers, emergency services, first responders, maintenance contractors for the 28 different areas across BC, and of course other TMC agents. As a newer agent, it has been an enlightening experience to see how many people are involved with making sure the highway system stays operational and functional. The maintenance contractors who operate the counterflow systems for the Lions Gate Bridge and the George Massey Tunnel also work out of the transportation management centre alongside TMC agents 24/7.
Why is this work important?
Aidan: Informing the travelling public of conditions and events that are affecting highways is crucial for motorists to make informed decisions. Having as much information as possible before you head to your destination increases the likelihood of it being a pleasant trip. TMC agents are trained to gather and broadcast critical information so that travellers have as much information as possible. Every task we do is based on keeping people safe – it feels good to be looking out for people and serving British Columbians.
Amita: Communicating incidents and hazards to road users allows them to know what to expect and be better prepared to travel, whether they are headed out for their daily commute or for a longer road trip. Facilitating the timely dispatch of contractors to incidents is important because it ensures that traffic is directed safely while the incident is being managed and that the road is cleared as soon as possible.
What skills and traits are needed for the work?
Amita: We work with various computer applications and the job requires a high level of attention to detail and multi-tasking. The ability to prioritize is key, as sometimes we can be handling five different things happening all at once. Empathy is also important for the role. When communicating with traveling public though social media or with those working in the field it really helps to be compassionate towards the fact that they may be in a difficult or stressful position.
Aidan: The ability to remain calm under pressure as well as the ability to prioritize tasks are perhaps the most important traits. You can go from being calm one moment, to getting a call about a major rockslide blocking a highway the next. This can be nerve wracking – you need to recall what the procedure is and what the response has to be. If a major event is ongoing and you are getting other calls on top of that, it can start to feel overwhelming and this is when you have to prioritize tasks.
It's important to know when to lean on your colleagues and ask for help, and when to offer assistance. We're a team and we help each other out – this can make all the difference. Another major asset to being successful in the job is being comfortable speaking on the phone and using a variety of computer programs, often simultaneously.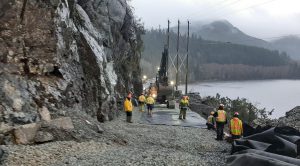 What are the challenging aspects of your role?
Aidan: Agents work with a lot of autonomy and independence; we are trusted to make the right calls and decisions on our own when necessary. This can feel like a lot of pressure, especially with the variety of events that affect the highways, but with time and experience, you develop the necessary skills and confidence.
I completed my training and logged into our systems as an agent, the first day a state of emergency was declared in 2017 due to widespread, devastating forest fires. As a new agent, I often felt overwhelmed, especially with the high volume of public queries we were receiving on Twitter, but being able to help and guide people to safety felt really good and demonstrated the importance of timely and accurate communication during a crisis. We received a lot of messages of gratitude from affected British Columbians and it really showed how helpful social media can be during natural disasters and other emergencies.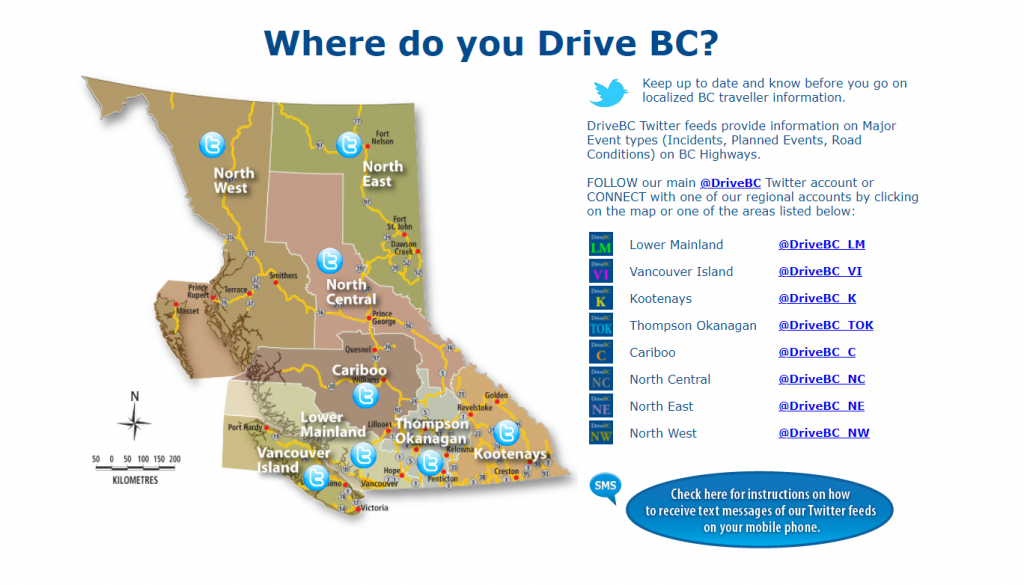 Amita: Conveying information to the public can be challenging when they don't know the big picture in a given situation. For example, we had an incident where crews were performing emergency work to repair an unsafe road surface during rush hour. Without knowing that the highway required immediate attention to ensure traveller safety, many people were frustrated that "road maintenance" was being done at a such a busy time. While we can't always provide extensive details for every incident, providing as much consistent and accurate information as we can hopefully contributes to reducing frustrations for road users.
What are the rewards of your work?
Amita: BC is reliant on its highways for the transportation of goods and services, and this is especially true for smaller communities away from the lower mainland. I have always thought of the highway network as being like the "arteries" of the province in that way. It is rewarding to play a part in keeping this system functional when it is integral for so many people.
Aidan: Knowing that you are part of an organization that is doing everything it can within its power to ensure our highways are as safe as possible is a pretty good feeling. We may spend our time behind screens at the TMC but we get to speak with people from all around the province and through these conversations pick things up about them and what life is like where they are. I've learned so much about the varied and remarkable geography of our province.
It's also really rewarding to work in a ministry that is filled with diverse and talented individuals; it's been a privilege getting to meet so many interesting people. While COVID-19 has put a damper on this, I look forward to the office being full with co-workers again, and the annual Christmas party.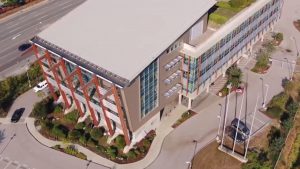 What kind of education/training do you have?
Aidan: I received a bachelor's degree in communication studies from Capilano University, in 2019. My formal education gave me a solid foundation in communication principles but for a TMC agent, the training and guidance from senior agents is irreplaceable.
Amita: I have a bachelor's degree in Geography with a minor in environment and a minor in world cinema from McGill university. I'm very grateful for all the training that I've received from senior TMC agents since I started working at the TMC – everyone is from different backgrounds and has different strong suits and ways of doing things and I think that this really strengthens the quality of service that we can provide as a team.
As the TMC provides the public with information 24/7, what kind of hours or shifts do you work?
Aidan: We have three shifts that we work – the morning, afternoon and night shift. The morning shift is from 6 a.m. to 2 p.m., the afternoon shift from 2 to 10 p.m., and the night shift is from 10 p.m. to 6 a.m. We typically will rotate through the shifts in blocks that are about six weeks in length so that they get fairly distributed. It can be challenging to maintain a healthy lifestyle while working shifts – staying on top of your sleep hygiene and other aspects of self care is crucial to adjust to the changes.
Amita: There are three 8 hour shifts that cover the 24 hours in a day. I am not a morning person, so I prefer the 2 pm to 10 pm afternoon shift or the 10 pm to 6 am night shift, but each shift has a different feeling to it. You really get a sense of the ebb and flow of people and traffic throughout the day. It's been very cool to experience that from a sort of "bird's eye" perspective as a TMC agent.
So, there you have it! The daily duties of TMC agents who channel information your way to keep your safe on your travels throughout BC.
For more about other careers in the Ministry of Transportation and Infrastructure, please check out these blogs:
>>> Boots on the Ground: A Day in the Life of a Road Area Manager
>>> What it Takes to Keep Bridges Upstanding and Safe
>>> Field Services: Outstanding Supervision Specialists
>>> What It's Like to Be a Transportation All-Star
>>> Behind the Scenes with Our Highway Operations Managers
Do you have questions about the work of a TMC agent, or about other positions with the ministry? Ask us below!
Share this page: