What is the Transportation Management Centre of BC (TMCBC)? Well, for starters, think of it as the nerve centre for road/weather conditions and traffic information across BC.
Based in Coquitlam, the TMCBC is the hub for collecting transportation information and communicating it to the public, 24 hours a day, seven days a week, via DriveBC and Twitter.
Your Eyes on the Road
The TMCBC is equipped with more than 200 live-streaming video feeds, and 750 cameras strategically located on highways across the province (you can see these webcams firsthand on DriveBC).
By monitoring the roads and weather so closely, TMCBC employees are able to give travellers and commercial drivers the information they need to plan a safe, efficient trip. Using information provided by ministry staff and maintenance contractors throughout the province, and numerous other sources, staff respond quickly to incidents by alerting travellers and coordinating with emergency response agencies and our maintenance contractors to manage traffic using detour routes, counter-flow lanes and overhead Dynamic Message Signs.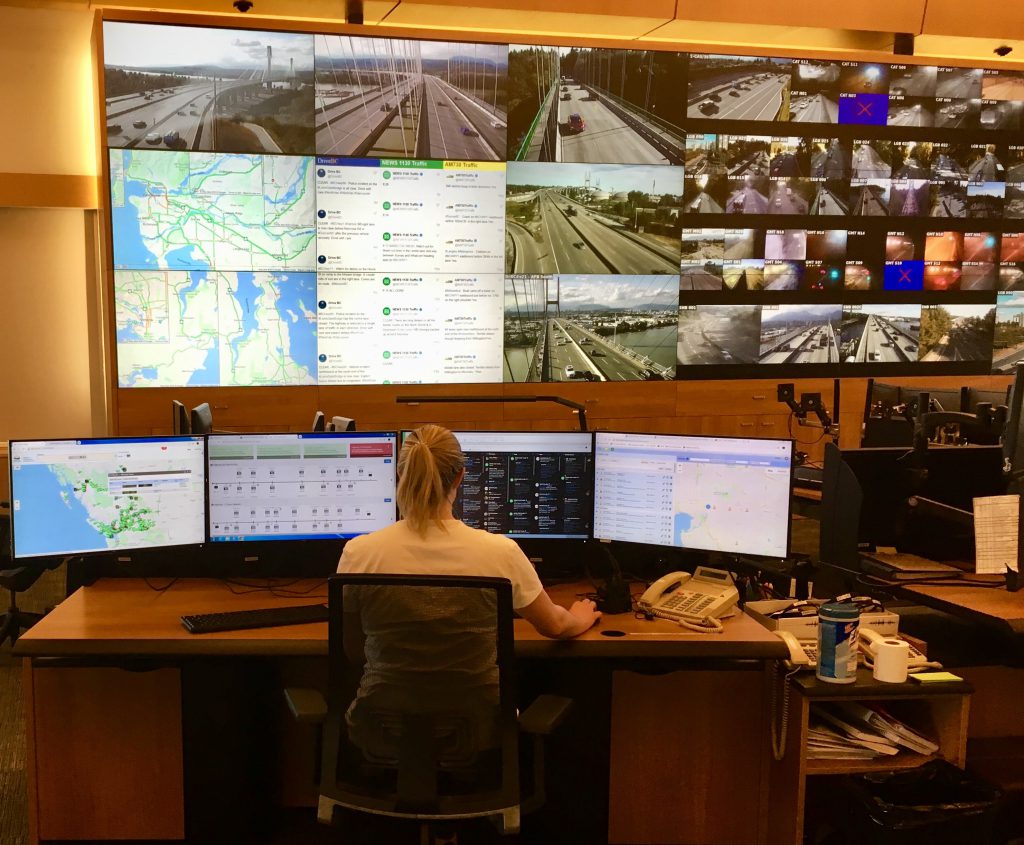 Some situations, like incidents (collisions, usually) are unexpected. Other events — like road maintenance, construction, parades, or community and athletic happenings — are planned. And of course, there are road conditions which could affect your travel — ice, traffic congestion, wildlife migrations, rain accumulation, blowing snow, etc.
An example of a planned event is the Highway 91/17 and Deltaport Way Upgrade Project which is expected to be complete in 2023. It's a combination of improvements to Highway 91, Highway 17, Highway 91 Connector and Deltaport Way which will improve travel safety and efficiency. TMCBC staff post information about the work and monitor traffic and report congestion, delays, incidents and other events via DriveBC, Twitter and our dynamic message signs.
Sharing information with municipalities and other agencies is a big reason for the TMCBC's success. Twenty-seven partnerships, including data and fibre-sharing agreements, allow us all to share video images, traffic data and fibre optic cable for the benefit of travellers.
Cutting Edge Technologies
Working alongside our maintenance contractors, the centre manages and operates lighted lane control systems for the Lions Gate Bridge, George Massey Tunnel and Cassiar Tunnel. The direction of traffic can be changed, in one or more lanes to create more efficient traffic flow, based on traffic, visibility and weather conditions.
Besides equipping staff to monitor, communicate and manage traffic flow, the TMCBC's technology can change speed limits based on weather and other road conditions on three highways. The Variable Speed Limit Sign system sends weather and traffic data to the TMCBC, which operators use to calculate appropriate speed limit adjustments on 47 new overhead variable speed limit signs. That means posted speed limits can better reflect road conditions, as well as congestion ahead caused by traffic volume or incidents.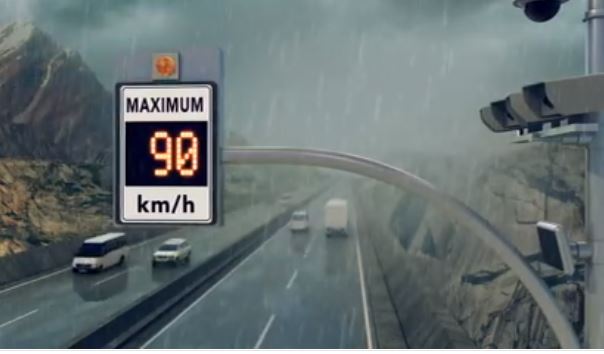 Emergency Response Headquarters
The TMCBC is a post-disaster building; in other words, it's a building that's essential for maintaining services when disaster strikes. If and when a major earthquake hits, the TMCBC will help lead the response as an emergency operations centre, giving emergency service providers timely information about bridges and highways.
How?
Bridges are equipped with seismic monitors tied into, what's called, the Strong Motion Network. This data, combined with reports from the field, would inform emergency response, Emergency Management BC, supply carriers etc. on the status and safety of our infrastructure.
In fact, during Exercise Coastal Response, which ran June 7-10, 2016, in Port Alberni, the TMCBC  practised its earthquake notification procedure. The centre's tasks included coordinating key ministry operations staff, as well as supporting ministry operations in keeping track of mock incident and damage scenarios rolling out as part of the exercise.
The centre also provides support for all kinds of emergency events, for example, during wildfires and flooding. This involves both immediate response following a disaster and the recovery phase when repairs are being made, and everyday life is starting to resume for people.
The TMCBC is on the cutting edge for providing timely, relevant information for all types of travellers in BC — from daily commuters, to long haul truckers, emergency responders, vacationers, goods and services delivery people and more.
Got a question about the TMCBC? Feel free to let us know.
Share this page: