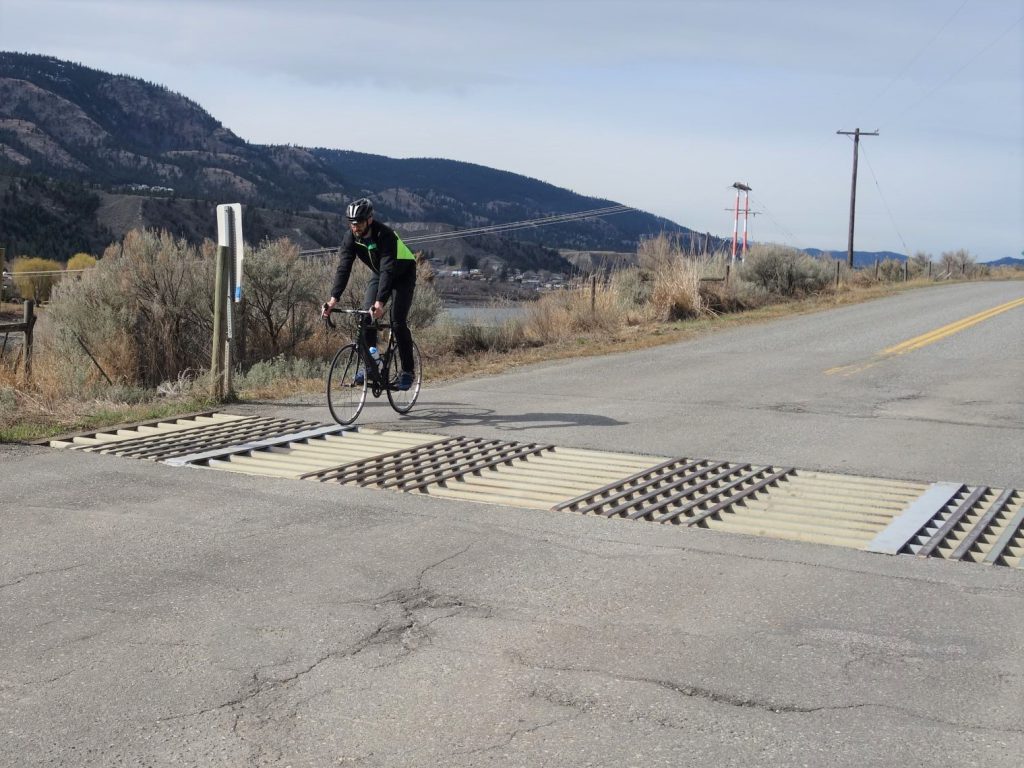 Rethinking a common type of infrastructure in the Kamloops area is helping strike a balance between keeping cattle contained and providing cyclists with safe passage.
The challenge: cattle guards (similar to the larger ungulate guards), which are flat grids of parallel metal bars that help keep livestock and wildlife off BC highways. While the cattle guard is an important safety tool, especially in rural areas of the Thompson Nicola District (TND), they can also be inconvenient and unsafe for cyclists.
We're Listening…
The Interior Grasslands Cycling Club reached out to us in 2019, requesting we examine the use of running strips on cattle guards to improve the rideability of local paved sideroads in the Kamloops area. The idea was that wider running strips would provide a flatter riding surface for cyclists, which makes crossing cattle guards safer.
After listening to local stakeholders and cycling club members, we launched the TND Cyclist Cattle Guard Pilot Project on Westsyde Road, north of Kamloops, retrofitting three cattle guards along the route with 100-millimetre-wide running strips next to the inner most strip of the outside wheel paths (the photo above gives you a good idea).
The Result?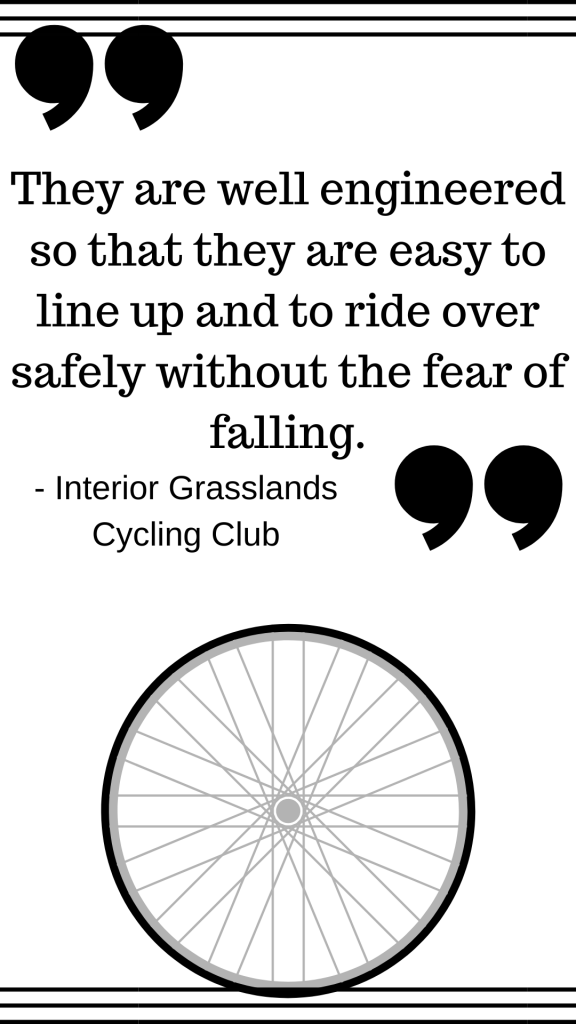 Thumbs up!
So, we decided to expand the initiative and retrofit cattle guards on East Shuswap Road in Kamloops, extending the running strip width to 150 mm. East Shuswap Road is a two-laned paved side road that starts within the Tk'emlúps te Secwépemc Reserve lands and runs east/west along the north shore of the South Thompson River. Considered a connector route for walking and cycling, this road provides an ideal location to explore the benefits to cyclist safety of retrofitting cattle guards on a larger scale.
"These cycling strips along Westsyde Road and East Shuswap Road have made a tremendous improvement to long distance cycling by creating a safer and more enjoyable outing for everyone of all abilities riding all types of bicycles," said Interior Grasslands Cycling Club director Mike Stewart-Smith.
"They are well engineered so that they are easy to line up and to ride over safely without the fear of falling."
What's Been Done, What's to Come
To date, three cattle guards along East Shuswap Road have been retrofitted with 150-millimetre wide running strips, and another seven are slated for modification by the end of June 2021. Once work is complete, the network of upgraded cattle guards on East Shuswap Road will connect with other local sideroads crossing the South Thompson River and Highway 1, resulting in a nearly 40-kilometre-long circle route that is great for getting people walking and riding.
This pilot project has the support of the Tk'emlúps te Secwépemc First Nation and the local cycling community and will help increase recreation levels in the area by making active transportation a more attractive option for many. It could also pave the way for future cattle guard retrofits in other parts of the province.
Improving active transportation in BC relies on solid partnerships, and the TND Cyclist Cattleguard Pilot Project is an excellent example of ministry staff working with the community to create a unique solution that ultimately helps more people feel safe and confident while riding their bikes.
Interested in learning more about active transportation in BC? Check out these blogs:
>> How to Keep Active Transportation Going in Winter
>> Why You Should Bike to Work (And School)
Share this page: