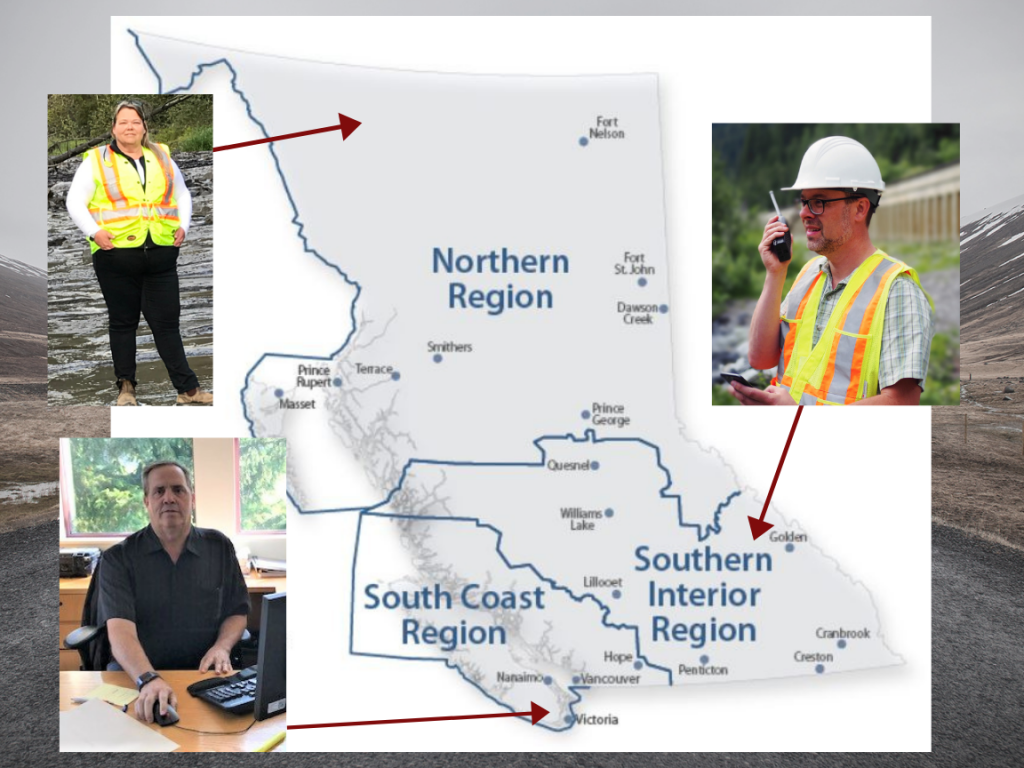 Welcome to the work of our operations managers… It takes a cool head in emergencies, problem-solving and planning skills, an ability to communicate with a vast variety of people – and in one case – an eight-hour drive to the job.
Provincial highways branch out like arteries across BC's 944,735 square kilometres, and to handle local incidents and concerns, we have specialized staff working across the province in 11 districts. Front and centre are the highway operations managers who apply multiple skills – and a degree of stamina – to their work.
Most districts have two or three operations managers, who oversee the roads in the service area they're responsible for (see our map of the 28 maintenance service areas). We asked three operations managers (one each from the South Coast, North and Southern Interior Regions) to tell us how they handle incidents on the highway, manage projects, contribute to planning decisions and work with others in their service area.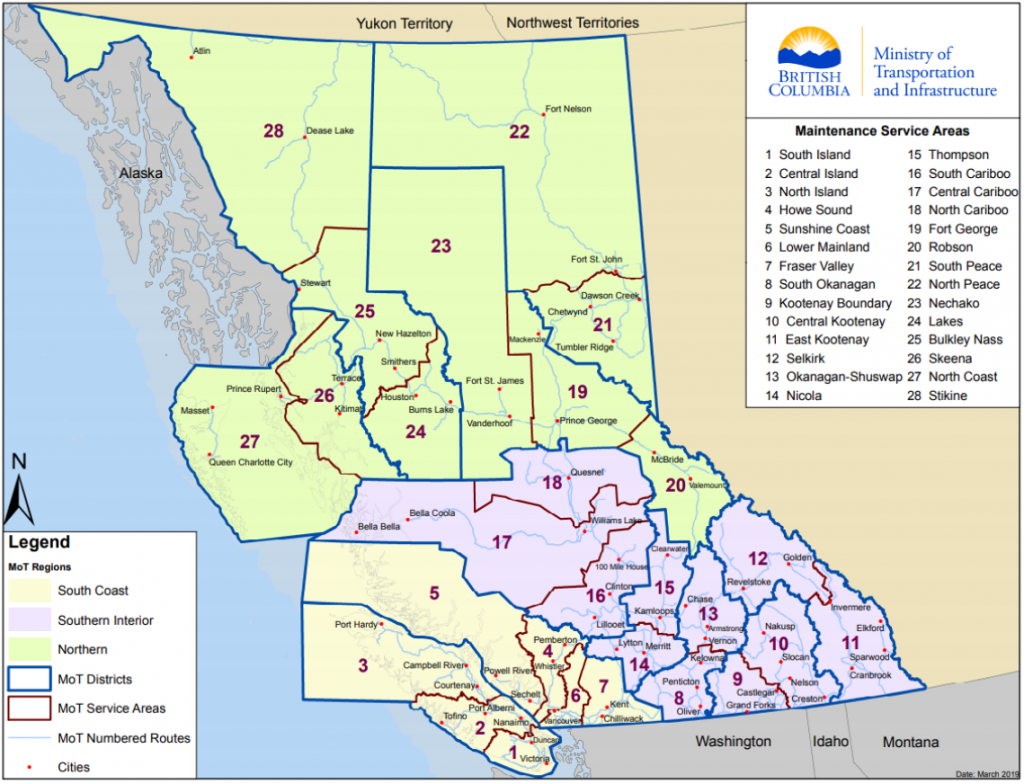 Sandi Griffiths, Operations Manager, Service Area 28 (Stikine)
What are you responsible for?
I handle day-to-day operations of road and bridge maintenance for Service Area 28, which covers Highway 37 north of Meziadin Junction, Telegraph Creek Road, local roads in the small community of Lower Post and Highway 7 that goes to Atlin. My work includes supervising and supporting road/bridge area managers and district Commercial Vehicle Safety and Enforcement (CVSE) inspectors and working with the local maintenance contractor to ensure highways are maintained in accordance with the maintenance agreement.

What does your day look like?
No one day is the same. There could be…
Responding to stakeholder concerns or questions
Project planning discussions with a road area manager and maintenance contractor
Setting/reviewing project budgets
Visiting project sites
Handling highway logistics for wildfire response and police incidents
Coordinating the response to major events, such as rockslides, mudslides and washouts
Meeting with local Indigenous groups to discuss concerns or opportunities
Participating in provincial working groups on things such as the contractor assessment program or the CVSE strategic plan
Audits/monitoring as per the maintenance agreement
A more unusual duty in 2019, was providing traffic support and information from Dease Lake to Telegraph Creek for Canadian astronaut Chris Hadfield, Prince Albert of Monaco and the Venturi team. The group was testing the world's first electric polar-exploration vehicle.
What are the skills most important in your role?
Effective communication and the ability to multi-task and think on my feet – I never know what is coming next. The ability to build and maintain positive relationships with a wide range of individuals and agencies.
What are the challenges and rewards of working in the far northwest part of BC?
 The distances I cover are a challenge, particularly with limited telecommunications connectivity in some areas. I can't just pull over to make a call, check an email or quickly upload a photo from an event. It's eight hours of travel (five hours of which are in the Yukon) from my office in Dease Lake, to meet with a stakeholder or the maintenance contractor at the far end of the service area, in the beautiful community of Atlin.
The reward here is successfully managing projects and events and good stakeholder relations.
I live and work in a beautiful area of the province, that few people have the opportunity to visit. The pace of life may be slower than other areas of the province, but there is no shortage of variety or volume of work, or opportunity to experience something new.
Michael Thomas, Operations Manager, Service Area 12 (Selkirk)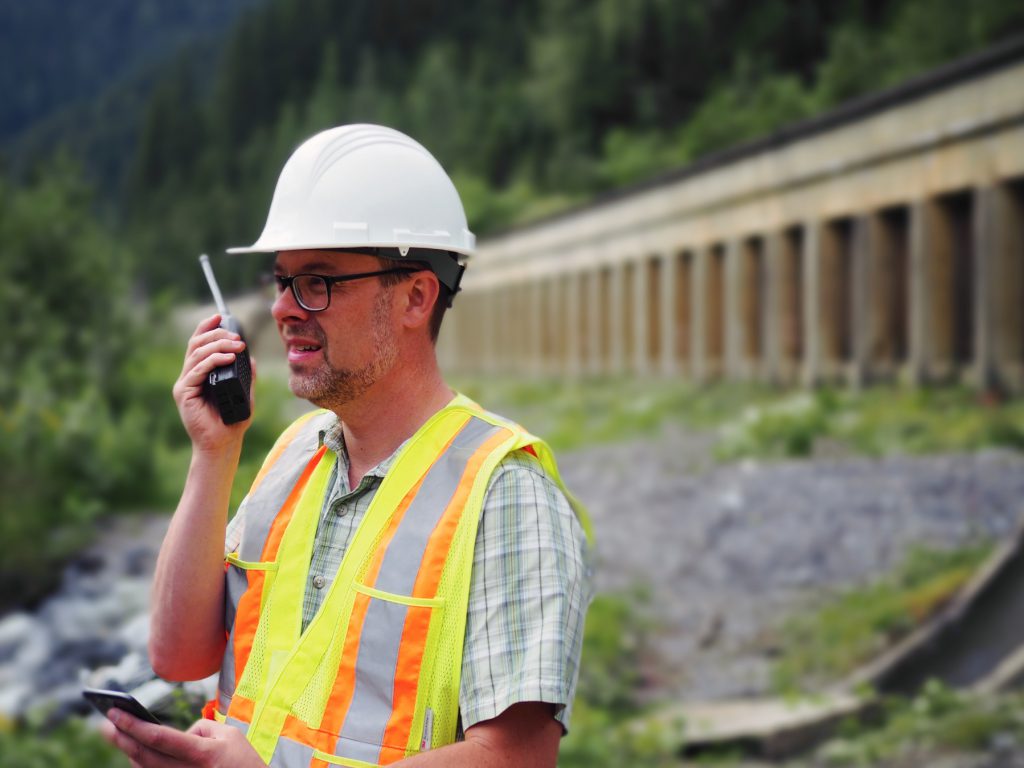 What are you responsible for?
I'm responsible for overseeing highway operations for the roads around Revelstoke and Golden – Highway 1, the Kicking Horse Canyon, Highway 23, and Highway 95 down to Radium Hot Springs, as well as many side roads around rural homes and communities. I work closely with the road maintenance contractor to ensure service levels are met year-round in accordance with our contract, and guide priorities for the road area manager and bridge area manager within Service Area 12.
While the area managers focus on monitoring maintenance activities and projects, and respond immediately to incidents on the highway, my role is to support their workflow, as well as ensure they are safe, trained, and have access to the equipment and resources they need to do their jobs. In emergency incidents and events, I may be out on site with the area manager, but often I will be in the background making phone calls, checking in with stakeholders, looking at the broader impacts, as well as answering questions from the district manager or our ministry executive.
What does your day look like?
Every day is different! At least once a week I have a one-on-one meeting with each of my area managers as a check-in on how they're doing, progress on projects and challenges they are facing. During COVID-19, this has been a key part of supporting my staff.
Some of the things I've done this week include:
Provided support to a road area manager during motor vehicle incident responses, working with the maintenance contractor on DriveBC messaging, responding to social media questions and informing stakeholders
Reviewed the job description for a temporary posting
Examined freshet event (spring flood prevention and management) project costs
Inspected maintenance activities on Highway 1
Served as first responder to a motor vehicle incident
Inspected a landslide site, using a drone to check for changes
Worked through a training plan with a new employee
Inspected several highway construction sites
Prepared a detailed audit of contractor performance
What are the skills most important in your role?
This role requires handling operational issues, the ability to make decisions and being a champion for your staff. It's important to be able to identify risks and ensure they receive the right level of attention. Finally, relationship building with the team and stakeholders helps maintain open communications and trust.
What are the challenges and rewards of working in the Selkirk area of BC?
The roads around Revelstoke and Golden can be challenging in both summer and winter. The Trans-Canada Highway is one of BC's major transportation corridors for goods and interprovincial travellers, and this section passes through mountainous terrain. Our service area also borders four national parks and sees significant numbers of visitors taking in the spectacular scenery along our highways.
An incident closing Highway 1 can trigger a cascade of issues and considerations. How do we keep people safe while they wait for the highway to reopen, are there hotel rooms available, what are the impacts on our local government stakeholders, what messaging will help people make the best decisions for their travels, at what point will it be safe to reopen and when will we know, and do we need any extra resources to assist with the incident?
Some happenings mean long hours of work into the night, but it is rewarding knowing that I am working with and supporting a professional team that keeps people moving safely and efficiently in this amazing part of BC.
Don Legault, Operations Manager, Service Area 1 (Southern Vancouver Island)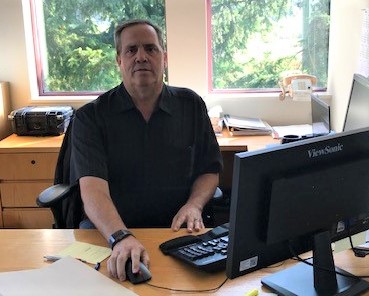 What are you responsible for?
I communicate with stakeholders (including local politicians) in multiple municipalities and regional districts, and I manage traffic, congestion and lane closures.
Other tasks include:
Responding to major emergency events, like a motor vehicle incident that closes both directions on the Malahat Highway, or flooding of the Chemainus River
Representing the district on major projects and attending project open houses and town halls
Planning and prioritizing rehabilitation projects, including multi-year plans, reviewing and deciding on priorities for paving of highways and side roads
Managing smaller-scale projects such as extending and armouring a culvert, or investigating a road slippage on Pender Island
Strategic planning and setting direction for the service area
Balancing and prioritizing workload among area managers, and recruiting and hiring staff
Conducting performance auditing of the maintenance contractor
What does your day look like?
This varies, daily. It might be responding to requests for information or delving into concerns with a road or highway. Sometimes I'm in the field assessing a location or issue, or working from the office, or on conference calls about a wide range of topics.
What skills are most important in your role?
Communication and leadership, organization and crisis management. Establishing and maintaining good stakeholder relations is also essential.
What are the challenges and rewards of working on southern Vancouver Island?
This part of BC is a complex area with multiple municipalities and priorities.
Having influence over short, medium and long-term planning is rewarding because it can benefit local communities. I like tangible results. For example, watching a small project start with idea, being part of its progress, and having the satisfaction of seeing it completed.
********
As you might have picked up, the work of our operations managers is as diverse as BC's terrain. Depending on where they're stationed, operations managers deal with the immediate demands of emergencies like multi-vehicle crashes, landslides that block roads, blizzards or approaching wildfires, while at the same time carrying out complex plans and projects and responding to concerns from the public and a big assortment of stakeholders.
If you'd like to know more about Ministry of Transportation and Infrastructure employees and the skills they use, check out these blogs:
Share this page: