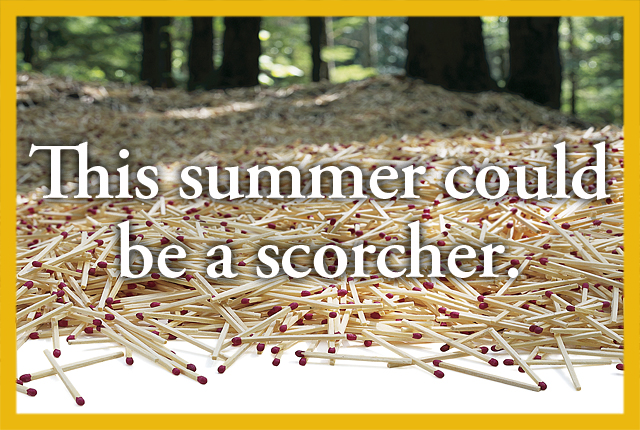 Roadside wildfires can be extremely destructive so we need your help with something.
The Ministry of Transportation and Infrastructure works around the clock with safety in mind, but could you butt out? You heard us right, we need you to put that cigarette butt out properly when you are finished smoking.
What You Can Do
Warmer temperatures may mean fun in the sun for you, but they also mean higher fire hazard ratings across the province and cigarette carelessness is the key culprit in many of the wildfires that occur on roadways during the summer. Cigarettes are not the only culprit to blame.
Here are some other ways that wildfires are started along roadsides:
Bottles and broken glass can act as a magnifying glass, catching the sun and sparking fires through reflection? Keep your drink containers in your car until you get to your destination and recycle them.
Barbeques and summer go hand in hand. When you are out at your favourite lake or on the beach, make sure that you take extra care with your cooking fire. By soaking briquettes and putting them in a metal container before you throw them away, you can greatly reduce the risk of fires sparking in trash cans.
We're doing our part too. A large part of our annual maintenance routine includes brushing along the roadside. Brushing, or cutting back the growth in ditches and along the right of way, not only increases a driver's visibility; it also helps to control the spread of wildfires.
Resources to Help You
Our ever popular traveller information website, DriveBC is kept up-to-date with information on wildfires which are in close proximity to provincial highways. Sometimes smoke can reduce visibility and in extreme fire situations where a fire might be burning too close to the highway, a road may have to be reduced to single lane traffic or even closed to help firefighters keep a blaze at bay.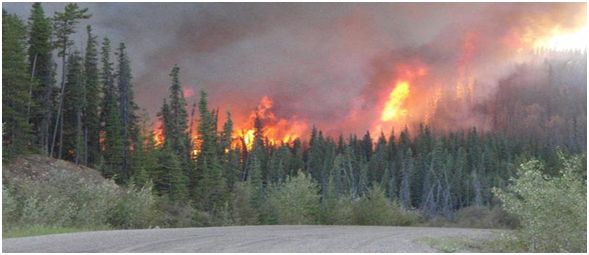 The BC Wildfire Service monitors conditions across the province and provides current wildfire updates as well as education about other ways that you can help to reduce the risk of wildfires in BC. A recognized leader in wildfire management, their hard work and team effort make sure that most wildfires are contained within the first 24 hours of their discovery.
EmergencyInfoBC is also a great resource for information in an emergency such as a wildfire. Their website will let you know about current wildfire activity, information about burning bans and restrictions as well as how you can be prepared to evacuate your home should a wildfire threaten your neighbourhood.
Have a burning question? The BC Wildfire Service Facebook Information Page is a place to discuss and post any questions comments or concerns related to BC's wildfires.
Report a Wildfire
Remember, if you see a wildfire, please report it. Here's how:
1-800-663-5555
911
*5555 toll free on most cellular networks
There is also a free BC Wildfire Service Public Mobile App, if you have data or a WiFi connection. Use the "Report a Fire" function to submit an electronic report and upload a photo — a video tutorial in the "Help" section explains how. For Android, the BC Wildfire Service mobile app can be downloaded at Google Play: https://play.google.com/store/apps/details?id=ca.bc.gov.WildfireInformation For Apple (iOS), visit the App Store: https://apps.apple.com/us/app/bc-wildfire-service/id1477675008?ls=1
If wildfire smoke is a health or safety concern to you, an interactive smoke forecast map is available online through https://firesmoke.ca/. You can also select the smoke forecast layer on the BC Wildfire Service public mobile app, available for all iOS and Android devices.
A long, hot summer may have been what most of us were looking for, but these dry conditions can mean trouble to our forests. Human caused fires account for a large percentage of fire throughout our province and by cooling our carelessness; we can help to reduce the risk of wildfires this summer and year round. Thanks for your help.
Share this page: