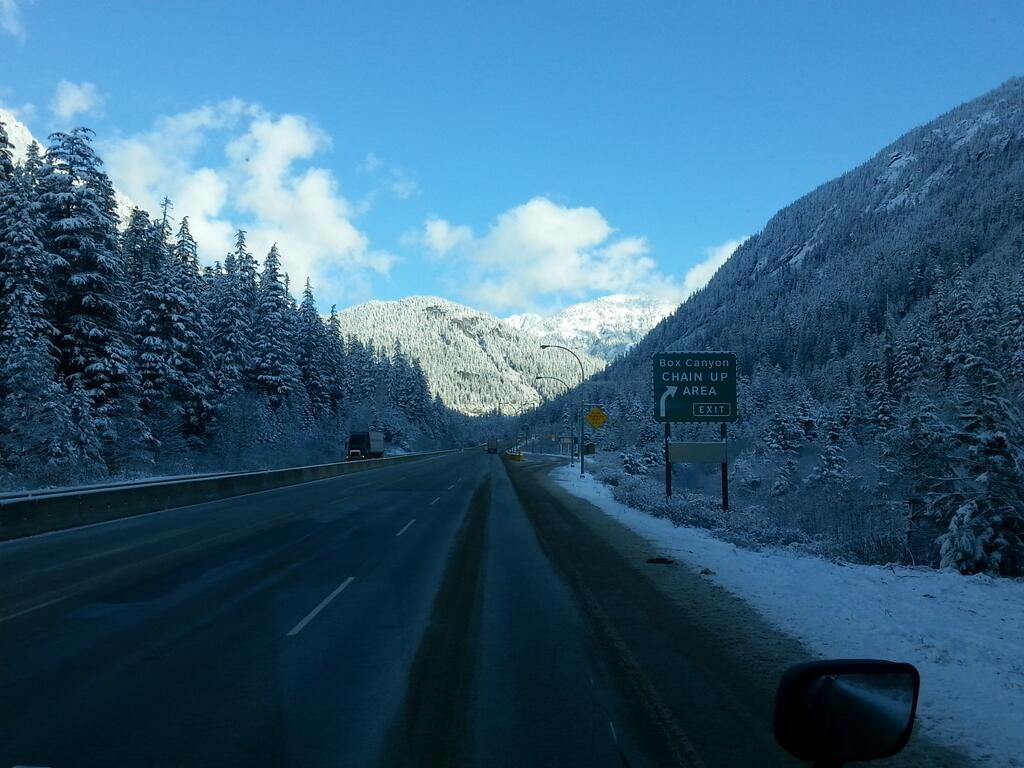 The Coquihalla is one of the most popular highway mountain passes in BC. You've probably driven it a few times, whether as a commuter or a BC traveller, or TONS of times as a commercial driver. But how well do you know this stretch of highway?
GENERAL STATS
The Coq starts near sea level at Hope and then gains over a kilometre in elevation in less than 50km distance.
Highest elevations:

Coquihalla summit: 1,244 m
Surrey Lake summit: 1,444 m

The length of the Coquihalla, per construction phase:

Phase 1 from Hope to Merritt: 110km
Phase 2 from Merritt to Kamloops: 87km
Phase 3 from Merritt to Kelowna: 127km

Travel time savings:

vs. the old Highway 3 Route – from Kelowna area you save approximately 70km of travel or/and an 1h30mins
vs the old Fraser Canyon Route (Trans Canada) – from Kamloops via the TCH you save approximately 70km and 1h 10mins

Coquihalla Opening:

Phase 1 opened in May 1986 (Hope to Merritt)
Phase 2 was completed on Sept 4, 1987 (Merritt to Kamloops)
Phase 3 was completed on Oct 1, 1990 (The Coquihalla Connector from Merritt to West Kelowna )

Named the Coquihalla because it generally follows the Coquihalla River and uses the Coquihalla Pass
The small signs in the shape of old steam locomotives, with Shakespearean names, along the highway commemorate approximate locations of the Kettle Valley Railway
WINTER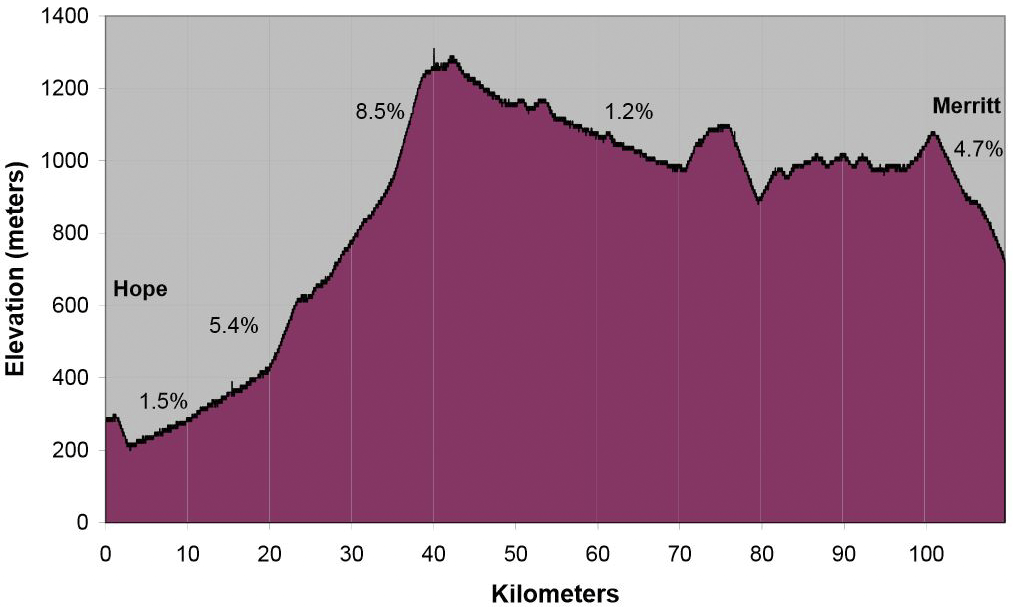 The Coquihalla averages 1,350mm of precipitation of which 1,150mm falls as snow
The annual average peak snowpack (depth of snow on the ground) is 235cm at the summit
Winter maintenance:

Average amount of winter abrasive used yearly: 40,000 m3
Average amount of anti-icing liquid used yearly: 3 million litres
During storm events, in addition to other equipment and snow plows VSA maintenance uses 3 tow plows which can clear two lanes at a time. Two of these plows spend 100% of their time on the Coquihalla from Hope to Kamloops.

There are many "tools" engineered into the design of the Coquihalla Highway to reduce the likelihood of avalanches affecting the route, which is why the Coquihalla sees less frequent closures for avalanche hazard and avalanche control than many other mountain passes in the province. These defenses include:

Road alignment designed to use Boston Bar creek as a natural catchment area
Ten earth structures (stopping dams and mounds) which you probably wouldn't notice because they are now covered with vegetation.
There is also one concrete stopping wall and one snow shed

Since the winter of 1990/1991, in regards to avalanche closures…

Less than one closure per year due to avalanche hazard, specifically .96 per year over 25 years
13 out of the last 25 years had no closures due to avalanche hazard
Of all the 24 avalanche closures, 11 were under 2 hours

The top 3 reasons for closures on the Coquihalla (in order of time spent) are

Vehicle incidents (such as stalls, vehicle fires, trucks spinning out, etc.)
Collisions (when a vehicle crashes into something) and the subsequent investigation and clean up
High avalanche hazards
TRAFFIC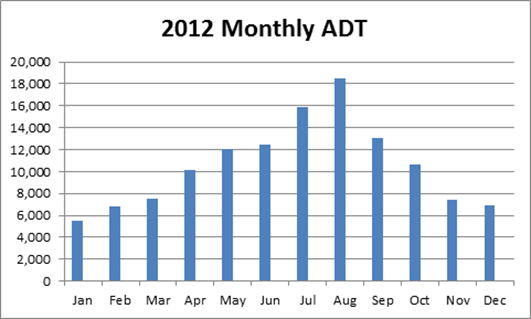 Highest daily volume for traffic:

BC day long weekend (29,114 on August 1, 2014)
Percent of that truck traffic: 22%

Annual Average Daily Traffic (AADT): 10,569
3.3 million Annual VKT/km (VKT/km represents the annual vehicle kilometres travelled, divided by the length of the roadway)
Busiest traffic month: August (based on 2012 stats)
The Coquihalla has twice or more the volume of traffic compared to any other highway that crosses a mountain path in BC (based on 2012 stats)
From 2004 to 2010

Truck traffic increased 6%
Personal vehicle traffic increased 5%
We hope that answered some questions or piqued your curiosity around the Coq. It's an interesting stretch of highway that comes with its unique challenges but our district staff and maintenance contractors will continue to monitor the Coquihalla and keep you moving as efficiently and as safely as possible.
Did you find this content interesting? Check out these related links:
Share this page: