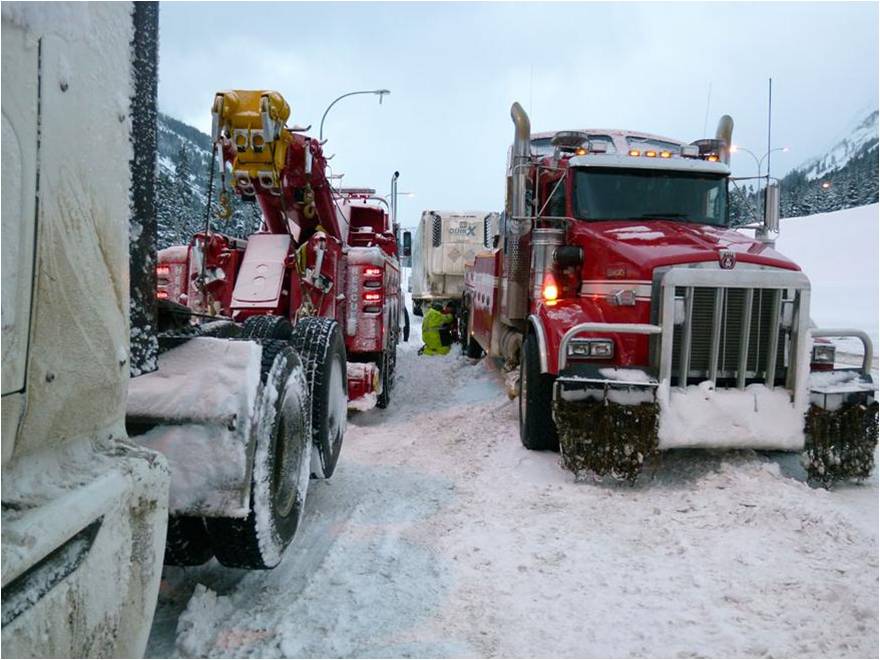 Whether you're an avid connoisseur of reality television, or simply an average BC driver intrigued by life on the road, you're likely familiar with Discovery Channel's series: Highway Thru Hell (cue flaming asphalt).
The frosty Coquihalla and Fraser Canyon highways set the stage for this nail-biting glimpse into the challenges of travelling between Hope and Kamloops in winter conditions. And although you may expect the truckers to be the main players in this performance, it's actually the unique talents (and personas) of the Jamie Davis Rescue Crew, based in Hope, that attract the spotlight. These heavy lifters look out for the stuck, snowed-in and overturned vehicles that need a lift out of the highways' icy clutches.
While showing what it takes to keep these BC Southern Interior highways open under extreme conditions, Highway Thru Hell also teaches some important lessons, not only to commercial truck drivers, but to everyone who gets behind the wheel. Here's a list of five that stand out.
1. Check DriveBC for highway updates before beginning your trip
Highway Thru Hell shows how quickly weather can change, especially at the high elevations reached by B.C. highways. Before even getting in your vehicle, knowing what to expect on the roads can go a long way in helping you avoid extreme weather and closed routes. At the very least, an early warning reminds you to prepare yourself and your vehicle for the trip ahead.
2. Keep emergency supplies in your vehicle
No one expects their trip to get stalled, whether due to vehicle failure or incident. But as the crew's rescue supply truck driver Kevin Ritchie points out, it's important to always be prepared with a few essential items. Here's a handy checklist for when the snow hits the fan.
3. Take action, get traction
Go ahead – just watch the first episode and try to count the number of drivers who lose traction making their way up the Coquihalla. Low profile tires are effective for tight cornering on dry, not icy, roads. Winter tires prove that the proper rubber can be more valuable than gold when it comes to staying in control. And truckers should know when to use chains and strap 'em on when conditions warrant.
4. Adjust your speed to road conditions and keep your distance
Posted speed limits are recommendations for ideal conditions; you know, those sunny, dry days when you've got the top down and your summer tires gripping like a firm handshake. But more care is needed when weather turns nasty and road surfaces become slippery. In a Highway Thru Hell episode, a one-vehicle tow job turns into a multi-vehicle pileup after trailing vehicles can't stop in time.
5. Stuck and snowing? Stay buckled up in your vehicle
The same slippery conditions that got you stuck can just as easily affect oncoming vehicles. The safest place to be is inside your car with your seatbelt buckled and four-ways flashing until help arrives. You may even get to meet a television celebrity.
We need to shake the "that'll never happen to me" mindset when it comes to unexpected emergencies. Sure, sometimes it takes a little drama to hammer home winter driving precautions. The ministry's maintenance contractors battle hard against the elements to keep roads open, but Highway Thru Hell does a good job breathing life into the risks involved with driving in the winter while showing what we can do to avoid those risks. Who said reality TV isn't educational?
Share this page: