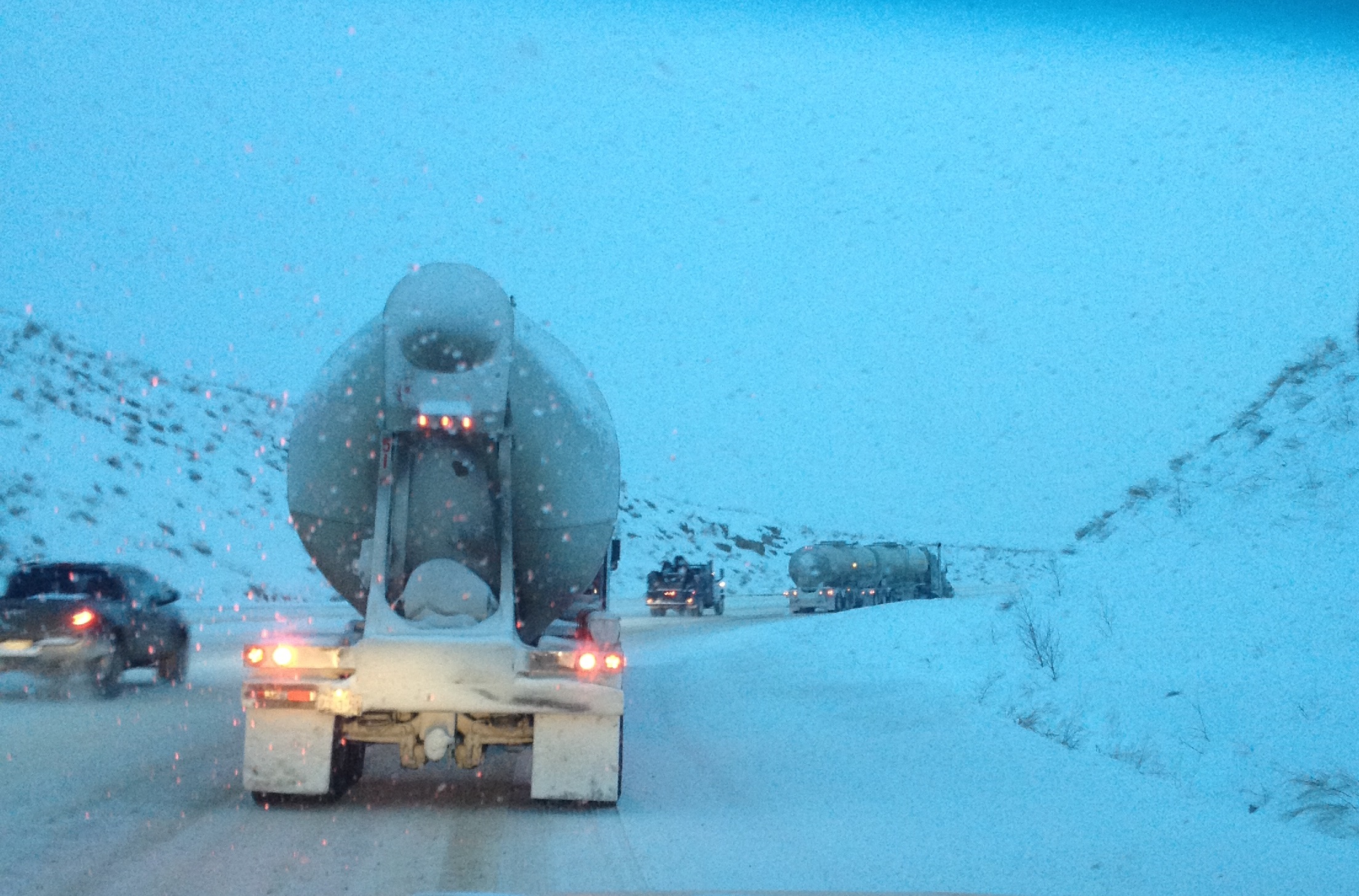 Pass only when you are 100% sure it's safe. This isn't the best time.

If you live or drive in the Peace region, you know that extra care and attention are needed in winter, when driving from Mile 54 (13 kilometres north of Fort St. John) to Mile 83 of the Alaska Highway.
This section, considered a part of Highway 97, is a busy Peace Country route. Carrying local folks and truck traffic from the region's busy oil and gas industry, this stretch of road supports 20% more heavy industrial traffic than similar roads in the province. That's busy. Add some freeze-thaw-freeze weather to the mix and you may be driving on ice.
This is the time to:
Take a deep breath and be patient. Think peace – ("peace" and Peace Region. Sorry, couldn't resist)
Allow plenty of room in front of you. Should the vehicle in front of you slow down or brake unexpectedly you don't want to be on (or under) their bumper, skidding out or in the ditch.
Adapt your driving around large vehicles. Heavy trucks take longer to stop and their drivers have a limited view. Signal sooner than you usually do when changing lanes, stopping or turning near a large truck. Allow more space and time to make your maneuvers, and never, ever pull in front of a heavy vehicle just before a traffic light or stop sign.
Pass only when you're 100 % sure it's safe to do so – this means when visibility is excellent, traffic is lighter and the road is providing good traction. (And of course when the dotted lines are on the road).
Check the weather conditions and DriveBC which draws data from our extensive system of road weather stations, before you head out. Being informed of what lies ahead, especially in winter, can help you know before you go.
Be prepared with a winter emergency vehicle kit. Ensure you'll be safe and reasonably comfortable should you end up in a predicament, due to weather or road conditions, a collision ahead, vehicle problems or an unfortunate mishap.
Beyond Mile 83 (60 kilometres north of Fort St. John) to the Yukon border, the Alaska Highway is federally-managed.  Should you spot problems along that stretch, contact the federal government at 250-774-6956. If you're travelling through Fort Nelson, and see concerns there, please call our maintenance contractor, Yellowhead Road and Bridge at 1-888-883-6688.
Here are some more winter driving tips, including why you should never use cruise control, advice from a tow truck driver on how NOT to need his services and 5 easy ways to be a better winter driver. And, if you're a traveller looking to head north this summer on the famed Alaska Highway don't miss these highway highlights.
All of B.C. offers winter driving challenges whether you're in lofty mountain passes, snow and slippery slush, or coastal fog and soggy rain. Slow down, allow yourself lots of time when making travel plans, and think about what paramedic Corey Viala calls, the "impact after the impact." (The effects an accident would have on your community, your family, your friends, and of course your own well-being).
Anytime you're on the move in the Peace Region or elsewhere in beautiful B.C., be calm, be alert and let "drive to conditions" be your guiding words.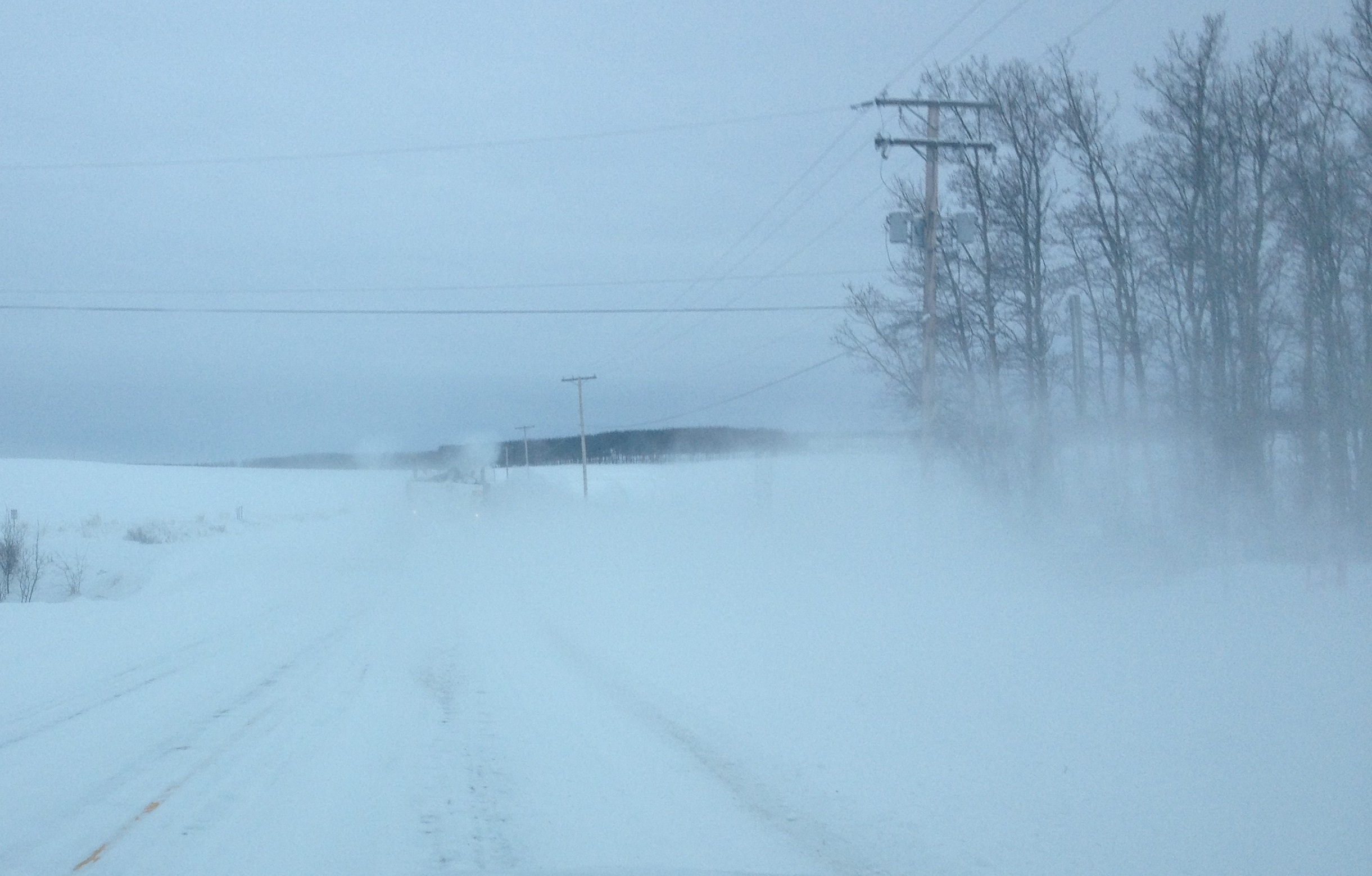 Can you see the truck ahead? Blowing snow and icy roads can be part of winter driving in the Peace.
Did you like this article? Check out these related links:
Share this page: