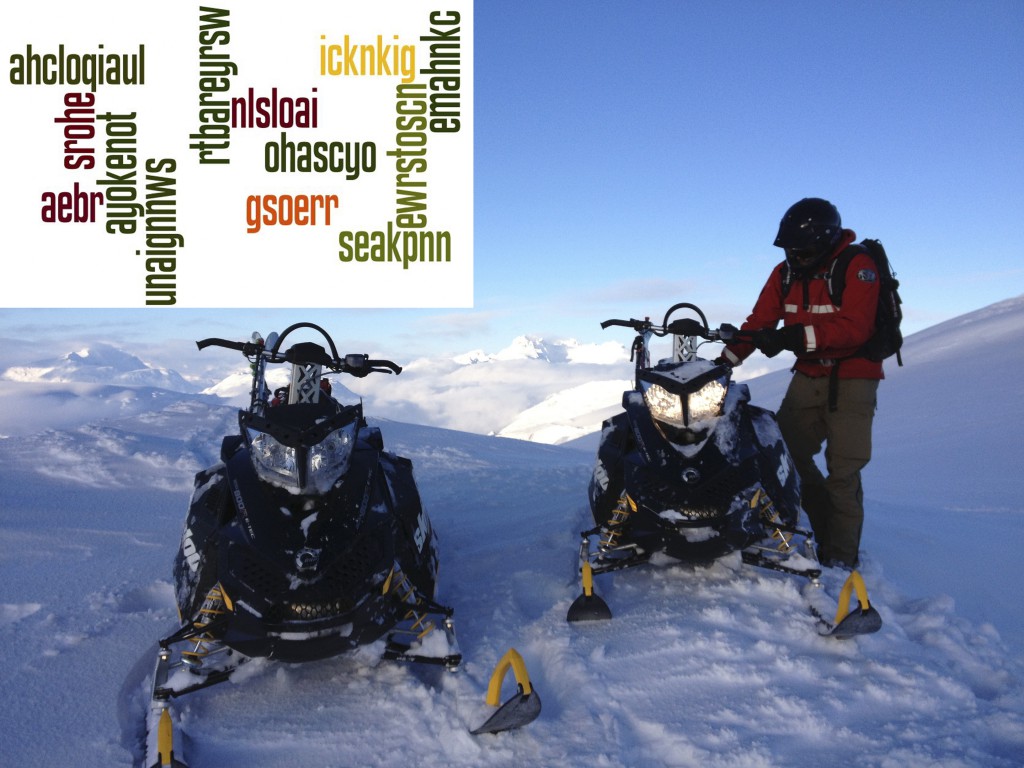 Mountain passes have always posed special challenges for engineers and travellers – ever since we started blazing foot trails, carving out wagon roads, and ultimately laying down highways. But while steep grades and fast-changing weather conditions demand extra caution, mountain passes give us access to some of the most beautiful scenery in the province.
There are more than 50 mountain passes in BC, many of them natural landmarks from our favourite road trips. We thought it would be fun (and educational) to test your knowledge of them with a word scramble game, so we scrambled the names of 12 mountain passes and included clues. Answers are at the bottom (but don't peek until you're done!).
Let's start with a softy to warm you up.
aebr


Our avalanche technicians use snowmobiles and skis to access Bear River Ridge for snowpack observations and to repair Bear River Ridge remote access weather station. The weather station is located at 2,000 metres elevation on the west end of this pass.OK – warmed up? Good, because that's it for the super easy ones. Let's continue…

ayokenot


The highest year-round mountain pass in Canada with a summit elevation at 1,774 metres above sea level.

seakpnn


The highest point of highway between Merritt and Peachland.

icknkig srohe


Crosses the Continental Divide of the Canadian Rockies on the BC/Alberta border, and is the home of Yoho and Banff national parks.

emahnkc


This pass was included in the route used by Alexander Mackenzie on his journey to the Pacific Coast at Bella Coola.

unaignnws


The highway through this Northern BC pass needed repairs when Highway 37 and 37A were hit by major floods in September 2011 (pictured below left).


ewrstoscn


Located near Sparwood, and known as the richest archaeological zone in the Canadian Rockies.

nlsloai


Manning Provincial Park headquarters is situated 9 kilometres east of this pass.

gsoerr


Canadians celebrated the grand opening of the Trans-Canada Highway after the final stretch through this pass was completed in 1962.

ahcloqiaul


Road exit signs with names such as Shylock, Othello, Juliet and Portia give this mountain pass a Shakespearean feel. What's in a name? Well, a pass by any other name will not be the correct answer.

ohascyo


Royal Engineer James "Sapper" Duffey reported this route to be too steep for wagons after surveying in 1860. Logging roads made the link in the 1970s before the route was chosen for highway extension.
Thanks for playing.
Now, how did you do?
Check the answers below and click the links for more information about the passes.
Answers: 1. Bear (Highway 37A) 2. Kootenay (Highway 3) 3. Pennask (Highway 97C) 4. Kicking Horse (Highway 1) 5. Strawberry (Highway 3B) 6. Heckman (Highway 20) 7. Ningunsaw (Highway 37) 8. Crowsnest (Highway 3) 9. Allison (Highway 3) 10. Rogers (Highway 1) 11. Coquihalla (Highway 5) 12. Cayoosh (Highway 99)
Kind thanks to Wikipedia for helping us craft some of the clues.
Share this page: