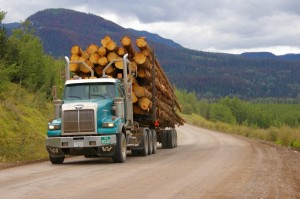 What do you want to know about BC load restrictions? That's the question we asked on social media, and we got some great feedback from commercial haulers, including @BCTrucker1 and @hnldriver. Thanks!
Q: How are seasonal load restrictions determined?
A: We use frost probe weather stations to measure the temperature of the road. We track the changes over time and know what trends and temperatures ranges lead to increasing moisture content in the roads which makes the roads weak and susceptible to damage.
Road restrictions are based on road strength, which is directly affected by the weather. A long, cold winter will cause them to start later, and a cold, wet spring may require more time than normal for the road base to dry to full strength. On the other hand, a warm, wet spell during winter may require an earlier start. We've even implemented road restrictions in the fall, in places that received excessive rain that saturated and weakened the road base beneath the pavement.
The ministry uses a Benkelman Beam truck to test road strength. The "Beam Truck," as we call it, measures the deflection of the road and rates the strength, allowing us to know when the road is ready for full loads again. You can read more about this in our blog: How Much Load Can That Road Hold?
Q: What factors influence when restrictions can be removed?
A. During the spring, road beds contain a high amount of moisture due to snow pack melt and rain. A supply of water from below, above and/or laterally into the freezing zone below the pavement makes the road base soft and spongy. The length of time that restrictions must remain in place depends on the rate of thaw, and heavy rains or late spring snow add moisture that may prolong how long the road is vulnerable to damage. The other two factors are drainage efficiency (low-lying, level sections have poor drainage) and the strength of the road base and its materials (silts, fine sands or silty clay soils are the most susceptible to frost).
Q: Can a truck get a permit for overages on restricted roads?
A: Not typically… If a road has a seasonal load restriction on it, it means the road is too weak to carry loads over a specified weight. We have actually had trucks break through the pavement before and get stuck.
That said, in some urgent circumstance (such as getting feed into livestock) we may monitor the road temperatures and find an opportunity when the road freezes up to get a load through. Like at night or during a cold snap.
If you have questions, contact your local vehicle inspection station and they can help you explore options.
Q: Why are seasonal load restriction signs placed where they are?
A: We try to put the sign right at the beginning of the road where the restriction starts, so drivers have plenty of warning that the road has a load restriction.
However, there may be some instances where a road starts as a higher capacity, stronger built road (typically because more traffic travels on that portion of the road) but further down the road (often where the population tapers off) it becomes a lower capacity/strength road that may not have enough strength to carry heavy loads. The load restriction sign is often placed where the load restriction starts on that section of road.
Q: Could you provide charts to show how the weight restrictions affect different loads?
A: This can be a bit tricky, as weight amounts depend on the type of vehicle being driven. There are also some exceptions. The restrictions do not apply to:
– Single steering axles
– Vehicles with a licensed GVW of 5,500 kg or less
For other commercial vehicles, you can find 100% of your legal weight in Appendices A to I of the Commercial Transport Regulations. To figure out the maximums under a 70% or 50% restriction, multiply the figure you find there by 0.7 or 0.5.
Q: What does 100%, 70% and 50% load restriction mean?
A. Road restrictions are all based on legal axle loading as defined in the Commercial Transportation Act & Regulations. 100% means you can still carry legal axle weights, and over weight permits are no longer valid. For example, legal weight for a tandem axle group is 17,000 kg, 100% load restriction is 17,000 kg, 70% load restriction is 11,900 kg and 50% load restriction is 8,500 kg.
Q: Do road restrictions apply to all vehicles?
A. Load restrictions don't apply to vehicles with a licensed GVW of 5,500 kg or less, school buses or vehicles operated by the ministry and its maintenance contractors. This allows us to respond to essential maintenance and emergency situations — particularly important because road restrictions are often in place during spring freshet, which can cause floods, mudslides, landslides and rockslides.
Q: What happens if I'm caught carrying a load that's too heavy on a road that has a seasonal load restriction?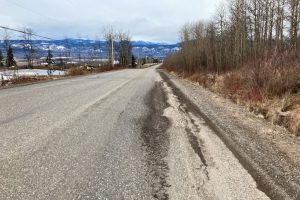 A: If you're caught driving with a load that's too heavy for a weight-restricted road, you could face a fine of $345 and have to immediately reduce your load to meet the weight requirements. You could also be liable for repairs if your load damages the road. Damage done to roads is usually deeper than just on the surface and can end up costing hundreds of thousands, or potentially millions, of dollars to repair.
Q. How can commercial truck drivers stay up to date on load restrictions affecting them?

A. All road restrictions across the province are on DriveBC.ca via the seasonal road restrictions button, or on the links page. Drivers can even subscribe for alerts. Another option is to get information at any of our commercial vehicle inspections stations, or call the ministry office in your area. Also, the majority of roads will have a sign posted at the beginning, indicating the restriction.
Do you have other questions about seasonal load restrictions? Send us a message on Twitter or Facebook, and we'll look into it for you.
Check out some of our other blogs related to commercial vehicles:
>> The Sound and Fury: Engine Brake Noise and How to Stop It
>> Throwback Look at BC's Historical Commercial Weigh Scale Stations
>> What You Need to Know About Stricter Chain-Up Rules
>> Weigh in Motion – It's Building Momentum
>> What You Need to Know About Commercial Vehicle Safety Inspections
Share this page: