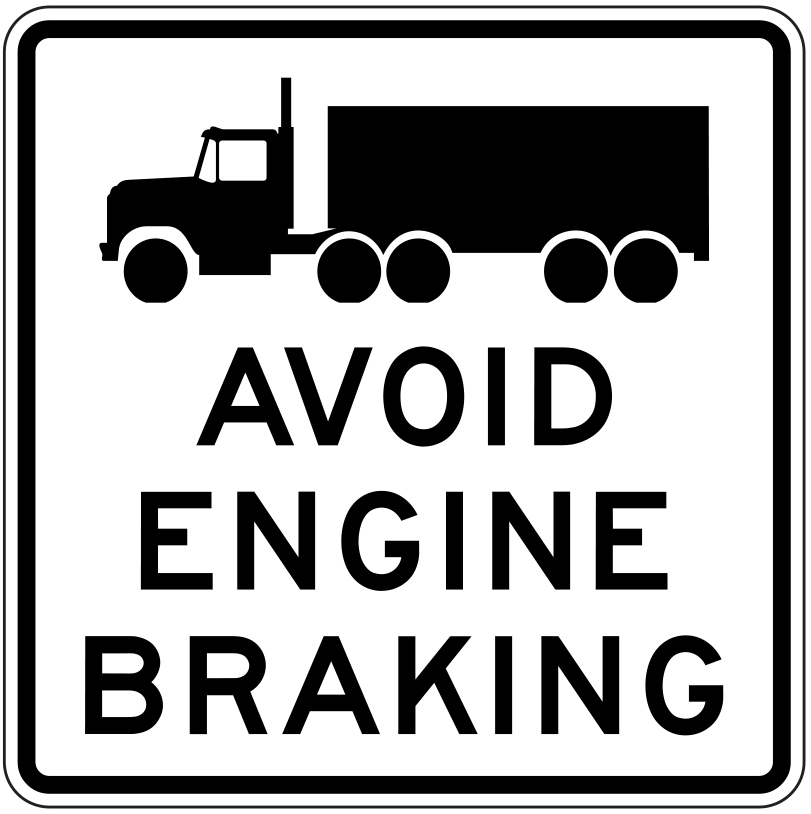 Engine brakes, also known as "Jake Brakes," are an important piece of safety equipment for commercial vehicle operators. Trouble is, they can cause an irritating pulsating noise when combined with modified engine exhausts.
In fact, a few comparisons we've heard people use to describe the rattling "blat-blat-blat" sound include:
a machine gun
a jackhammer
a woodpecker drumming on a chimney pipe (the birds do this to establish a territory and attract a mate, by the way)
There's even a common term coined for the sound: the "Jake Bark." And you bet we receive letters of concern from residents near highways that use these, and many other creative similes, when reporting high noise levels coming from trucks travelling through their communities.
But the fact remains: engine brakes improve braking capabilities on trucks, increasing their overall safety, which results in improved safety for all travellers. So how do we reconcile the bad (noise) with the good (safety)? Let's explore.
What is an Engine Braking System?
Without getting too technical, engine braking systems vary the timing of the engine valves, turning a power producing engine into a power absorbing air compressor, thus slowing the vehicle down when the engine brake in engaged.
Once upon a time, engine brakes were optional aftermarket additions. However, truck technology has evolved to a point where engine brakes are now part of a truck's integrated engine and braking management system, installed at the time of manufacture.
Why? Well…
Why Engine Brakes are so Big for Safety
Commercial vehicle operators use engine brakes primarily when descending steep grades, where brake pads and drums are at greater risk of heating up and failing. If you've ever descended a mountain pass, such as the Coquihalla, you've likely noticed off-ramps that seem to rise up into nowhere in particular… that's a runaway lane, designed as a last resort for truckers with failing brakes. Engine brakes reduce wear and tear on standard braking systems, prolonging their life and reducing risk of brake failure.
Engine brakes can also be used in standard transmissions to assist drivers in shifting. When you are upshifting and have the engine brake on it immediately slows the engine when you let off the accelerator, which allows a faster, smoother upshift.
Modern factory engine brakes do not typically cause the irritating pulsating noise – that comes after the vehicle's powertrain system has been modified for some reason.
What We're Doing to Reduce Engine Brake Noise Near Communities
Chances are you've seen signs located near residential communities and other populated areas (i.e. parks) asking commercial vehicle operators to avoid the use of engine brakes. We've recently updated these signs, making them easier to read, and will be replacing the old version of the signs over time as they become worn out. Compare the new version of the sign (above) with the old version (below).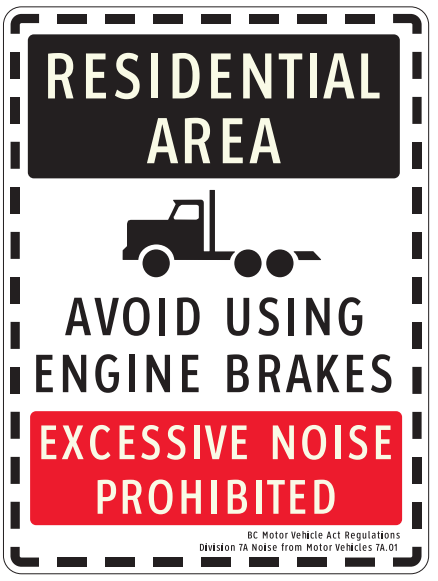 Much better, eh? There are various tabs that can provide further clarity to the new sign, depending on the location. Here are examples:




Note: these signs are information/awareness signs, not regulatory signs that establish a law (like speed limit signs). As such, commercial drivers cannot be ticketed simply for activating their engine brakes in these areas.
Enforcing against irritatingly noisy engine brakes is a challenge because there is no defined, reliable procedure for measuring and testing what the BC Motor Vehicle Act refers to as "excessive noise."
One option for our Commercial Vehicle Safety and Enforcement (CVSE) officers is to issue a Notice and Order to complete an inspection with an authorized inspector in an attempt to find engine exhaust system modifications causing the noise.
CVSE has increased patrols in populated areas prone to irritating engine brake noise, and when they carry out their concentrated inspection campaigns, they watch for these trucks as best they can, discussing the issue with drivers as needed. CVSE also reaches out to trucking associations to help reinforce the message with their members.
When it comes down to it, the solution begins with commercial drivers being aware of how their actions are impacting others and respecting the posted signs.
If you are a commercial truck driver and you know your engine braking system causes irritating noise, please avoid using them when you don't have to in populated areas with "AVOID ENGINE BRAKING" signs posted.
The locals thank you.
Interested in reading more about commercial vehicle issues? Try these blogs:
>> DON'T Do This Pt. III: 5 More Vehicles CVSE Wants Off the Road
>> How Weigh2GoBC Keeps Safe Trucks Moving in the Lower Mainland
>> What You Need to Know About Commercial Vehicle Safety Inspections
Share this page: