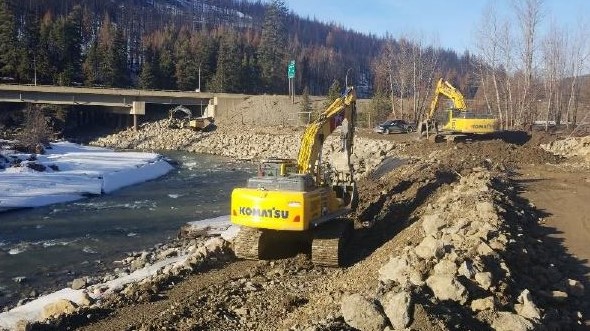 Ever heard the old adage: "April Showers bring May flowers"? Well, depending on where you live in BC, spring showers don't just bring flowers, they can also bring freshet (rapid snowpack melt and overwhelmed stream channels) and sometimes flooding. Because rising water levels can impact the flow of traffic on BC highways, we often have a role in flood management. Whatever the water level, we have plans in place and people on the job to help get you where you need to go.
How We Prepare for Rising Water Levels
We generally have a good idea of the potential for flooding across BC because the River Forecast Centre monitors snow levels and provides us with data which we use to help determine areas of impact.
That knowledge helps crews determine the amount of sand, gravel and rock that may be needed to protect our transportation infrastructure from flooding and keep the roads open and available. Reinforcing rip rap — large rock — may be placed along rivers and bridge abutments. If more sandbags are needed, we'll step up production to make enough.  We'll also check how many sandbags there are throughout the province and make sure they can be easily distributed if the need arises.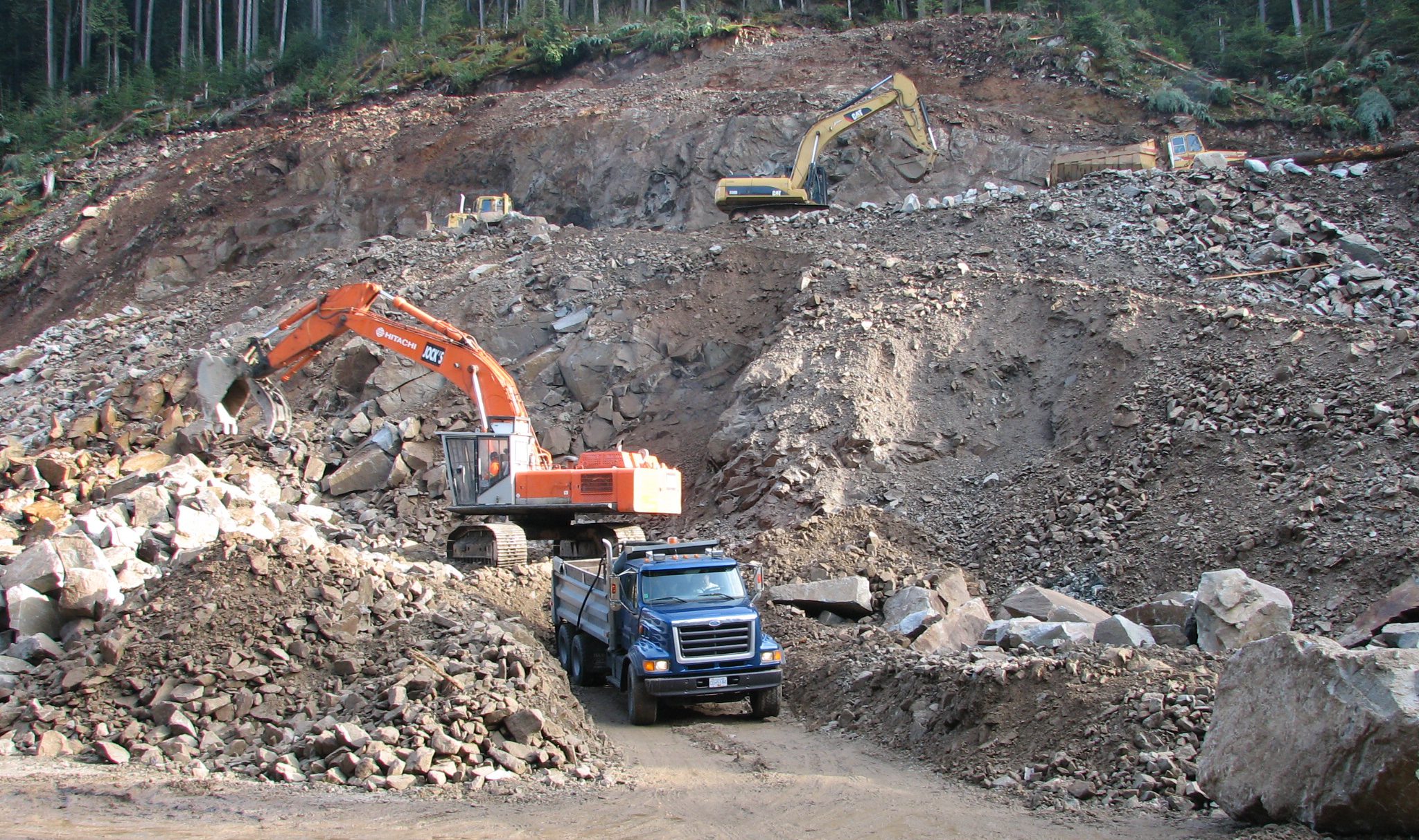 In addition to supplies, we check with local ministry staff, maintenance contractors and emergency services to be certain everyone is ready to jump into action with staff and equipment if water levels get too high.
We also ensure our hired equipment list is up to date. The hired equipment list is a collection of people who have heavy equipment, like excavators and dozers, which we can hire in case we need them.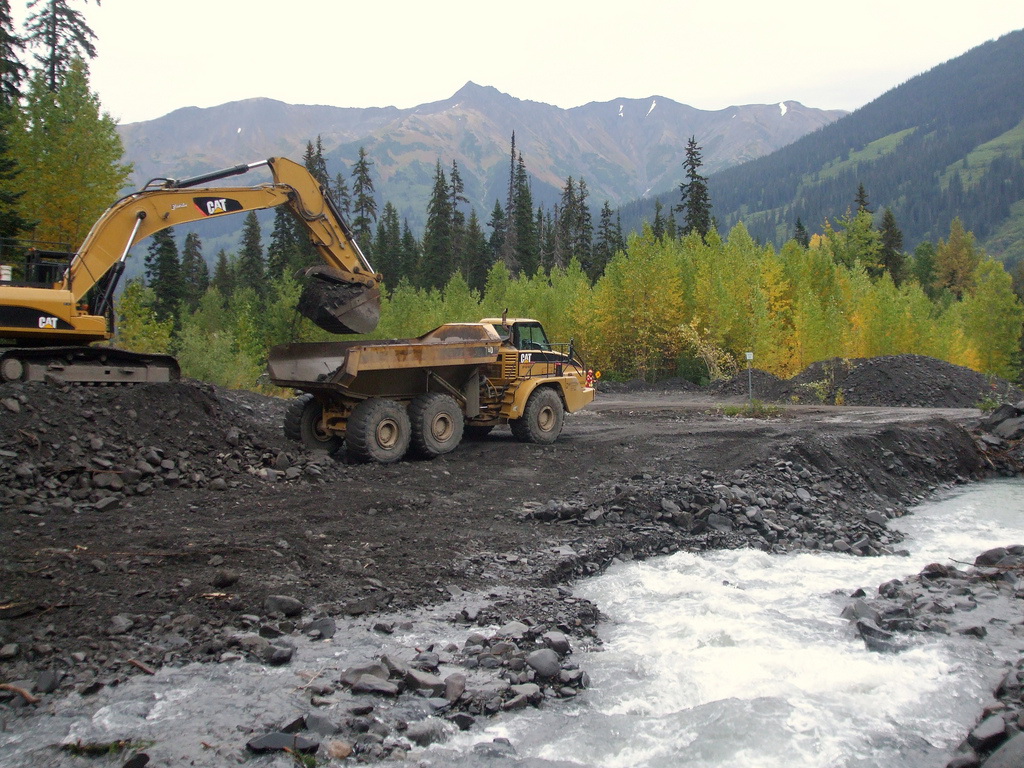 Our Role During a Flooding Event
During a flood event, the ministry activates flood plans, communicates with the public and provides critical services, such as protecting and repairing the road infrastructure and looking for creative options to move supplies.
We work closely with provincial emergency management, local municipal governments and other key stakeholders to mobilize resources and repair damaged routes as quickly as possible.
If more equipment or extra hands are required, we work with ministry staff, maintenance contractors and emergency services on the ground to be certain they have what they need.
During the BC flooding of November 2021, a series of atmospheric river events dropped an unprecedented volume of water across the southwestern area of the province, resulting in a widespread flood and catastrophic damage – learn more about how it all unfolded, our role in the event and the steps we are taking toward recovery.

What You Can Do to Be Prepared
So, now you know what we do to help – what can you do to prepare for flooding? Well, if you're "Flood Smart", you also drive smart – or you don't drive at all. During a flooding situation, road closures can take place across BC and driving your vehicle can become increasingly hazardous. Our safety partner, Emergency Management BC, wants to remind British Columbians of these important points before getting into their vehicles:
Protect Yourself First: Your personal safety is the most important consideration in any flood event or disaster scenario. Cars and possessions can be replaced – your loved ones cannot!
Plan & Monitor: Know the risks before getting into your vehicle. Monitor your local radio stations, TV, local government websites and DriveBC's road closure and weather information. Don't forget to check Emergency Info BC for the latest evacuation alerts and bulletins. If in doubt, turn around or don't drive at all! Stay alert and contact your local maintenance contractor if you are concerned about travel routes in your community.
Move It, Don't Lose It: Get pro-active and move your vehicle to higher ground if a flooding situation is expected. Protect your vehicle and help BC emergency responders by staying clear of flood areas and emergency routes. Help keep your vehicle safe and protect the environment from potentially leaking oil, gas and fluids from your vehicle.
Mind the Signs: During a flooding situation, NEVER cross any road barriers put in place by local emergency officials. It is not only dangerous but you could face not-so-nice fines for ignoring barricades or other road closure signs.
Avoid Wash Out: Road beds can quickly wash out under flood waters. Fact – it only takes 30.5 to 45.7 centimetres of flowing water to carry away most vehicles, including large SUVs! If flooding is taking place, move to higher ground FAST and leave typical flood areas such as ditches, ravines, high rivers and waterways. NEVER attempt to drive through flooded roadways.
Vehicle Stalled, Now What? If you are driving and your vehicle stalls, abandon it and move to higher ground. Watch your footing. Just 15.2 centimetres of fast-moving flood water can sweep a person off his or her feet!
Vehicle Safety Check: If your vehicle has encountered flood waters, it's always a good idea to test the brakes before driving. If your vehicle has stood in a flooded area for a prolonged period, contact your local insurance provider or dealer for further advice. If your vehicle has stood in a flood for a short period, drive with extreme caution and take the vehicle to be checked at the earliest opportunity.
Be Prepared: Take the time today to be ready for an emergency tomorrow. Make sure your car has an emergency kit and supplies which you can grab and go at a moment's notice. You just might be glad you did!
Give yourself peace of mind in rain or shine. Start by adding emergency preparation to your spring cleaning list and you'll know which "road" to take to find higher and drier ground.
If you find flood, freshet and emergency response info interesting, you might also want to check out some of the links below:
Share this page: