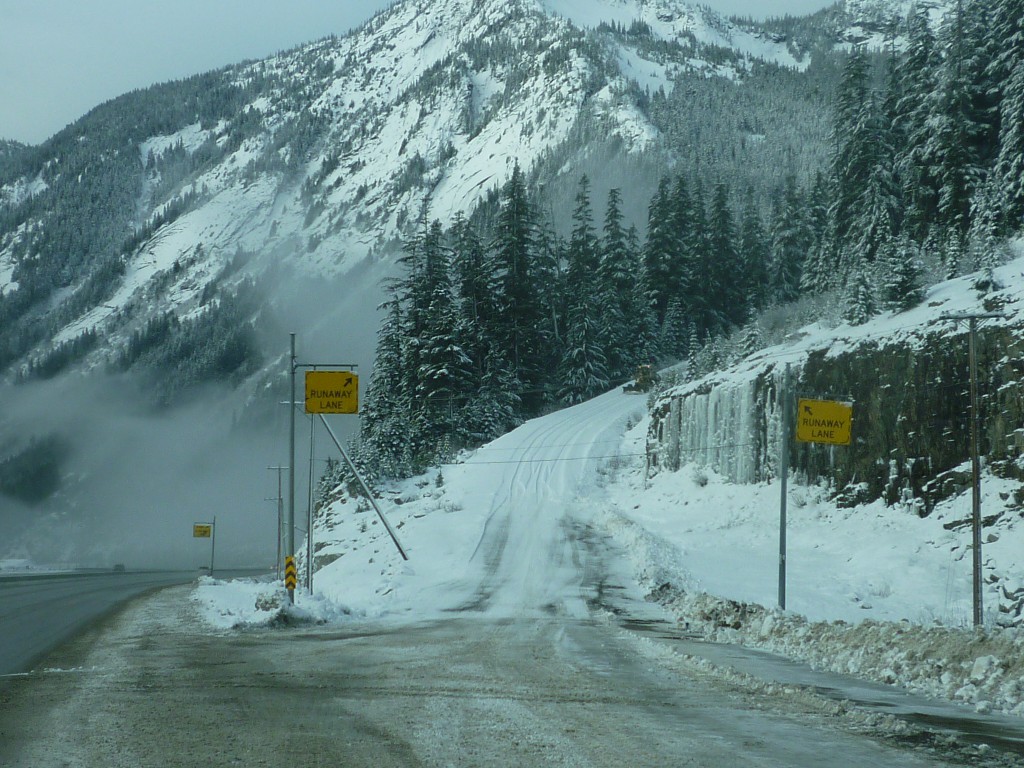 If you've ever driven down a mountain pass in British Columbia, you've likely looked up in awe at an off ramp rising up, up, up into… well, apparently nowhere.
As the signs state, that is a runaway lane. In other words, it's the road less travelled that you do not want to have to take. But, if you ever find yourself out of control down a hill, it's the road you will be more than relieved to see.
BC's steep, winding, mountainous terrain can be challenging for any driver, but especially for heavily loaded commercial trucks. Still, downhill runaways are preventable. Descending steep grades at an appropriate speed, with properly functioning brakes, is an essential part of being a professional driver.
4 Steps to Preventing a Runaway Truck
Conduct a daily pre-trip inspection
A thorough pre-trip inspection gives you the most up-to-date information on the fitness of your vehicle. It's also a good time to find out if an air line is likely to rupture when applying the brakes.
Confirm brakes are adjusted
When professional drivers see brake check signs (like the one shown below) they know that it's the law to adjust their brakes before driving down steep grades, including checking the "slack" at each brake chamber. That's why there are brake check facilities located throughout the province. The brakes on a commercial vehicle can only accurately be checked by physically pulling (with the use of a pry bar) on each slack adjuster.Even self-adjusting slack adjusters need to be checked, and if necessary, adjusted. Check with a certified mechanic for the correct procedure.
Plan your descentInformation displayed on highway signs can help you plan your descent. This includes information about the severity of the grade, the recommended speed to negotiate sharp curves, and upcoming runaway lanes.In BC, signs with dashed borders provide information for heavy truck operators.


Determine a safe descent speed
Select a speed that will let you travel down steep grades without having to brake continuously, which can cause overheating and braking power loss. An appropriate speed keeps the brakes ready to react when needed.
The runaway lane: a last resort
Runaway lanes are a final safety measure for when you lose braking power. Consider using a runaway lane if applying the brakes has little or no effect on slowing the speed of your vehicle.
If it feels like you have no brakes… don't chance it – take action.
It's extremely important to make the decision to use a runaway lane before your vehicle reaches an unmanageable descent speed.
Examples of runaway lanes in BC
Runaway lanes come in various lengths and grades, with different materials and features designed to stop out-of-control vehicles. Here are a couple types you can expect in BC.
Gravity Bed

This is the type of runaway lane that leads a truck up a slope. It uses a combination of gravity and a bed of gravel to slow the truck down and keep it from sliding backwards. You'll notice these runaway lanes on the Coquihalla, for example.
Arrester Bed with Cable Nets or Gravel Bed
This type of runaway lane relies on a cable netting system and/or a gravel bed to slow down the truck on either a horizontal or descending grade. You'll notice one of these runaway lanes at the Horseshoe Bay Ferry Terminal, for example.
It's important to be familiar with runaway lanes, whether you're a professional truck driver or an average driver. Brake loss is more common in commercial transport trucks, but it can happen to any vehicle. And, for obvious reasons, never park your vehicle in, or in front of, a runaway lane.
Hopefully, you will never need to use these roads less travelled. Remember: safety starts with regular vehicle inspections and smart downhill driving. Follow the tips in this blog, and you should be left rolling just fine.
Share this page: