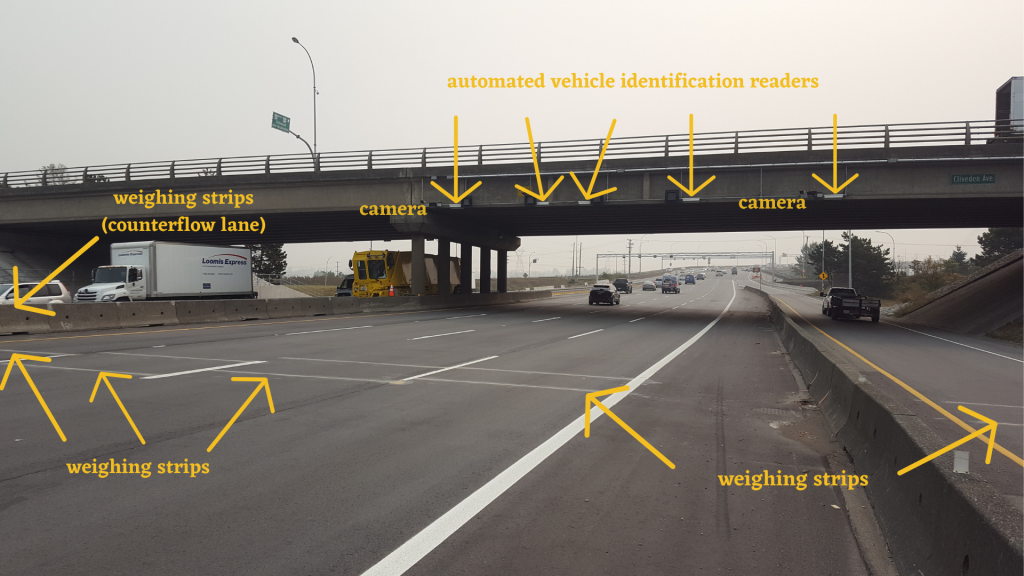 Commercial vehicles registered with Weigh2GoBC, that operate safely, are granted an inspection station bypass when they drive over our newest weigh-in-motion sensors, in BC's Lower Mainland.
The technology on Highway 91, north of the Alex Fraser Bridge, is a prime example of an intelligent transportation system. This location was selected because of high volumes of repeat commercial traffic that are required to report to the nearby Nordel Vehicle Inspection Station. Commercial vehicles need to exit from the right lane after the bridge to access the station, and the number of trucks needing to get into that lane contribute to traffic flow delays during peak travel times. In addition, it's near large industrial parks like Annacis Island that are frequented by commercial vehicles.
How Weigh2GoBC Keeps Trucks Moving on Hwy 91
It all starts with registering with Weigh2GoBC and providing photos of the vehicle and its registration number (our systems check ICBC for proof of insurance and an up-to date vehicle safety inspection). A dashboard transponder is then mailed out for that vehicle. Bonus — it's all free to BC carriers!
Thus equipped, commercial vehicles travelling south on Highway 91, drive over sensor strips in any of six lanes, including the on-ramp from Cliveden Avenue, and the counterflow lane (when it's in use). The strips measure:
vehicle speed
length
gross vehicle weight
vehicle class definition
axle weight and distance
imbalance
The sensor strips are integrated with automatic vehicle identification equipment mounted on the Cliveden Avenue Overpass, that connects with the vehicle's transponder and loads the vehicle's credentials. The weight and size information from the strips is added, so that a complete check of weights, dimensions and credentials is performed while the vehicle is travelling at highway speed.
If the results of the checks are within standards, a green light displays on the transponder. This allows the driver to continue along Highway 91 and bypass the Nordel Inspection Station and BC's 10 other Weigh2GoBC-equipped inspection stations, for up to 24 hours. If the vehicle fails to meet requirements, a red light appears on the transponder and the driver must take the next exit, to report at the Nordel Inspection Station.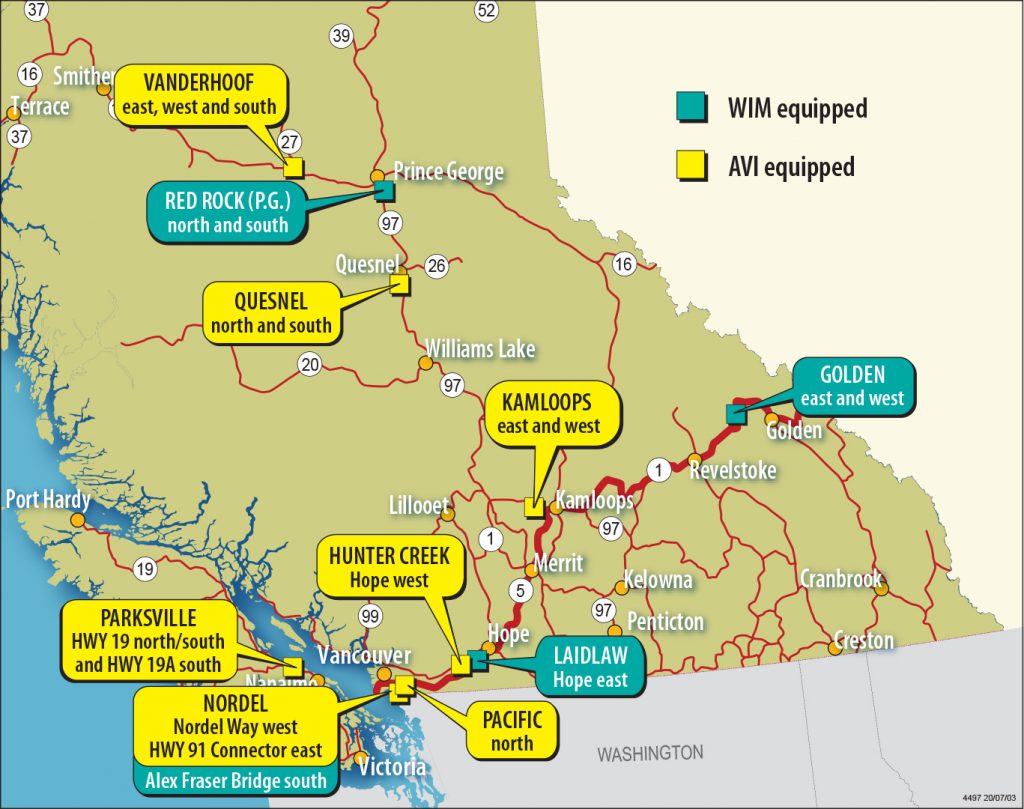 The whole electronic vehicle reporting process – from driving over the weighing strips, to getting the green or red light – happens in an astonishing seven seconds. During that time, the vehicle covers about 500 metres.
For an extra level of security, there are cameras mounted on the overpass that photograph the vehicle. This allows Commercial Vehicle Safety and Enforcement officers at Nordel to compare the photo taken, with the vehicle photos registered to the transponder, to confirm they match or catch any discrepancies.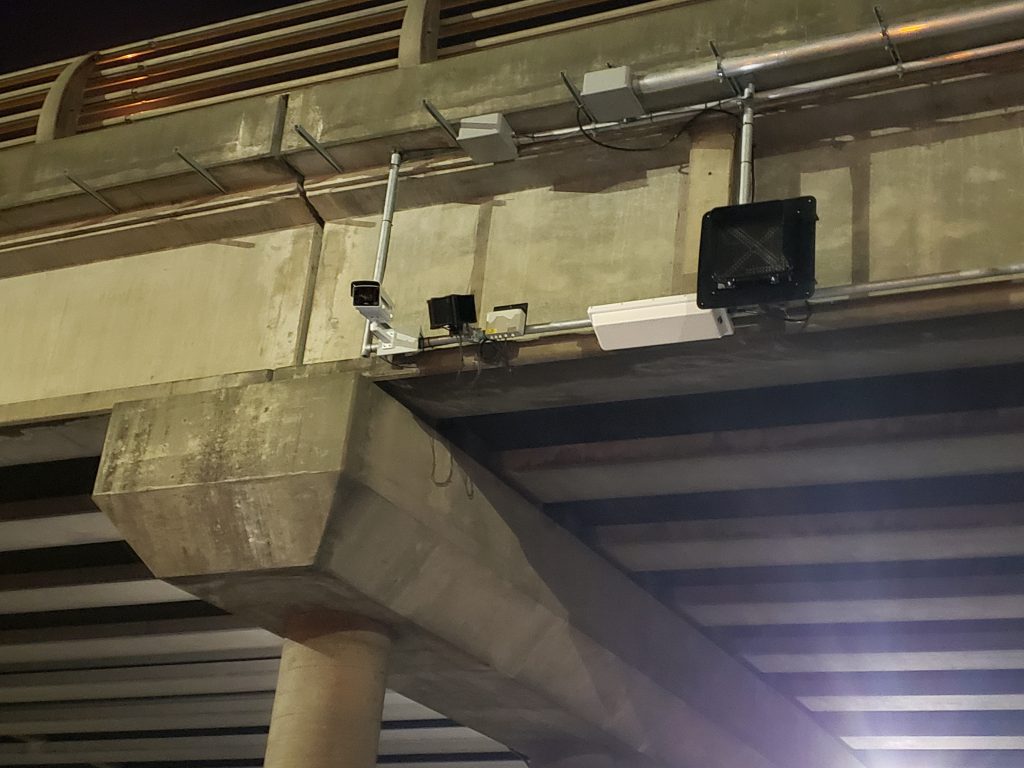 Latest Technology Moved the Project Forward
This latest weigh-in-motion installation is a result of recently improved technology. Past versions of the weighing platforms would have taken a year to install across six lanes. Those lanes would have to close one at a time, for about two months each. Given the high volume of vehicles flowing from Richmond, New Westminster and Annacis Island, those kinds of traffic delays would have been unacceptable.
The weighing strips now embedded into the highway can be installed in just four days, during dry conditions.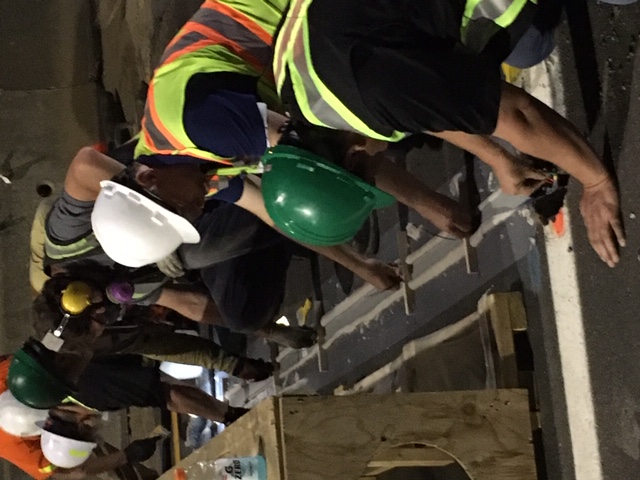 Weighing up the Benefits of Weigh2GoBC
For commercial carriers, getting a green light to bypass a vehicle inspection station translates into fuel and time savings. For the Ministry of Transportation and Infrastructure, knowing that those trucks are operating safely enables our Commercial Vehicle Safety and Enforcement staff to focus on identified concerns. For everyone in BC, the benefits are safer and more efficient traffic flow, reduced greenhouse gas emissions and trucks that are safely travelling our province.
Weigh2GoBC electronic vehicle reporting keeps safe trucks in motion, wherever their destination. We expect that commercial vehicles that operate in the Lower Mainland will register for Weigh2GoBC to enjoy all the rewards it offers, as they transport the goods we all depend on.

Weigh2GoBC is open to all Canadian and US carriers with commercial vehicles licensed for travel in BC. If you're not already registered, sign up based on where your business is located:
Check out our other related blogs:
Do you have questions about this electronic vehicle reporting system? Are you interested in learning more about how commercial vehicles operate in BC? Ask us below!
Share this page: