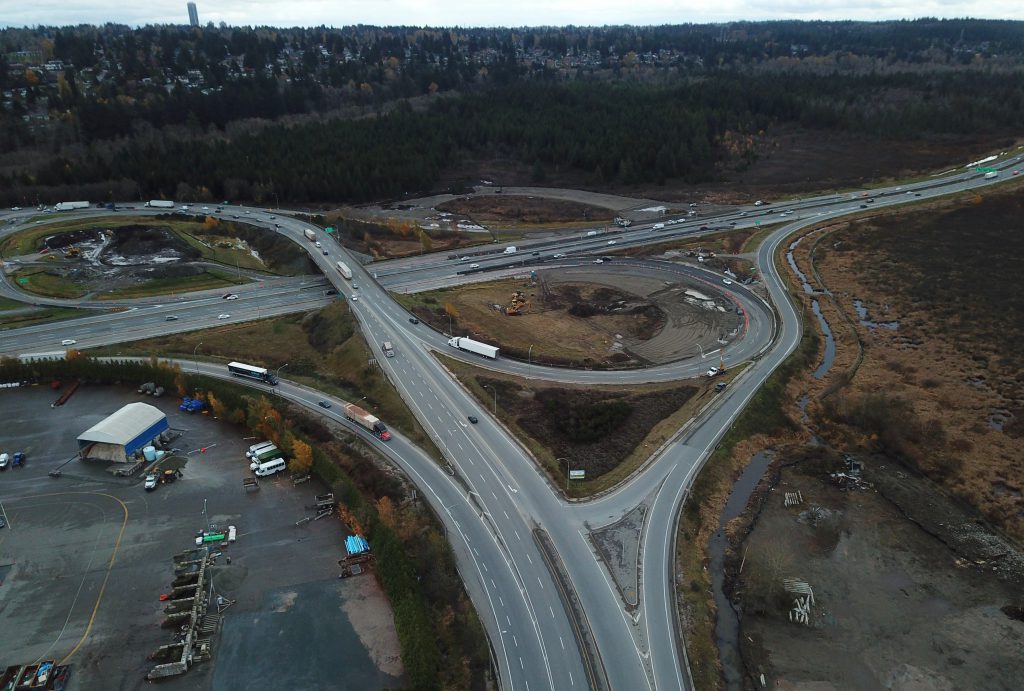 The term "laying the groundwork" gets thrown around in reference to all sorts of activities, campaigns and areas of study. But if you really want to get literal about it, look no further than the Highway 91/17 Upgrade Project in Delta BC.
The project includes upgrades to the existing Highway 91/Nordel Way Interchange and the construction of three new interchanges at the intersections of Highway 91C/Weigh Scale, Highway 91C/Highway 17, and Highway 17/River Road.
That's a LOT of ground to cover.
Thing is, the project area is close to the Fraser River, which means most of the surface soil is composed of silt and sand – far from ideal conditions for this type of infrastructure. If highway construction were to happen without first "laying the groundwork" in the form of ground improvements, the infrastructure would be at serious risk of instability and future damage.
Ground Improvements: What Does That Mean?
Ground improvements is the term used to describe techniques that consolidate, stabilize, and strengthen soil to meet engineering and design requirements. Simply put, we must ensure the ground will remain stable while bearing the weight of the loads being placed upon it.
There are three ground improvements techniques our design-builder, Pacific Gateway Constructors General Partnership, is using for the Highway 91/17 Upgrade Project: preloading and surcharging, installing stone columns, and using pile foundations.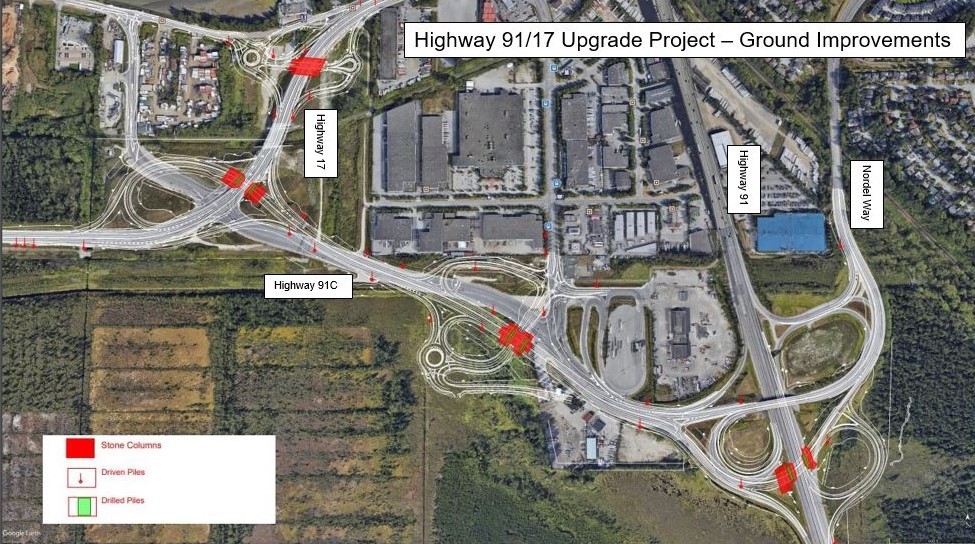 Preloading and Surcharging
Preloading and surcharging involve placing fill material, such as sand, on the surface of the ground prior to construction to consolidate – or strengthen by bringing together – the underlying soil.
The surcharging part involves placing an excess amount of fill material to accelerate consolidation. This can take the form of temporary fill embankments, constructed to a height that exceeds the final surface level in the design. These embankments are then cut back to the design level after the consolidation process has had a chance to do its thing, which can take anywhere between two and 24 months, depending on ground conditions and what is to be built on it.
We anticipate a total of 600,000 cubic metres, or 240 Olympic-size swimming pools, worth of sand will be used for pre-load and embankment work.
Stone Column Installation
Stone columns are an effective way to stabilize surface soil composed of silt and sand. The process involves using a vibrating probe to push layers – or columns – of gravel into the ground. The vibrating action compacts the soil and the stone columns create a foundation for the construction project. The builder is installing approximately 2,000 stone columns, varying in depths from 12.5 m to 34.5 m, for the Highway 91/17 Upgrade Project. On average, it takes about two minutes per metre of stone column.
If the process is hard to visualize, this video from sub-contractor Menard Canada Inc. will give you a good idea how stone column installation works:
Pile Foundations
Pile foundations are used when the soil can't bear the weight of the structure that is being built on top of it without the possibility of the soil expanding, contracting or shifting. Piles can be made of steel, concrete, or wood. For the Highway 91/17 Upgrade Project, the design-builder is installing piles by a pile drilling rig or a vibratory pile driver. Thirty-two reinforced concrete piles will be used in the construction of the project's bridges/overpasses, and 30 steel piles will be needed for highway overhead directional signage.
Here's a summary of what all these ground improvements will allow for:
Highway 91 at Nordel Interchange – upgraded ramps to and from Delta, improved acceleration and deceleration lanes and additional through-lanes for Nordel Way traffic crossing over Highway 91.
Highway 91 Connector at Nordel Way intersection upgrades – combination of direct access roads and additional turning lanes to remove one signal light and improve all movements, including significantly improved access to and from the Nordel Way commercial vehicle inspection station and truck parking area.
A new interchange at Highway 17 and Highway 91 Connector (Sunbury) and improvements to the River Road connection – replacing the existing signalized intersection and eliminating the need for an at-grade rail crossing to access the highway.
Burns Bog Delta Nature Reserve
With all these major works happening, we know how important it is to maintain the integrity of nearby Burns Bog, which provides such a valuable natural space for local wildlife to live and for people to enjoy.
The design-builder follows construction management plans based on best practices to avoid or minimize potential environmental impacts to Burns Bog, including air quality and dust control, soil erosion and sediment control, as well as protecting vegetation, wildlife and aquatic resources. Meanwhile, we're doing environmental monitoring to ensure all commitments are being followed – this will continue after the project is finished to make sure long-term environmental protection measures are successful.
We're also working with Indigenous groups, City of Delta, Metro Vancouver and stakeholders such as the Burns Bog Conservation Society to explore ways to improve conditions, where possible.
You may have already heard that a 170-metre section of the Delta Nature Reserve boardwalk was realigned as part of the project, opening to the public in December 2020. Maybe you've already visited it. The new alignment makes features such as the hardhack meadow more accessible and includes four new viewing platforms and four new memorial benches. The realignment provides space for a new vehicle ramp connection between Highway 91 and the Nordel Way Interchange.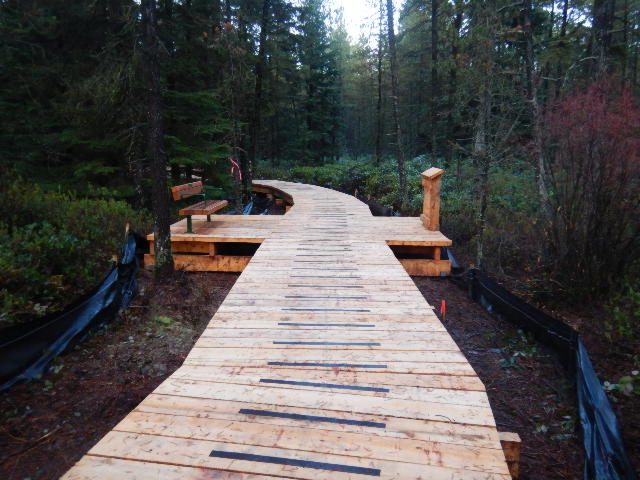 We're excited to watch this project progress and will continue to update you through our social media platforms, including Flickr, where we are regularly posting images in our Highway 91/17 Upgrades Project album. We are also sharing drone flyover videos to show progress. Here is a look at the project as of September 2021:
You can also keep informed about any project-related traffic impacts by checking DriveBC events pages:
For more information about the Highway 91/17 Upgrade Project or to sign up to receive project updates:
Email: info@pgcgp.ca
Project construction phone line: 1-866-561-4641
Interested in learning more about our projects that are enhancing transportation infrastructure in BC? Explore these suggested blogs:
>> How the Zipper Truck Will Help Your Alex Fraser Bridge Commute
>> Imagine What Safer Travel in Tofino, Ucluelet Looks Like
>> Adding Drains to the Floodplain to Keep Motorists Safe
Share this page: