You love BC Highway Cams and so do we.
Our network of more than 985 webcam views of BC highways works exceptionally well to keep you in the know before you go. We monitor our systems around the clock to make sure they are working to provide you with a current snapshot of highway conditions across the province. But, like most complex systems, it can sometimes run into technical difficulties. For instance, when Old Man Winter makes his appearance across the province in the fall, we know that it's time to make the shift into winter. Did you know that some of our BC Highway Cams have to make the shift into winter too? It's true.
Many of our cams are close to cell service, making it easy for them to transmit data in all kinds of weather; however, some of our more remote cams don't have cell service close by and rely on satellite or radio communications to send their images to the BC Highway Cams site. Unfortunately, when winter first rears its head, some of those satellite and radio cams can go down.
We spoke to our webcam guy and he explained why:
"The Fall-Winter and Winter-Spring seasonal transitions are the worst for the satellite systems. The wet snow freezes on the dish and transceiver and causes havoc. Also, low thick clouds full of snow attenuate the signal. Once it gets a little colder, it should be more consistent."
This is what happened with on Highway 3 on the Bombi Pass cam (seen above). When we arrived at the site we found the transceiver covered in ice. Once cleared, the cam was back in business.
Here's a quick list of BC HighwayCams which use satellite to transmit images:

What Does Transmission Delayed Mean?
Sometimes, nasty weather won't knock a camera out of action but might delay the transmission of our camera images.
If a camera missed the last image update, the black time stamp bar at the bottom of the image will become red. If the camera can't transmit an image after an hour, our system will replace the image with a faded version of the most recent image with the text "Transmission Delayed" displayed on top. At this point, a technician is alerted and if the camera has not been fixed within 24 hours it will be temporarily turned off and replaced with an "image temporarily unavailable" message to prevent misinformation. If you see the "Transmission Delayed" message displayed, check DriveBC for current road condition information for the area.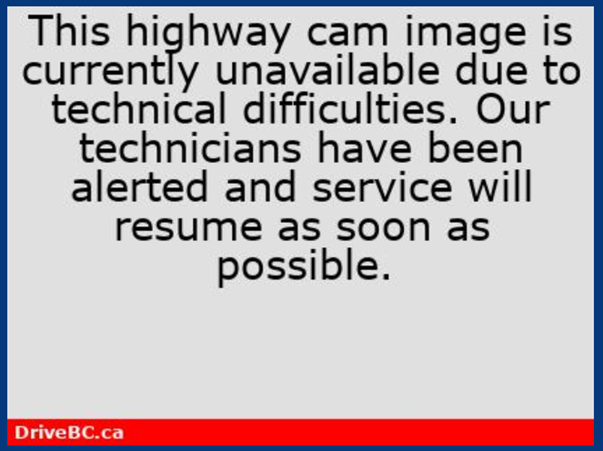 Why Is The Image Temporarily Unavailable?

If you see an "image temporarily unavailable" message on our cams, our technicians are aware of the issue and doing everything they can to get this camera back in action.
We can often fix the issue by trouble-shooting remotely, but sometimes a site visit is required. On occasion, the power or the telecom providers' system has been interrupted and we have to wait for service to be restored. Regardless of the details, we work to maintain and repair cameras as quickly as possible. Turnaround time can be quicker in urban areas where power and communications are consistent, and access is easier. It can take longer in remote areas where access is challenging, and communications and power connections can be inconsistent.
Many highway cameras are in remote areas, making them difficult to access in extremely bad weather conditions. Our camera technicians do their best to keep them running and are very aware of the importance of the cameras to the travelling public, however they are subject to the same road delays you experience during bad weather. We appreciate your patience and understanding if there is a delay in restoring camera views.
How Do We Choose Webcam Locations?

There are five main factors we consider when deciding where to plant a new eye in the sky.
High Use Routes
Areas Prone to Extreme or Unpredictable Weather
Areas with Gaps in Coverage
Areas Prone to Congestion
Feedback from Public & Stakeholders
All sites must meet the following criteria:
power to run the camera
landline, cell provider or satellite communications available
location accessible for maintenance
reasonable costs of installation and maintenance
technical requirements
Now you know. Do you have any other questions? Let us know in the comments below.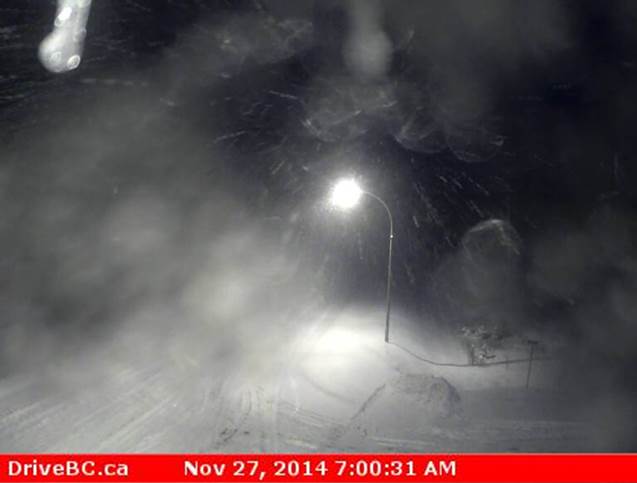 This article was first published on  Nov 27, 2014. It has been updated to provide you with more in depth information on our highway camera system.
Share this page: