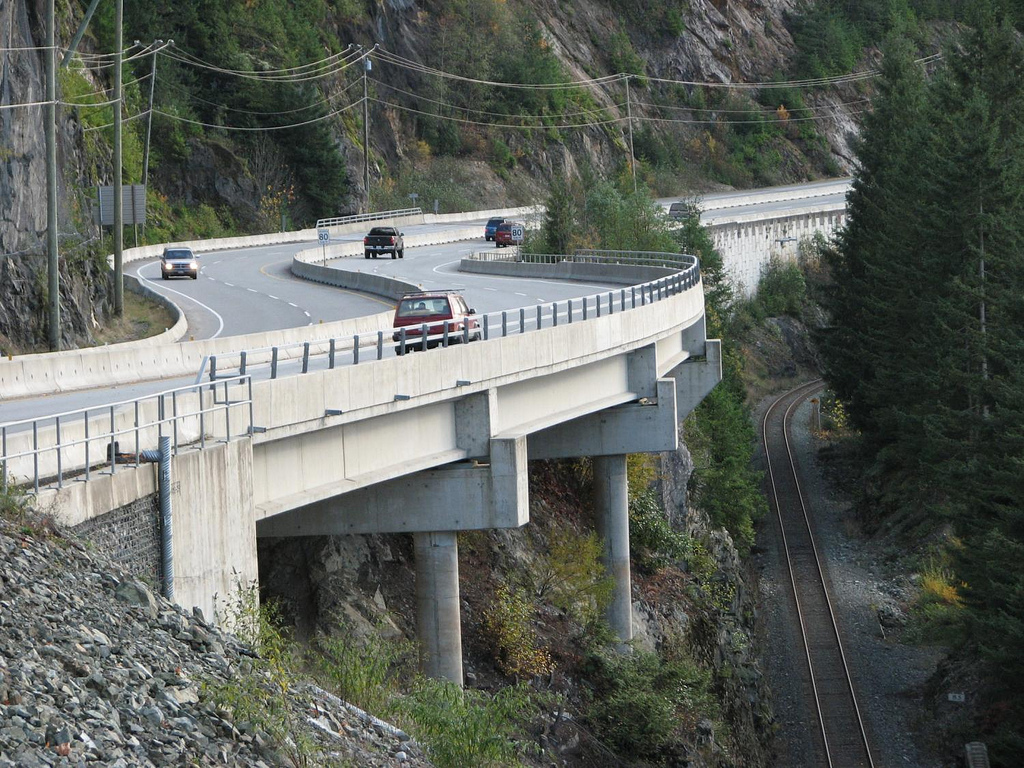 British Columbia's beautiful, but rugged, terrain means our highway infrastructure must often hug mountainsides and carry over chasms. One of the most important ways we protect travellers' safety is by installing highway barriers to stop vehicles from leaving the roadway or crossing into oncoming traffic during an incident.
To determine where barriers are needed, we use a warrant system that considers factors such as:
Traffic volume
Design speed
Degree of highway curvature
Highway grade
Embankment height
Proximity to roadside hazards
We rely on this assessment to ensure areas with the greatest need for barriers are addressed first.
Barriers come in different forms and are installed for specific purposes. Let's begin our exploration of barriers by going over three ways they are strategically located on the highway before delving into the three main types of construction.
3 Places for Barriers
Median Barriers – These are used to separate opposing directions of traffic on a highway. Median barriers are designed to redirect vehicles striking either side of the barrier, keeping motorists safe from head on collisions.
An example of a major median barrier initiative is the Highway 1 – Malahat Safety Improvements, which has divided approximately 60 per cent of the corridor with median barrier. Once the proposed Goldstream Median Barrier Widening project is completed, over 75 per cent of the Malahat corridor will be divided.
Since median barriers can restrict emergency vehicles from accessing an incident, and reduce detour options for travellers, we will sometimes install a steel emergency access gate, called a Vulcan Barrier, in the median which can be opened to allow vehicles to cross.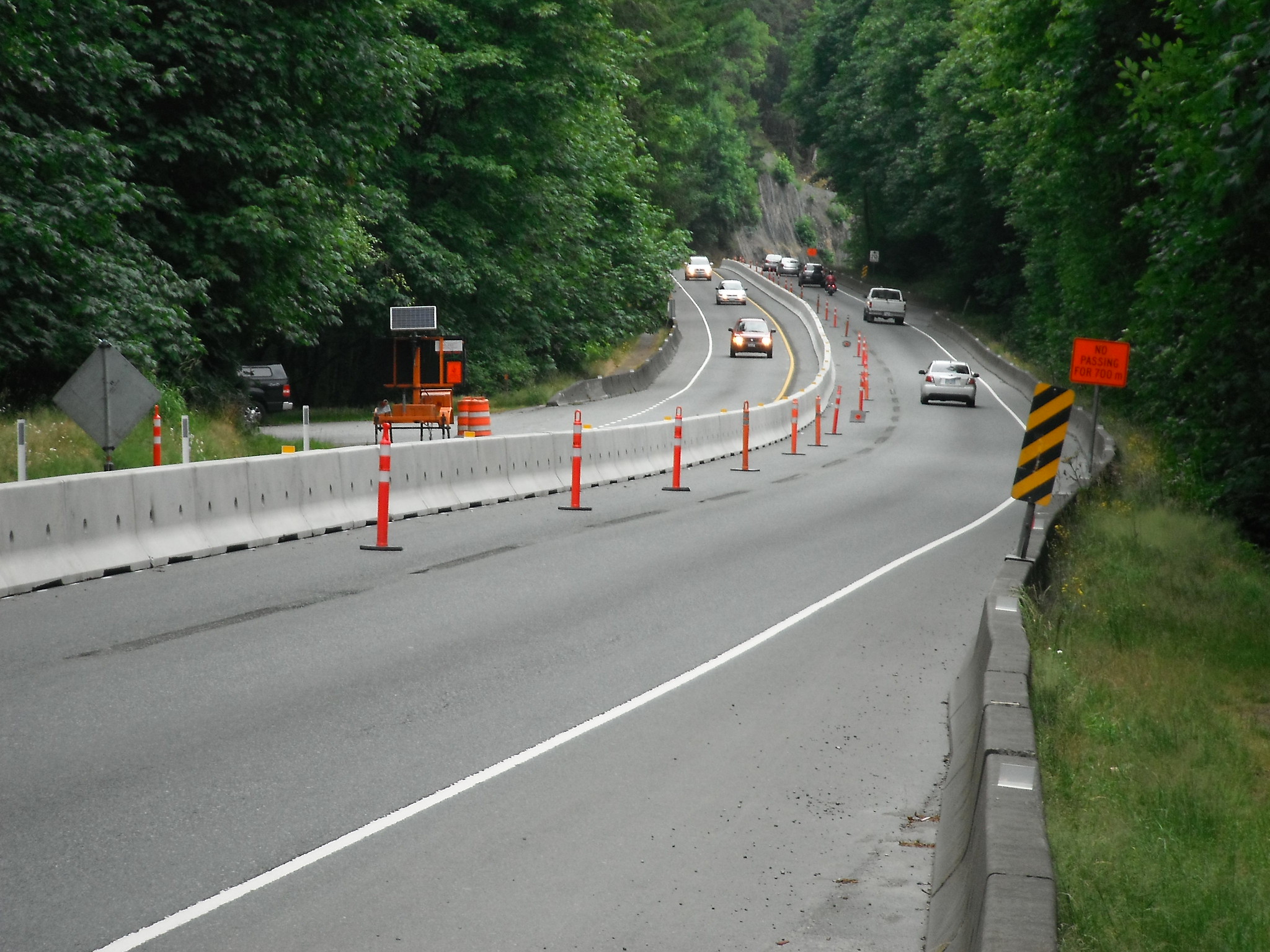 Roadside Barriers – These are used to shield motorists from natural or human-made obstacles on the outside portion of the road. Roadside barriers are also designed to stop a vehicle from leaving the road and striking a fixed object or a terrain feature (think mountain) or lack thereof (think river valley) that is less forgiving than striking the barrier itself.
Crash Attenuators — Have you ever noticed large groups of barrels (which we fill with sand) or accordion-style cushions placed strategically along the roadway?
Known as crash attenuators or crash cushions, these safety devices act as a buffer between errant vehicles and the ends of a barrier system or other fixed object (such as a bridge pier). There are also portable attenuators that can be set up in work zones to protect workers and travellers. They absorb the shock of impact should a vehicle hit them, reducing the severity.
Now that we've described three ways barriers can be placed as safeguards, let's go over the three main types of barriers.
3 Types of Barriers
Concrete Barriers – This is the most common type of barrier used in BC (pictured above). Concrete barriers are rigid, relatively easy to maintain and very effective at containing vehicles.
Concrete barriers last a long time and require little maintenance, even after having been impacted in a collision. They are an effective way to divide the highway while preventing people from drifting across the centreline into oncoming traffic or drifting off the side of the highway.
However, highway widths that are on the narrower side can limit where we can install concrete median barriers, which are about half a metre wide at the base. Imagine adding another metre to either side of the barrier to keep traffic at a safe distance, and you can see why putting in a barrier could mean we need to widen the highway, which isn't always feasible.
You may wonder why some concrete barriers have holes through them. The holes you see halfway up the concrete median barrier allow equipment to lift them. Meanwhile, at the bottom of the barrier at the asphalt surface, there are weeping holes (AKA scuppers) to allow water to move, thus reducing pooling. Barriers without lifting holes exist, too, and road crews typically lift these by clamping to a piece at the top of the barrier.
Steel Barriers – These barriers consist of a metal beam (shaped like a W) which is supported by a series of wooden or steel posts. Steel barriers are designed to give way slightly under impact, preventing the vehicle from leaving the roadway while helping to minimize the shock of impact that travels back to the vehicle and passengers.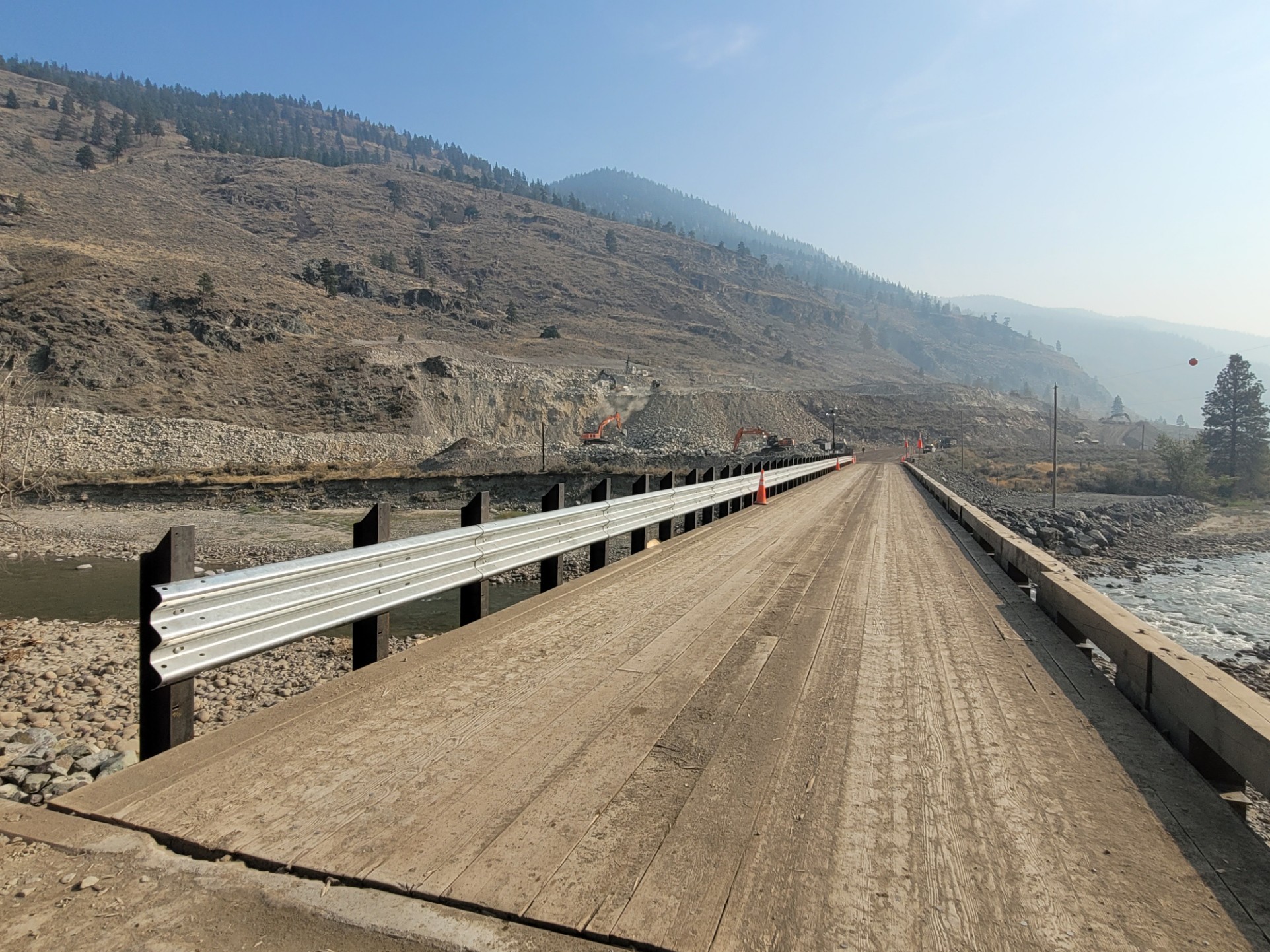 Cable Barriers – Rope-like cable barriers are also in place along stretches of highway. These tensioned cable barriers prevent median crossover crashes and off-road crashes. Cable barriers absorb a lot of the force, and thanks to its flexibility, they reduce much of the damage that can occur with some of the more rigid barriers. Also, the open design of the cable system minimizes visual obstruction, reduces accumulation of drifting snow along the roadway, and provides better sightlines on curved roads.
We first started using cable barriers around 2005, installing them around Harrison Hot Springs and then again near Chilliwack. They quickly demonstrated their worth, with the Chilliwack barriers alone credited for preventing dozens of crossover collisions in the first few years after installation.
While these benefits make cable barriers a good choice in some places, they're not suitable everywhere. Because they are flexible, they need to be used in areas where there is enough room for the fence to stretch and absorb the impact without creating a safety hazard for other vehicles.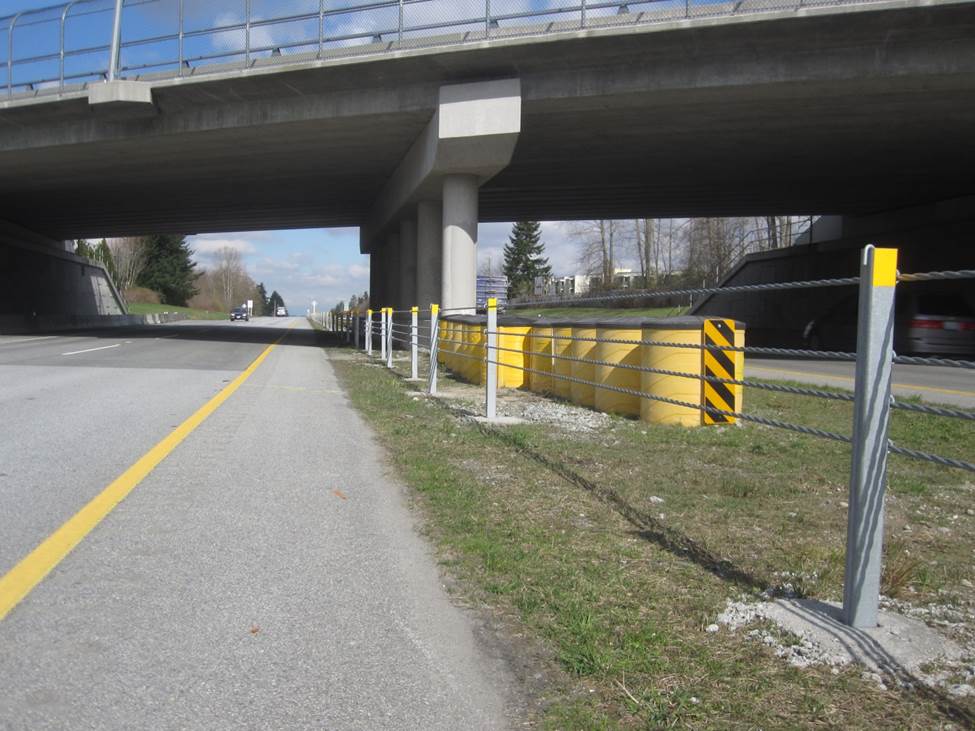 These are just a few of the ways we are working to keep travellers safe on BC Highways. You might have seen some of our other road safety features, such as:
We constantly monitor highway safety and improve high risk locations wherever we can. We also follow national design guidelines and practices that incorporate road and roadside safety features like travel lane width, shoulder lane width, and clear zones to minimize the crash severity if a vehicle leaves the roadway.
Hungry for more? Read more blogs about transportation safety. Here are a few suggestions:
>> Scalers – Top to Bottom Rock Removal Specialists
>> Why Automated Flagger Assistance Devices (AFAD) are Here to Stay
>> How to Help Volunteer Firefighters Help Others on BC Highways
* This blog has been updated since its original publication in 2016
Share this page: