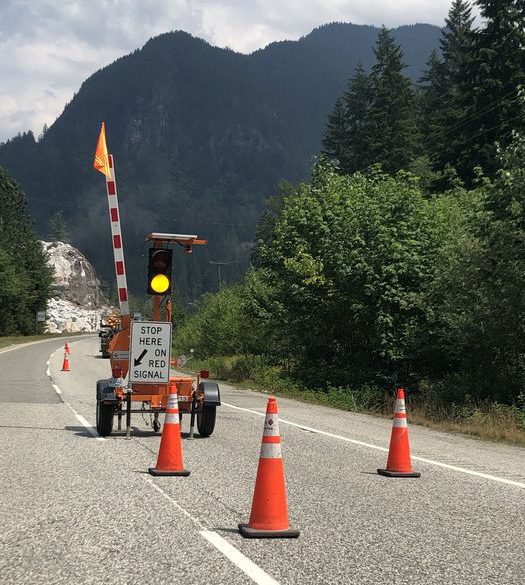 It's safe to say: Automated Flagger Assistance Devices (AFAD) are only going to become more common on BC roadways. Not only do they provide effective traffic management, they also keep traffic controllers out of harms way.
Problem is, some drivers may not be familiar with the way AFADs work, which is causing confusion at some work zones. We're here to explain what AFADs are, how they operate, and why they are important.
How to Spot an AFAD
AFADs are portable, remotely operated temporary traffic control equipment with high visibility signage. They feature red and yellow traffic lights and a gate-arm with a fluorescent orange or red flag that moves up and down, extending into the travel lane. The device can only be used on two-lane, two-way roadways and on multilane roadways that have been reduced to one lane. They are used for single lane alternating traffic or intermittent stoppage situations.
AFADs have several benefits. They are:
portable,
easy to set up,
small enough to be used in areas where the road has narrow shoulders.
And, most importantly, they are highly visible to drivers. Studies in the US show that AFADs lower drivers' approach speeds and encourage them to stop further back compared to human flaggers positioned on the roadway.
If you really want to get into the nitty-gritty requirement details for AFADs, they are available in Section 4.7.3 of the Traffic Management Manual for Work on Roadways.
And you can get a closer look at the devices in this Cone Zone campaign video, which explores AFADs and other temporary traffic control devices:
Roadway Robots? Well, Not Quite…
AFADs do not operate on their own; they require at least one traffic control person (TCP) with a remote control device, who can position themselves well away from moving traffic. Think of an AFAD as an extension of the TCP's arm.
For work zones with greater distance between traffic queues, two people are required because they must have an unobstructed view of their flagging device.
There are multiple configurations possible, so don't be surprised if you see any of the following:
Two Traffic Control People:
One person operates each AFAD at either end of the work activity area; or
One person operates an AFAD at one end of the work activity area and the second person controls traffic with a paddle at the other end.
Single Traffic Control Person:
One person is positioned in a central location (where they can see both AFADs), simultaneously operating two AFADs that are positioned at either end of the work activity area; or
One person operates a single AFAD that is positioned at one end of the work activity area while also controlling traffic with a paddle at the opposite end.
What the Colours Mean — Red is Not a Glitch!
Like we said earlier, we've been receiving reports of drivers being confused or ignoring AFADs. We've had instances of people driving around the closed gate, and even busting right through the gate, which is extremely dangerous considering AFADs are usually used to control single lane alternating traffic.
The light on an AFAD tells you what to do:
Flashing yellow = drive with care
Solid yellow = prepare to stop
A red light = stop
When the arm is down and the light is either solid yellow or red, stop at least one car length away. Do proceed even if there is no oncoming traffic.
Remember: AFADs are operated by traffic control people onsite. If you are waiting in front of an AFAD with its gate down and red light shining, and there is no oncoming traffic, do NOT assume it is malfunctioning – do NOT drive ahead. Wait until the red light switches to yellow and the gate rises – only then is it safe.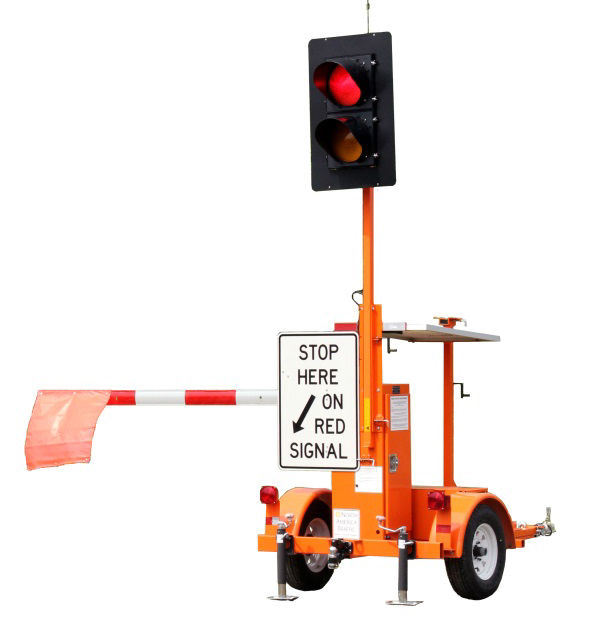 AFADs are there to make traffic control safer for workers and more effective for travellers. And with so many benefits to using them, you'll be seeing more of them on the roads in the future. Please respect them in the Cone Zone, and drive safely.
We have many more stories about traffic control and roadside worker safety. Check them out!
>> How to Help Volunteer Firefighters Help Others on BC Highways
>> Why Slow Down if No Workers at Construction Site?
>> See Why This Video Makes Us Worried for Roadside Workers
>> Watch and Learn How to Drive Safely in the Cone Zone
Share this page: