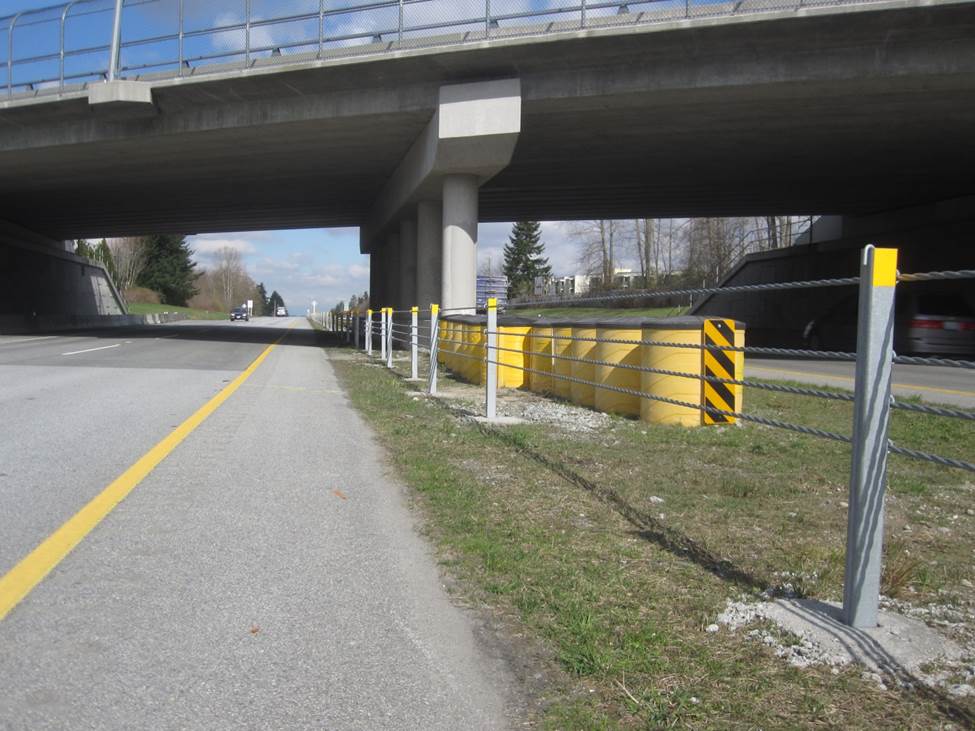 You'll often hear it said that safety is our top priority. And there's a good reason for that. It's true. Regardless of whether we're designing, building or maintaining our roads and bridges, we want to make sure people can get where they're going safely. We have a lot of different ways of doing that, but barriers might be one of the most familiar.
You've seen concrete barriers and guard rails lining our highways, but cable barriers are also gaining in popularity. They look like a small fence, with lengths of wire rope strung between posts, but it's a lot stronger than one you'd see around the house.
Cable barriers are used as both roadside and median barriers. In B.C., we've been using them along the middle of a highway to keep vehicles from crossing over into oncoming traffic.
If a car leaves its lane and collides with the barrier, the cables actually absorb a lot of that force, and thanks to its flexibility, it reduces a lot of the damage that can occur with some of the more rigid barriers. The cables also improve sight lines for drivers, and in the event of a collision, they're quick and easy to repair. While these facts make cable barriers a good choice in some places, they're not suitable everywhere. Because they are flexible, they need to be used in areas where there is enough room for the fence to stretch and absorb the impact without creating a safety hazard for other vehicles.
We first started using cable barriers around 2005, installing them around Harrison Hot Springs and then again near Chilliwack. They quickly demonstrated their worth, with the Chilliwack one alone being credited for preventing dozens of cross-over collisions. We've also been installing some along Highway 99 in the Lower Mainland, and those barriers have already proven to be very effective, preventing potentially fatal incidents.
Cable barriers are still pretty new for BC, but the results we've seen so far are encouraging, and we're continuing to look for good places to install them. So keep an eye out when you're travelling the highway. The next cable barrier might be coming to a community near you.
Share this page: