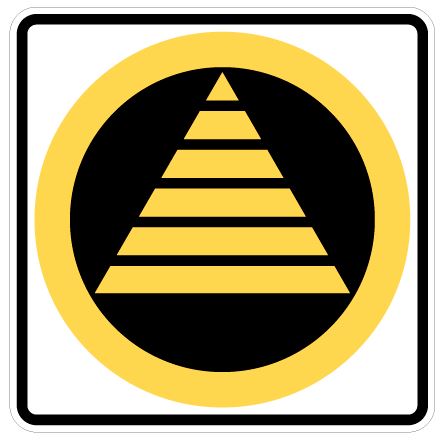 Do you know what this yellow sign means?
Many people who see these signs on Vancouver Island and in the Lower Mainland think they indicate public evacuation routes during an emergency situation, but this is not true.
These are Disaster Response Route signs and they indicate routes that are designated for use by emergency personnel only during an emergency situation.
They're NOT the way to go when you want to get the heck out of Dodge. If you find yourself on a disaster response route during an emergency, exit the route as soon as possible to make way for first responder personnel.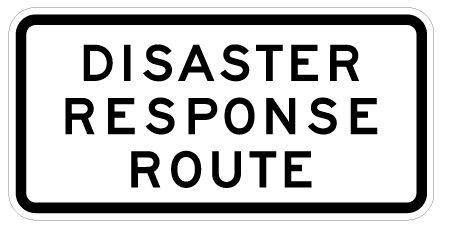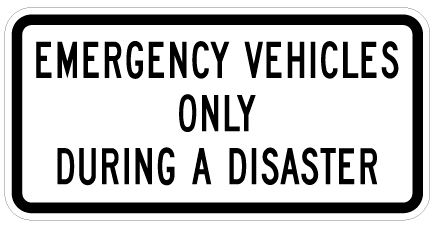 So, what are Disaster Response Routes?
Simply put, Disaster Response Routes (DRR) are network of routes that are best suited to move emergency services and supplies where they are needed in response to a major disaster. DRRs may be activated following a declaration of a local or provincial state of emergency. They are activated only as needed to respond to an emergency or disaster situation and only for as long as needed.
Disaster Response Routes means other roadways can be used for non-emergency traffic, commuting, or the unlikely event of an organized evacuation. Should an emergency, such as a chemical spill, fire or tsunami occur, DRRs will be activated as required and the public will be advised of what routes are open to non-emergency traffic.
Part of a Larger Disaster Response Transportation Network
Transportation is multi-modal – which means the Ministry of Transportation and Infrastructure is responsible, at a high level, for many types of transportation (road, rail, marine and air). Our Disaster Response Route Guidelines include ALL aspects of transportation under the name of Disaster Response Transportation (DRT).
The purpose behind this system is to be able to move quickly to where we need to be…and mobility is the key.
The DRT system is intended to allow all levels of government to align their disaster preparedness plans for more effective emergency response. "Critical routes" will be determined and designated pre-event for resilience planning and priority damage assessment; however, under the new framework, critical routes will be activated with agility to remain responsive during emergency.
Updated Identification System for First Responders on Critical Routes
First responders and emergency personnel were previously given stickers identifying them as authorized to use these essential routes. This identification system has been discontinued and Disaster Response Route permits will no longer be accepted on activated disaster response routes. If you currently have a decal, be aware that they are no longer valid and there are no plans to create more.
Instead, should emergency transportation be activated for emergency responders, other communication methods will be used to clarify and specify who the priority transportation is for. This modernized system will give our highly valued first responders and emergency personnel greater situational awareness to perform their duties safer and more efficiently.
Transportation is a crucial element in response and recovery following a major emergency event. Your awareness and cooperation is necessary to keep these routes clear following an earthquake or other disaster, in the interest of saving lives and protecting property. So, in the event of an emergency – stay calm, listen for updates and please steer clear of DRRs.
Did you like this blog? You might find these related links interesting:
Meet BC SIMS: Our Smart Seismic Infrastructure Monitoring Tool
What Happens After A Washout Hits a BC Highway
Emergency Signs and What They Mean on BC Highways 
Share this page: