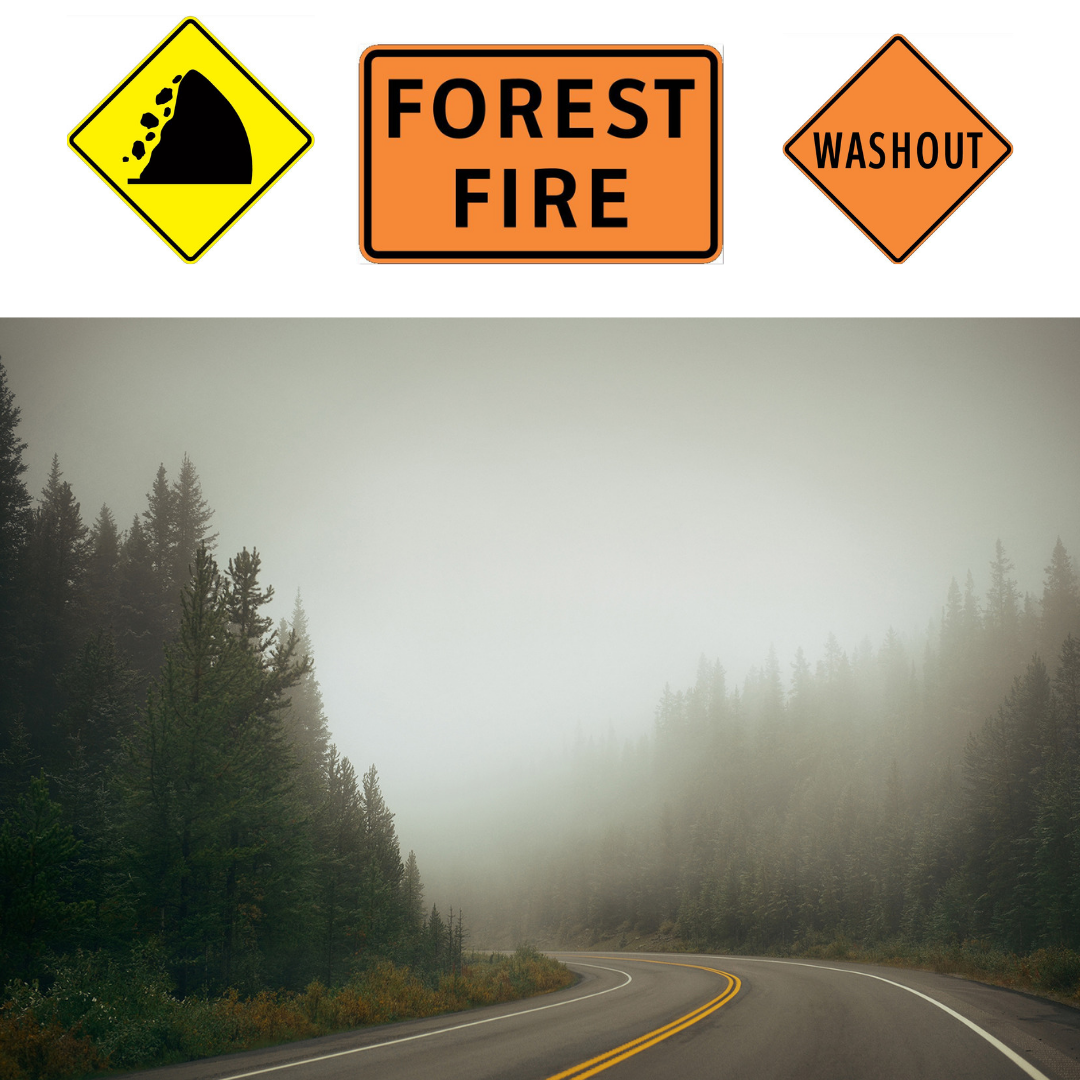 We have an extensive inventory of signs in use along our highways – many of which you are familiar with. But let's take a minute to highlight some of our emergency signs — signs which you might not see very often (or which you might notice, but not be familiar with the significance of), that could indicate a potential emergency situation for you while driving.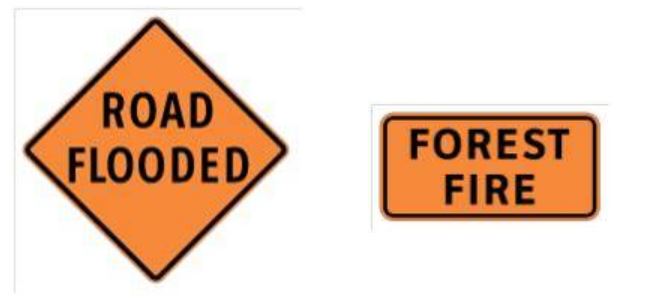 For example, Road Flooded, Washout and Forest Fire signs let you know exactly what to expect on the road ahead — most likely water and/or smoke, reduced visibility and ultimately, reduced mobility.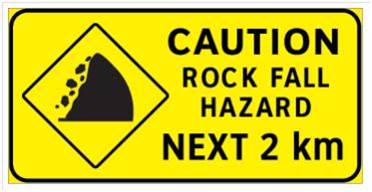 Rock Fall Hazard signs are placed in areas which have been historically active. Educate yourself on areas of our province which have an active past of flooding and landslide activity. Chances are you're not going to be affected by a spring landslide or flood, but it is always wise to be prepared, so that you can get around safely and reliably. And should you happen to be in an area that's at risk of flooding or another type of emergency, keep yourself informed by checking for updates at Emergency Info BC.
Do you know what the yellow sign below means?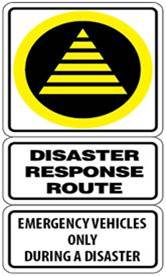 Many people who see these signs on Vancouver Island and in the Lower Mainland believe this sign indicates an evacuation route during an emergency situation BUT THIS IS NOT TRUE.
The Disaster Response Route sign actually identifies roads designated for the sole purpose of moving emergency supplies, equipment and personnel during an emergency. Not the way to go when you want to get the heck out of Dodge
As a motorist, it's always a good idea to keep an eye on DriveBC or DriveBC Mobile. It has a comprehensive list of incidents, closures and delays marked in red on the events list and the handy map is constantly being upgraded with new features to help you know before you go.
And remember, if you drive by an area where slide debris is being cleared or other road repairs are underway; please slow down in the cone zone. The people fixing the roads need to focus on their work – not worry about a close encounter with a vehicle. You are required by law to slow down and move over.
Do you have any pressing questions about signs that we haven't answered here? Let us know in the comments below and we will try to get you an answer. You can also connect with us on Twitter or Facebook.

Check out these tips to be prepared for emergencies:
How to be an Emergency Smart Traveller
Drive Flood Smart: Find Higher Ground or Turn Around
Be Prepared BC – Slow Down, Pull Over and Stay Inside (Earthquake)
Share this page: