Reactions to the orange bridge paint now covering parts of the Riverbend Bridge in Port Alberni prove that an infrastructure improvement doesn't have to be physically large in scale to have major positive impacts on people's wellbeing.
"This is washing some of the sorrow away," said local Tseshaht First Nation community member and residential school survivor, Wally Samuel, while applying orange paint with a roller alongside his wife, Donna (pictured above).
Riverbend Bridge, known locally as the Orange Bridge for its original colour, crosses the Somass River as part of the Highway 4 corridor and enters the Tseshaht First Nation, where the Alberni Indian Residential School operated nearby between 1900-1973.
"There's a lot of survivors who won't come to Port Alberni and who won't cross this bridge because it reminds them of the school," said Ken Watts, Tseshaht First Nation Elected Chief Councillor.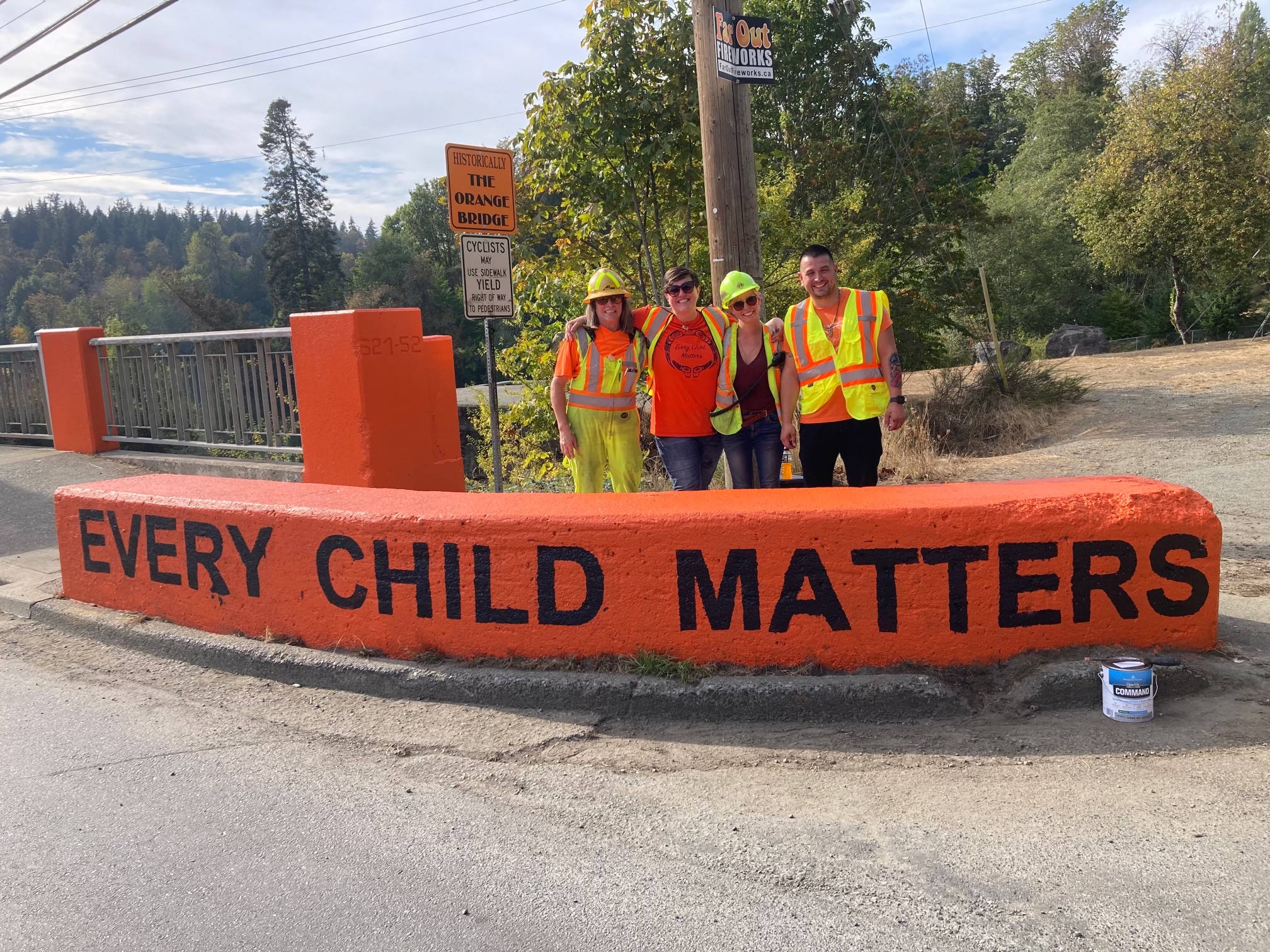 Why Orange Matters
The bridge was painted in a silver undercoat in the mid 1990s. After hearing from residential school survivors, the Tseshaht First Nation reached out to us about returning the bridge to its original orange as a reminder of the community's painful past, as well as a symbol of their resilience.
We teamed up with local highway maintenance contractor, Mainroad Mid-Island Contracting, to acquire the paint and supplies and develop a traffic management plan.
On September 27, 2022, we joined Mainroad and members of the Tseshaht First Nation to paint the concrete bridge abutments and barriers, adding the words "Every Child Matters" to the barrier leading up to the Tseshaht First Nation administrative office. Tseshaht council member Ed Ross's daughter, Mia Ross, applied the first stroke of orange, a fitting way to begin such a meaningful project.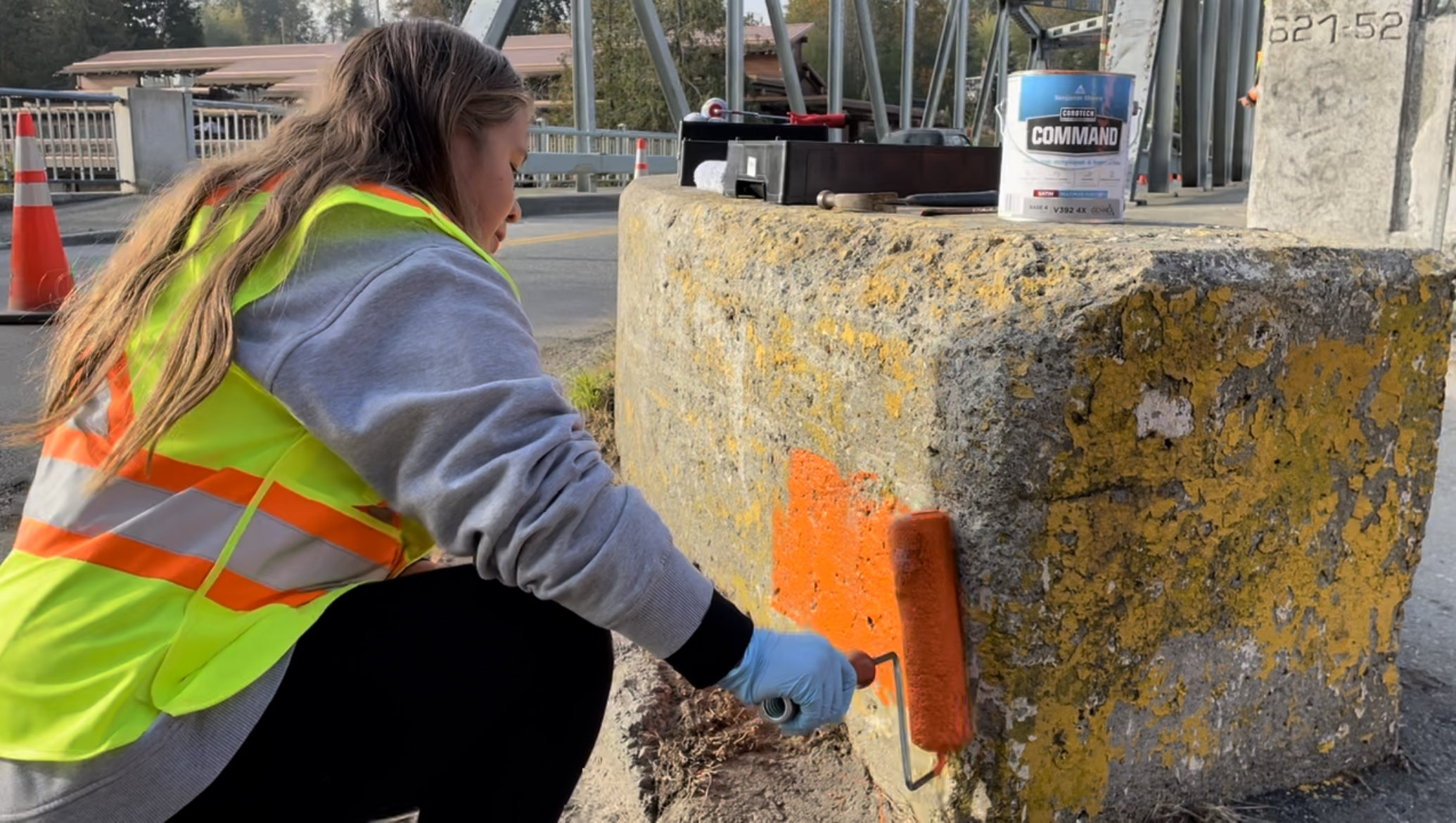 Throughout the day, more and more community members and other volunteers joined the efforts, including Grade 7 students from Haahuupayak Elementary School and local residential school survivors who wanted an opportunity to transform the bridge, reflecting upon their survival through dark times and remembering those who did not.
"I'm glad to be doing this today, as a reminder," said Donna Samuel, who met her husband of 55 years at the residential school.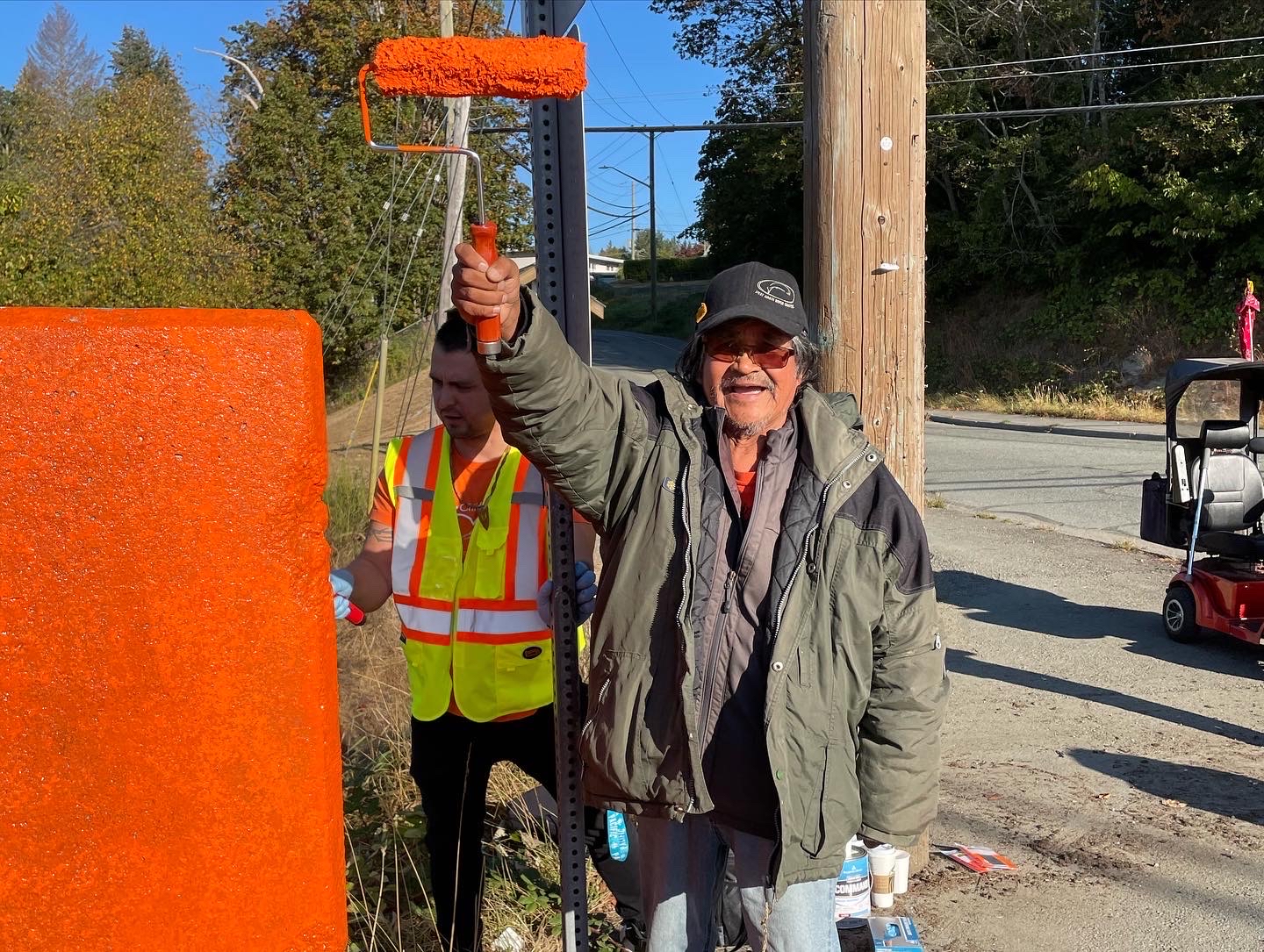 Bringing People Together, Bridging Relationships
The day began with a welcome speech and blessing at the Tseshaht administrative building, where devil's club necklaces were given to those taking part in the painting project. Our staff and Mainroad staff were also shown the site of the residential school, where a monument now stands. Tseshaht members shared painful stories but also offered healing words of celebration.
"It was a very powerful experience," said ministry operations manager Nikki Schneider.
"I am honoured to have been able to support Tseshaht First Nation in their desire to create a meaningful monument out of a bridge that was once a symbol of so many people's trauma."
Now, when Highway 4 travellers cross the bridge, they will be encouraged to reflect on BC's residential school history and, hopefully, feel emboldened to support future efforts toward reconciliation.
For more stories harkening back to BC's history, visit our BC Highway History section.
Share this page: