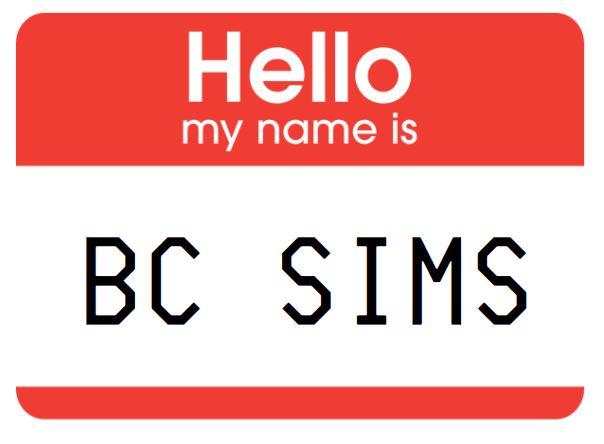 Hello.
My name is British Columbia Smart Infrastructure Monitoring System. My developers call me BC SIMS.
My job is to constantly monitor seismic activity across Canada (as well as Washington, Oregon and Alaska) and report any tremors to Ministry of Transportation and Infrastructure engineers to help them keep BC highways safe and running smoothly following a damaging earthquake. There are over 100 earthquakes in BC every day, which is why I am an important part of the Ministry Transportation and Infrastructure's seismic engineering toolkit.
My system is made up of two unique parts – the Strong Ground Motion Network and the Structural Health Monitoring Network. Allow me to describe the function of each of my parts below.
Strong Ground Motion Network
This network consists of approximately 160 earthquake sensors, installed at or near critical infrastructure locations (such as public schools, government offices, fire halls, BC ambulance stations, bridges, etc.,) in earthquake prone areas of the province. These sensors monitor and record seismic activities in real-time at and around their locations. Once trigged by an earthquake, sensors will immediately report the level of shaking to the BC SIMS data centre, which will trigger the system to automatically generate an earthquake report and shake-map for ministry staff and registered users of the BCSIMS webpage.
An automated service sends out immediate earthquake notifications by e-mail to registered users of the BCSIMS network. Earthquake activities are immediately posted on the BC SIMS webpages, along with the data listed below:
Earthquake magnitude
Location of the earthquake
Depth of the earthquake
Date & time of the earthquake
Region
Ministry engineers use these reports and maps to compare the earthquake event with the seismic threshold that specific structures, such as bridges and tunnels, are designed to withstand. These tools help engineers and emergency managers get a quick idea of where the strongest motion occurred so they can identify priority sites and focus resources there.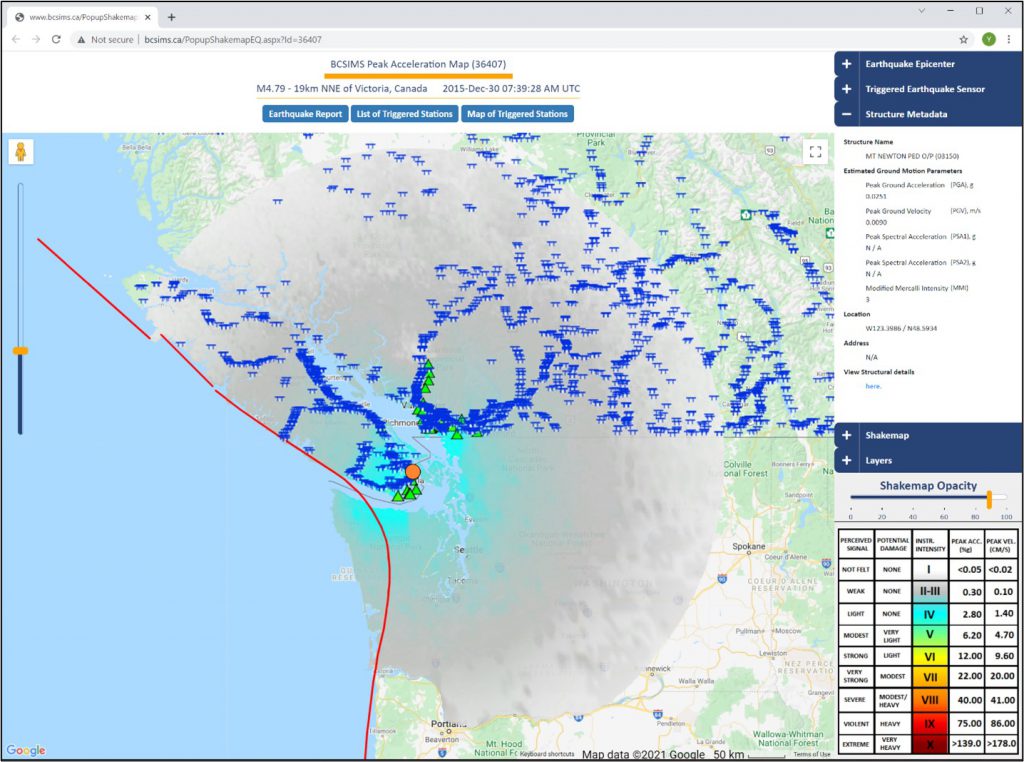 Structural Health Monitoring Network
This important network of sensors monitors earthquake vibration levels on critical ministry infrastructure. The objective of the Structural Health Monitoring (SHM) system is to provide the ministry (and the public) with data for these structures immediately after a significant event, in order to assess the safety level of these infrastructures. When a tremor is registered by a bridge, a report is generated highlighting the intensity and expected damage and sent to ministry engineers and inspectors immediately for their review.
If an earthquake event is greater than 6 on the Richter Scale, an email will be sent to all ministry staff asking them to confirm their location, job title and availability for work. This information will be used to make strategic decisions and deploy staff for response.
The ministry has been working collaboratively with UBC on this network since the late 1990s and there are currently 14 bridges and 1 tunnel in the network and the number of monitored structures within the system is expected to increase in the upcoming years. The ministry has also used this system with great success during ministry emergency training events and it also helps support the inspection and maintenance of these critical structures as well as helps with retrofit efforts, as required.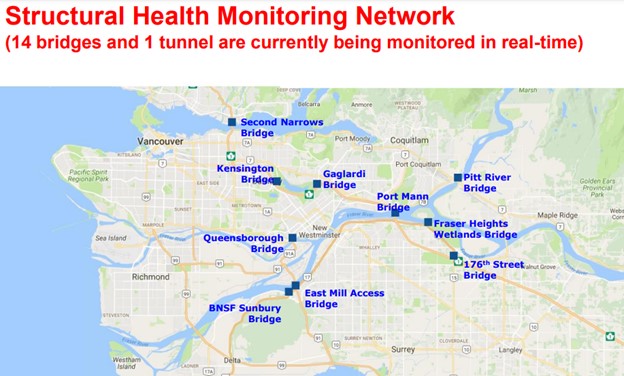 Thank you for taking the time to review my system parameters. I hope this information is helpful.
BC SIMS has been developed to be used by a wide range of users – local governments, emergency authorities, engineering specialists – anyone with an interest in local infrastructure is encouraged to join the network. Registration for the earthquake notification service is open to public from the BC Smart Infrastructure Monitoring System (BCSIMS) website.
Did you enjoy reading this blog? Check out these related topics:
If you have any questions about this or anything else the BC Ministry of Transportation and Infrastructure does, leave a comment in the section below.
Share this page: