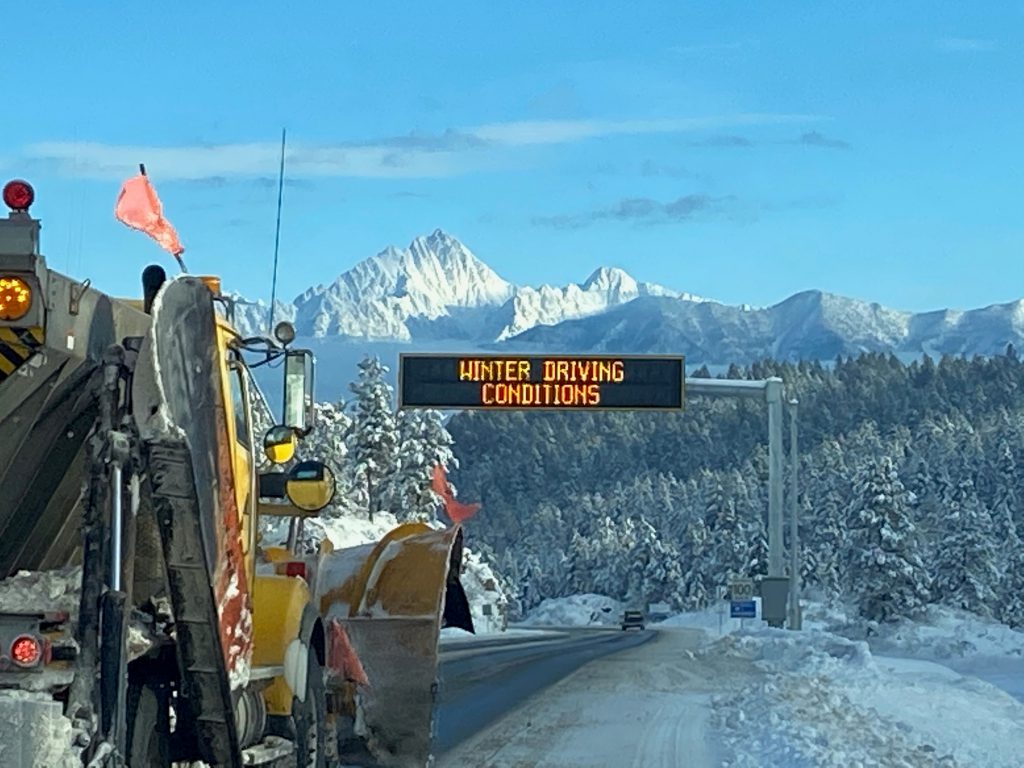 Snow. Now you see it; now you don't. Yeah, we wish.
Snow will fall on the roads, and there will inevitably be a period before it can be cleared. Winter conditions are a reality on BC highways.
So, while our maintenance contractors are required to meet or exceed very specific contractual obligations, drivers are personally responsible for preparing their vehicles and honing their safe driving skills for moments when snow, ice and poor visibility are simply unavoidable.
We all have a role to play for safe winter driving. Neither role is easy.
Snow will fall… and fall… and fall…
We all have different expectations for what a well-maintained road should look like at any given time in winter; however, the reality is, no matter how well the plows, sanders and salters meet their winter maintenance specifications, there will be times when the roads have winter conditions.
For example, even moderate snowfall rates of 2-5 cm per hour can cover plowed roads and abrasives quickly. Heavy snowfall rates of 5 cm per hour or greater are very challenging to keep up with, hence the limits on how much standing, unplowed snow can be on any given road, based on road classification.
Table 1
Amount of standing, unplowed snow allowed at any given time
A Class Roads
4 cm one lane, 8 cm second, 12 cm third
E Class Roads
25 cm
Note, the improved contracts do not limit the hours or effort the contractors must employ to meet the clear roads standards. If necessary, they will be in 24/7 mode – operating around the clock – and hire additional private trucks, equipping them with plows and sanders to meet the conditions. There is more about maintenance contract specifications at the end of this blog.
So, where are the plows?!
It's not uncommon for people to report they didn't see a plow travelling their direction on their trip from Point A to Point B, as if proof our maintenance contractors are on an extended coffee break. Not true. In fact, this is normal. It's very likely a maintenance vehicle was travelling right behind them or just ahead – depending where they are in their patrol. Unless a traveller sits at one location for 90 minutes to 4 hours (as per winter patrol specifications in Table 2 below, which vary depending on current and forecasted weather), they might not see any maintenance vehicles working on the road.
That said, are they perfect? No. Maintenance contractors make mistakes. And when they do, it is our operations staff's job to work with them to identify what went wrong and make improvements moving forward.
If you see a problem on the road, whether winter related or not, please reach out to our maintenance contractors. They are available via phone through the DriveBC Report a Problem tool and via social media.
Chaining up is necessary
We've been asked before: can't highway maintenance contractors just maintain the roads to the point that chains and winter tires aren't needed?
Short answer: no. Sorry, they can't.
As much as our maintenance contractors battle the elements to reduce severity, winter road conditions are a fact of life. Plowing, salting, sanding etc. are simply one aspect of winter driving safety.
Your role begins long before the moment you're tightly gripping the steering wheel through a whiteout. It starts with vehicle preparation.
For commercial truck drivers, that means carrying the right type and number of chains and knowing how to install them. In 2018, we introduced stricter chain-up rules in the wake of one of our worst winter for highway closures, when unprepared commercial trucks caused 41 closures because they were either poorly equipped or totally unequipped with chains.
Many of our highways follow steep grades through mountain passes. Commercial trucks can spin out while climbing over a mountain pass, even when the road is maintained to spec. In fact, trucks have been known to spin out on as little as 1 cm of snow, so chaining up when needed is essential.
For the average passenger vehicle driver, being properly equipped means having four matched winter tires with good tread. While mud and snow (AKA M+S) tires are legal, we recommend drivers install 3-peaked mountain/snowflake tires for cold weather and severe winter driving. Here's how to tell the difference.
Other vehicle prep necessities include:
Looks like I might be chaining up this morning. pic.twitter.com/z9WoJeDrXG

— TruckBC (@TruckBC) February 1, 2022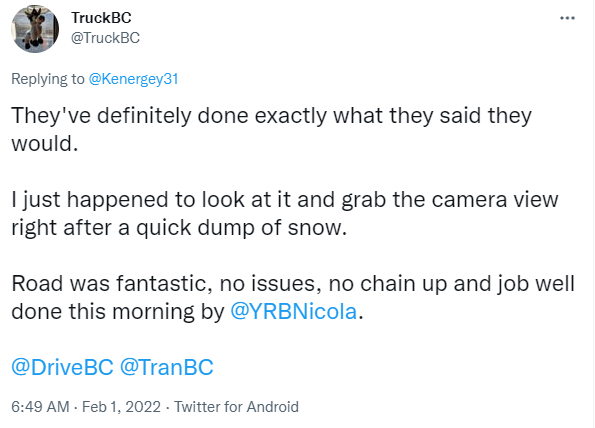 Why compact snow and ice can be so tricky to deal with
Extreme. Erratic. Relentless.
That's the cold, hard reality of winter in BC for you. And each region has its own microclimates with less-than-endearing qualities – from the wet, heavy snow of the coast to the freeze/thaw rollercoaster of the Interior and the harsh, dry cold of the north. Not to mention BC's more than 50 high mountain passes, where weather can turn extreme at a moment's notice.
In all regions, our contractors schedule maintenance activities based on in-depth weather forecasting. This proactive approach to severe weather includes managing adequate staffing levels and applying anti-icing brine (AKA salt) to prevent snow and ice from forming and bonding to the road.
Problem is, brine only effectively melts snow/ice and prevents freezing when the air and road surface temperatures are -7 C or warmer. Once applied, it needs time to do its thing (at least a couple hours) before the plows can roll through and clear the slush prior to refreezing. Timing is key!
When temperatures are too cold for salt, contractors can use chemicals that lower the freeze points to below -9 C; however, the refreezing of chemically treated snow and ice is extremely difficult to remove and quite often takes mechanical force (i.e. graders).
Winter abrasives (sand or small aggregate) is also an option, but sand (as well as salt, for that matter) is often blown off the road by vehicles and wind. Contractors continue to reapply as needed but, when factoring in the necessary time it takes to restock the salters/sanders, combined with the amount of ground to cover, it can be like running on a hamster wheel.
Keep in mind, compact snow is common and completely acceptable during winter months, depending on forecasted weather and temperatures. As the table of contract improvements above indicates, contractors are required to start removal of compact snow as temps warm above -9 C and are forecasted to continue warming.
View this post on Instagram
Incidents and access for equipment
When an incident does close a highway – whether it's a crash or simply a spun-out commercial truck without chains (ugh!) – a domino effect follows, often while snow continues to fall.
First, plow trucks and other maintenance equipment can't appear out of nowhere; they must make their way through moving and stopped traffic just like everybody else. This takes time, especially when there is a significant backup on a divided highway. So, if traffic is blocked and you are stuck in it there is likely a plow also stuck in traffic. All the while, snow continues to build up on the inaccessible portion of road.
At times, there are ways to speed up travel time to the site (i.e. accessing from the opposite direction if it's less congested) but delays are still a reality.
The second domino to fall in this scenario: all the stopped, idling vehicles turn the surface to compact ice as they wait for the highway to reopen, putting more demand on the equipment trying to access and clear the area so the highway is safe to reopen.
Once the highway can reopen, a third domino threatens to topple: Ill-equipped vehicles (i.e. trucks without chains or passenger vehicles without good winter tires) are at risk of spinning out while trying to continue on their way on compact snow and ice, especially if travelling a steep grade. Alas, the cycle continues!
Driving behaviour matters
Reducing crashes and closures with safe winter driving starts with an acceptance that winter conditions are not ideal conditions. Sounds simple, right? It should be – yet, impatience and a general refusal to adapt to conditions leads to loss of control and collisions.
"Drive to conditions" is a mantra we've been repeating for a long time. This requires recognizing that speed limits are based on what is safe in ideal conditions – picture bare, dry roads and balmy, clear weather. When rain, snow, fog, or anything else impacts conditions, drivers are expected to slow down. We even have Variable Speed Limit Systems (VSLS) installed on certain highways to help drivers adapt their speed.
In winter conditions, everyone needs more time to stop and maneuver. So, leave lots of space between you and other vehicles. Avoid sudden moves. Accelerate and brake slowly to maintain traction.
When you come across a plow, salter or sander, give the operator lots of space to do their job. Tailgating and/or attempting to pass while snow and winter abrasives are flying is asking for vehicle damage from debris or, worse, a collision. Wait until the operator pulls over to safely pass.
Remaining safe is a joint responsibility. When you see a snow plow, salt or sand truck on the road, please proceed with caution.

DON'T…Pass snow plows. It's not safe.

Learn more 👉 https://t.co/6fIxfZii1G #ShiftintoWinter https://t.co/310a4mPchK

— Mainroad | Shift into Winter (@MainroadEastK) January 30, 2022
What to expect from maintenance contract specifications
Now that we've explored the responsibilities of highway maintenance contractors and drivers, let's go over some of the winter conditions you can expect to experience by reviewing some key changes to the latest contracts.
Here are the most notable changes to the newest maintenance contracts, which were developed in 2018:
Table 2
| | |
| --- | --- |
| New Contract Specification | Old Contract Specification |
| Bare pavement in less than 24 hours when -9C or warmer on Class A highway | Bare pavement in less than 48 hours, but compact snow allowed during extended cold periods |
| Compact snow surface allowed when -9C or colder, but surface kept free of holes and ruts | No specification in place |
| Pre-treat roads with anti-icing chemicals prior to winter event | No specification in place |
| 90-minute patrol frequency during winter event on Class A highway | 4-hour patrol frequency during winter event on Class A highway |
| 4-hour patrol frequency when winter event forecasted on Class A highway | 24-hour patrol frequency when winter event forecasted on Class A highway |
| 9.5 mm maximum winter abrasive size* | 12.5 mm maximum winter abrasive size |
*Smaller abrasives will reduce potential windshield damage
You'll notice that getting down to bare pavement will not always be required, nor is it always possible to achieve during extreme cold spells.
The standards for any given highway or sideroad depend on that road's winter highway classification: A, B, C, D, E and F, with priority starting at Class A roads (sorry E and F, it's not personal, it's about traffic volumes and types).
To be blunt, contractual requirements – although demanding – don't always jive with people's expectations for the roads they travel.
Highway classification is a big topic in and of itself, so we have a whole separate blog you can refer to, but we should be clear that we, as the ministry, are very much involved with winter maintenance; ministry staff conduct audits and regularly monitor results of maintenance activities. This includes patrolling 24/7 during winter storms to ensure compliance.
In fact, we have more than 100 staff that regularly monitor and audit the contractors and, as part of our quality control, we conduct more than 15,000 monitoring records and more than 1,700 local audits across the province (on average). We also conduct independent audits in each service area to validate the findings of the monitoring records and local audits. To further review the performance of maintenance contractors, we meet with key stakeholders twice a year.
Our maintenance contractors have a tough and often thankless job working in difficult conditions. After all, they are only human – not magicians – and winter driving safety is not a one-person show.
It takes all of us.
Hopefully this blog helps you see the relationship between maintenance workers and drivers in a new light. We touched on some of the factors that make up the cold reality of winter driving in BC. With weather getting more extreme in recent years and natural disasters significantly impacting main routes, it appears there will be no shortage of challenges in the future.
If you're interested in learning more about how we contend with nature to keep you moving, check out the following:
>> Avalanche control blog archive
>> Improving wildlife safety blog archive
>> Road maintenance blog archive
Share this page: