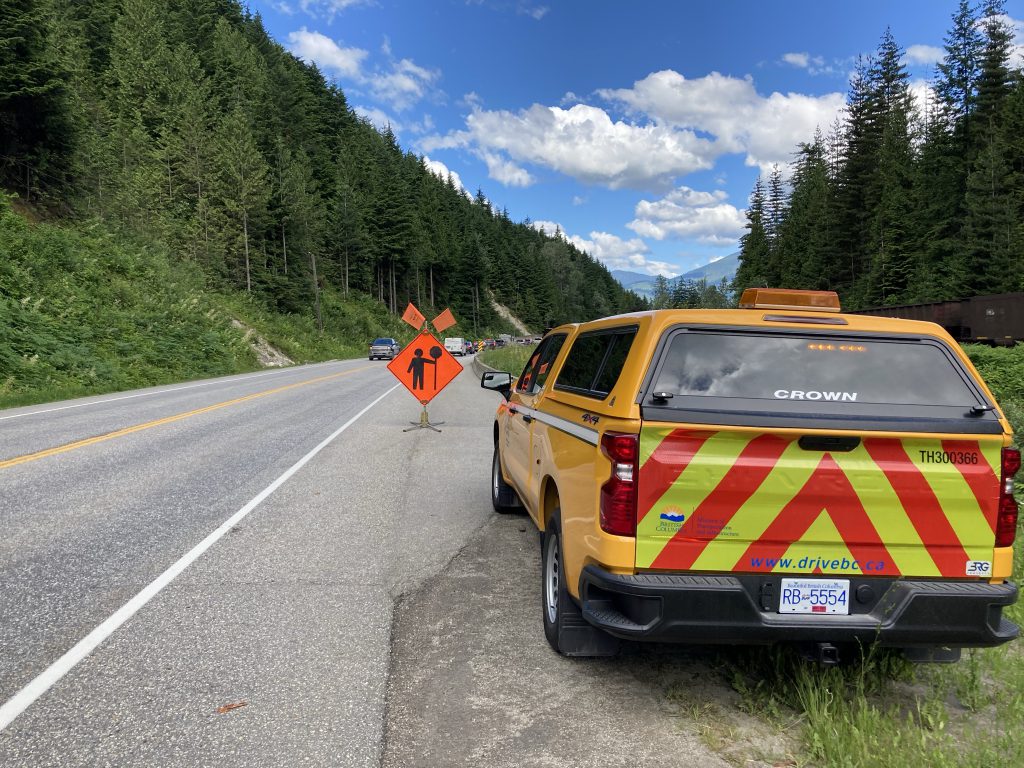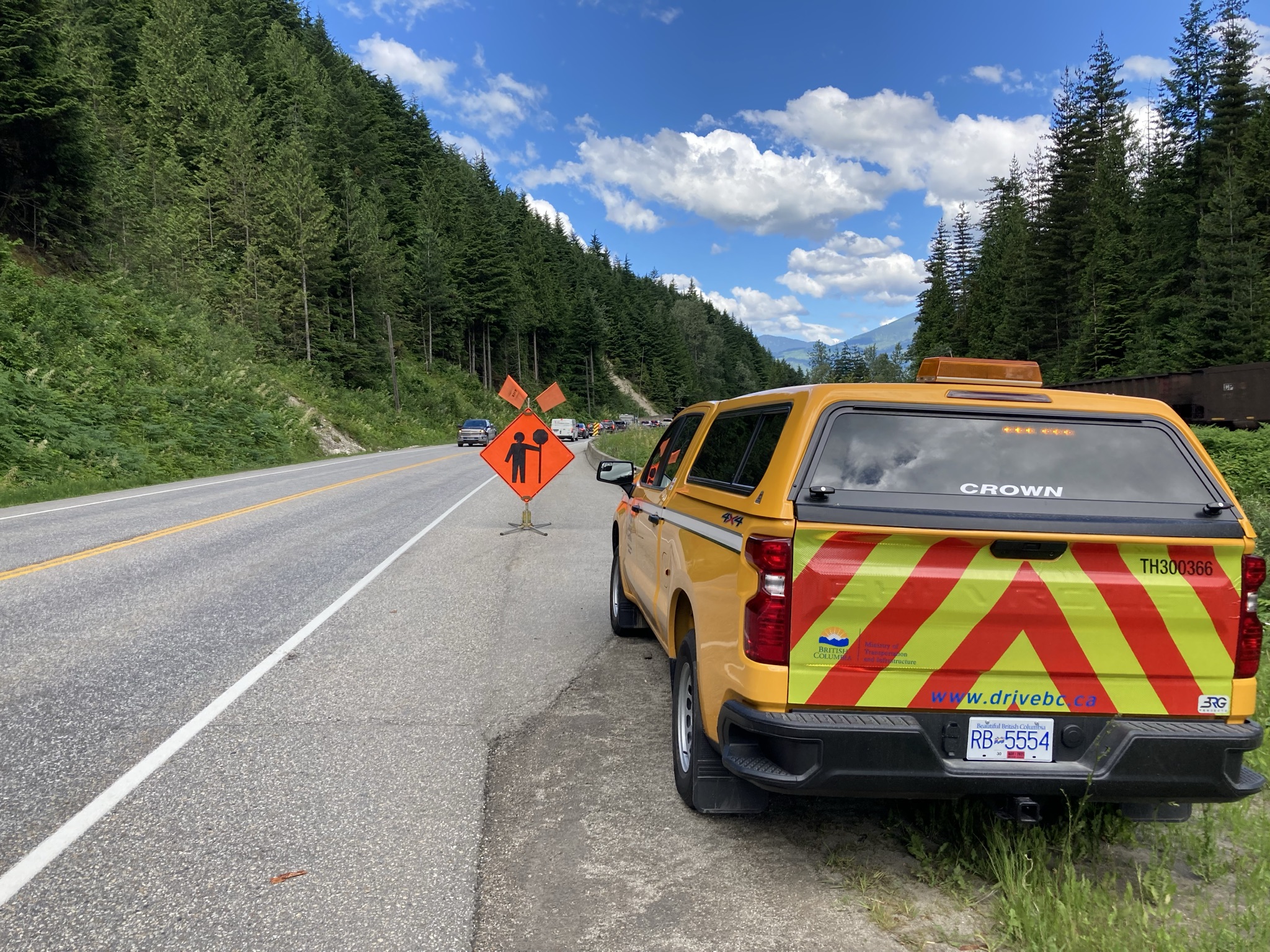 Mountains and snow are two of BC's most defining features – especially in our Rocky Mountain District. But those features can also pose problems when trying to keep BC highways passable and safe. We make every effort to keep the Trans-Canada highway through the Rocky Mountains (and other mountain ranges in the area) open and moving smoothly, but there are times when, for the safety of the travelling public, we must close the highway. When a closure does occur, traffic can back up quickly. But don't worry – we have a plan.
Here's a run down of why the highway might be closed and what we are doing behind the scenes to keep you safe and informed until the highway is back up and flowing freely again.
AVALANCHE CONTROL AND TRAFFIC MANAGEMENT ON HIGHWAY 1
All those mountains mean a whole lot of snow during the winter. Our ministry avalanche staff closely monitor conditions and, when required, close the highway, proactively trigger an avalanche and work with our maintenance contractors to clear up the snow on the highway. When avalanche control is required – an advanced closure notice is posted on DriveBC as a major event. On average, avalanche control work closes a highway for 2-4 hours. There are times when more snow than expected might occur, which can mean it takes a bit longer than expected to clean up the snow.
Closures can occur west of Revelstoke around Three Valley Gap and east of Revelstoke between Albert Canyon and Glacier National Park. Within Glacier National Park, Parks Canada staff take the reigns for avalanche control.  We appreciate your patience while you wait and encourage you to follow us on Twitter @TranBCRockyMtn where we often post cool avalanche pictures and video of this impressive work.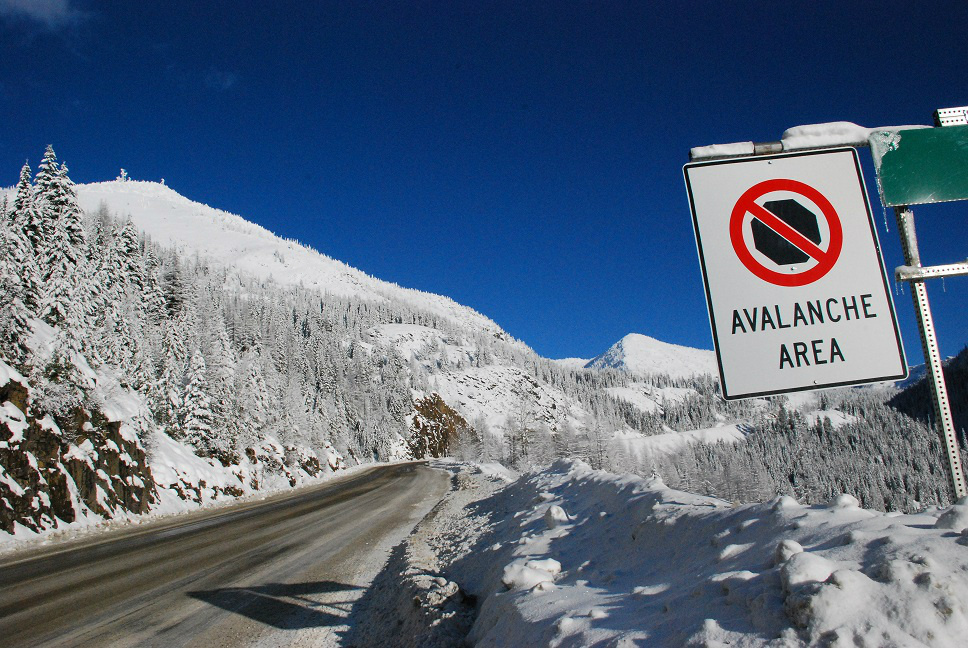 WHAT TO EXPECT IF A SERIOUS VEHICLE INCIDENT OCCURS 
The safety of the travelling public is always our top priority, but in the unfortunate event that a vehicle incident does occur, ministry staff and maintenance contractors often need to close the highway to help first responders with their important job. If an incident is very serious, the  highway may be closed for several hours  due to an RCMP  investigation of the incident (learn more about the why and how of this necessary step here).  If a closure is expected to be lengthy, we'll provide the public with as much information as possible, in a few different ways:
Overhead messaging signs in the area are updated with closure information, directing travellers to DriveBC.ca for more details
DriveBC.ca will post an event outlining the situation and its impact to travel – "road closed due to ongoing police investigation", along with an estimated time of opening or next update – "next update in 2 hours"
If a closure is expected to be lengthy and a detour is available, that information will be made available via DriveBC.ca.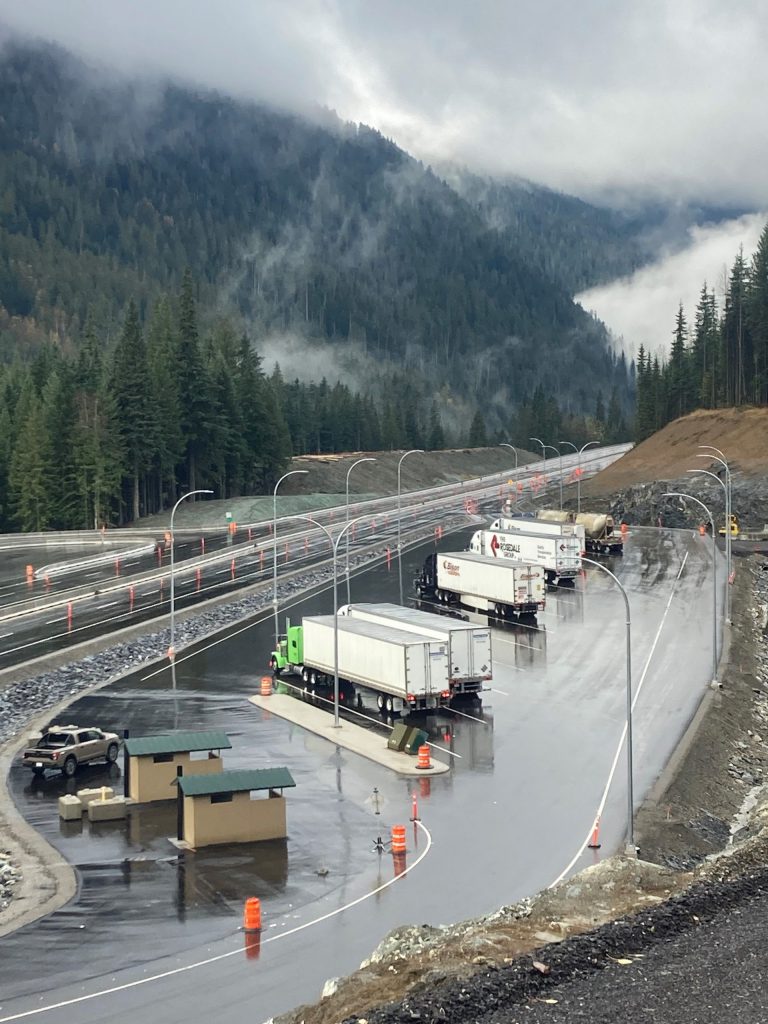 MANAGING LARGE VOLUMES OF TRAFFIC DURING A CLOSURE
BC is a popular place these days and, as a result, traffic volumes on BC highways have also increased. When a closure happens, it can be difficult to store passenger and commercial traffic in the small towns along the Trans Canada Highway due to limited parking capacity. Traffic may be stopped in Sicamous and/or Golden during a long closure in the Revelstoke area (and vice versa). Stopping traffic in other areas along the corridor allows the public to make decisions about their travels plans and it doesn't leave them vulnerable or stranded for long durations in the mountains where there are no amenities available. When closures occur along this corridor and traffic begins to queue, there are important safety considerations ministry staff need to consider.  We cannot leave traffic sitting in long lines underneath rock faces or near avalanche hazards. On the other end of the spectrum, the ministry will store commercial traffic in areas where we have four lanes because, commercial vehicles are better equipped with food, water and accommodations within their cabs.
FEDERALLY OWNED AND OPERATED SECTIONS OF BC HIGHWAY 1
Highways that travel through federal parks (like Revelstoke National Park, Yoho National Park, Glacier National Park and Kootenay National Park) might seem the same as other roads in BC, but the way they are operated is slightly different. That's because they are owned and maintained by the federal government (not the provincial government/BC Ministry of Transportation and Infrastructure). If an incident stops traffic on a federally managed stretch of highway (vehicle incident or avalanche control), the federal government takes responsibility for clearing and opening that stretch of road. We work closely with Parks Canada to communicate event information on DriveBC and coordinate re-opening the road.
WHY RE-OPENING TIMELINES MIGHT CHANGE DURING AN EVENT
During a closure, there are several factors that may influence when a road can re-open. If a closure is a planned event, such as construction work or avalanche control, ministry and maintenance contractors are better able to control the factors of the closure and predict the opening time. If the closure is due to a motor vehicle incident, a washout or landslide, there are factors outside of our control that might inhibit our ability to open the highway at a determined time. In this case, Drive BC will update the event information to include the reference "estimated time of opening, next update." This allows us a window of time to work through any number of factors that have closed the road, to re-open it safely.
Sometimes as a situation continues to unfold over a period of time, making an estimated time of opening a bit more difficult to determine. When this happens, we do everything we can to provide timely updates via DriveBC but appreciate your patience.
THE HIGHWAY IS OPEN – WHY AREN'T WE MOVING YET?
When traffic queues are ready to roll after an incident has been cleared, it's not as easy as full steam ahead. If a road has been restored to regular capacity (full lanes in each direction), we work with traffic control to release traffic in platoons in both directions, so as not to overwhelm the road.
If traffic is being held in groups at closure points on the highway, we need to clear traffic from each of those locations in one direction before the traffic headed in the other direction can move. Sometimes, closure points can be staggered significant distances from each other, which can mean more time is required to clear queues in one direction before being able to release traffic moving in the opposite direction. This activity is often misinterpreted as one lane receiving preferential treatment.
If an incident has reduced the capacity of the road down to one lane of travel, our traffic control personnel will use a Single Lane Alternating Traffic pattern (or SLAT) to move traffic through the site. Please follow the direction of our personnel and signage. We appreciate your patience and understanding while we work to restore the road to its regular capacity.
WHAT ABOUT ALL OF THE CONSTRUCTION?
Summers on the Trans-Canada Highway have seen an increase in construction as we work throughout the corridor to deliver important improvements under our Kamloops to Alberta four-laning program. We're monitoring ALL the work happening on Highway 1 (and any detour routes) and providing estimated travel delay times via Drive BC or the program update page. While we cannot stop every delay, you can take comfort in the fact that all the teams working on the corridor are doing their best to coordinate and minimize the impacts to you as you travel through.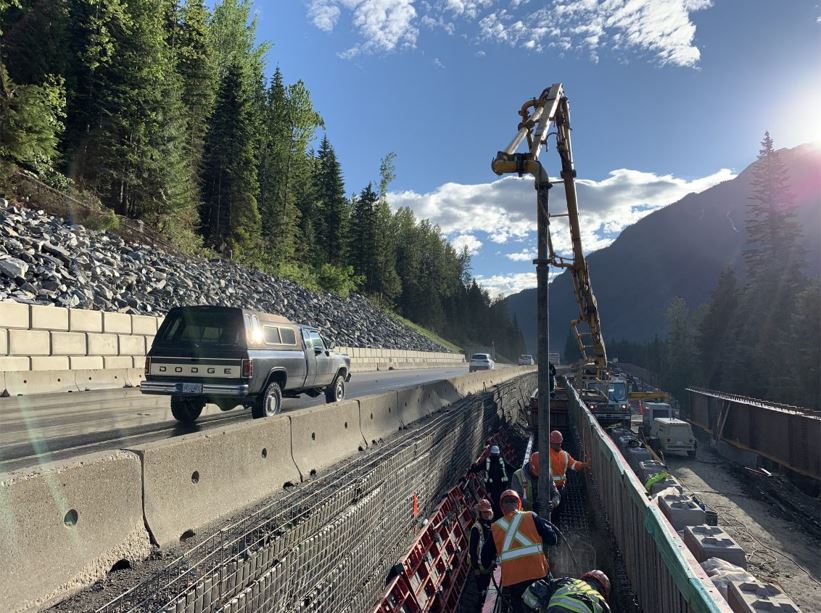 WHAT CAN YOU DO TO HELP?
We do everything we can to make your journey as safe as possible but, there are some things YOU can do to help.
Give yourself plenty of time to travel – so you don't have to rush. Speed limits are set for ideal driving conditions and winter driving conditions are NOT ideal.
Be prepared – expect the unexpected. Pack food, water, phone charger and warm clothes to keep you safe and sound should you have to stop on the highway for any reason.
If you enjoyed learning about this, you might find these related links interesting:
>> How We Catch Avalanche Debris to Reduce Highway Closure Times
>> Four Laning BC Highway 1: Your Questions Answered
>> BC Road Trip Time Machine: Lytton to Revelstoke, circa 1966
Share this page: