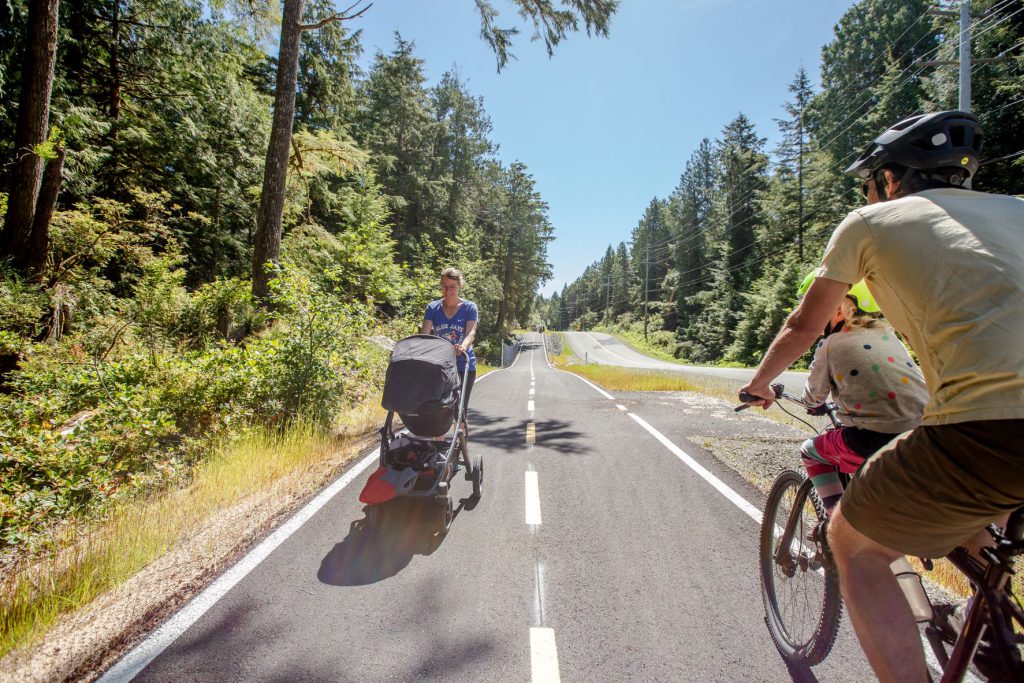 People are more excited than ever about active transportation. And for good reason; it's an efficient, affordable, safe, climate-friendly way to get around. It's pretty good for you, too!
Active transportation refers to various modes of self-propelled movement – from walking to wheelchair rolling, to skateboarding, scootering, and cycling – to get people to local destinations. Many people combine these modes with public transit to increase their range of motion, relying less on personal motor vehicles.
This shift towards active transportation is something we at the ministry are taking seriously. In fact, as part of BC's active transportation strategy, Move. Commute. Connect., we're aiming to double the percentage of trips taken by active transportation by 2030.
So, what are we doing to reach this goal? Let's review some of the ways.
Types of Funding
There are many different ways we contribute funding for active transportation in BC.
As mentioned above, we incorporate active transportation facilities into new capital projects. We also contribute various grants.
The Active Transportation Infrastructure Grant Program offers two grant options for Indigenous governments and local governments, including municipalities, regional districts and Islands Trust.
The Active Transportation Network Planning Grant helps communities develop active transportation network plans to support active transportation for all ages and abilities.
Thank you @TranBC for the $50,000 Active Transportation Network Planning grant! We look forward to planning how we can make active transportation more inviting for Sidney's community members and visitors. pic.twitter.com/lZhC8q5hx1

— Town of Sidney (@townofsidneybc) September 23, 2021
The Active Transportation Infrastructure Grant goes toward the development of active transportation infrastructure for all ages and abilities, funding things such as:

Multi-use protected travel lanes
Pedestrian and cycling safety improvements
End-of-trip facilities and other amenities
Lighting and way-finding
For example, the Tofino Multi-Use-Path (MUP) Project (pictured at the top of this blog) developed a 2.8-kilometre separated two-way cycling path routed alongside the east side of Pacific Rim Highway from the Tofino Information Centre to the northern boundary of the Pacific Rim National Park (PRNP) to connect with the ʔapsčiik t̓ašii Trail.
Take a look at the list of 2021 grant recipients and other examples of the more than 100 past active transportation infrastructure projects we've funded across BC.
Community Safety Enhancement Program
Think of those little things that make active transportation better for communities – that's what this program is all about. Examples of work completed to date under the program, which focuses on provincial roads, includes:
Gabriola Island ferry entrance pedestrian safety improvements
Flashing crosswalk to improve safety at Signal Hill Elementary School in Pemberton
Shoulder construction Hariot Bay Road for pedestrians and cyclists on Quadra Island
E-Bike Rebates
We know the distance to work, school and other activities can be a major factor in whether or not people choose active transportation. E-bikes are increasing in popularity, partly because the extra battery-powered boost can help you go further.
Just look at our very own Minister of State Bowinn Ma, who purchased her e-bike through the SCRAP-IT Program and frequently uses it for work and play:
Using a bike for everyday transportation is a great way to get exercise, reduce your carbon footprint, and beat traffic.

It's #GoByBike Week in BC! Check back on this thread through the week as I share how I make going by bike work for me in my daily life. pic.twitter.com/DQKO7JAqbZ

— Bowinn Ma (@BowinnMa) May 31, 2021
Check out the e-bike rebates available to individuals and businesses.
Active Transportation Design Guide
In 2019, we released the BC Active Transportation Design Guide to help all levels of government use best practices when designing and building active transportation infrastructure; take, for example, installing a separated, protected bike lane rather than marking a lane with a painted line, if possible.
The design guide helps transform how we get around in a way that reduces pollution and leads to better health for people, while making our communities cleaner and more liveable.
So far, the design guide has received regional, national and international awards.
Regional: Greater Vancouver section of the Canadian Institute of Transportation Engineers for the Bill Curtis Award
National: 2021 Award for Governmental Leadership in Sustainable Infrastructure from the Canadian Society for Civil Engineering
International: Canadian Institute of Transportation Engineers Pedestrian and Bicycle Standing Committee John LaPlante Award in recognition that the guide applies innovative solutions and techniques related to pedestrian and bicycle activities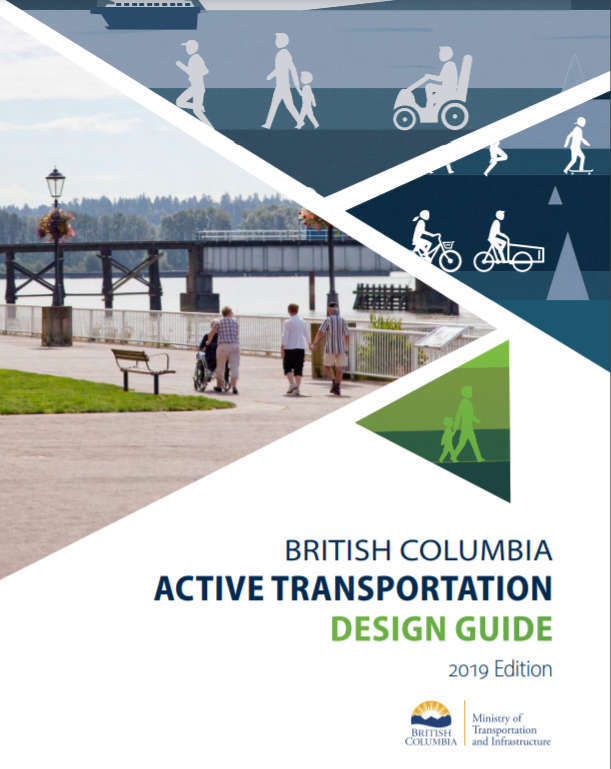 So, how is it applied?
The design guide is intended to be applied during the construction of new facilities and, when feasible, the rehabilitation of existing facilities.
For example, the guide is being used as part of the Fraser Valley Highway 1 Corridor Improvement Program to enhance pedestrian and cycling features as part of the Highway 1 – 216 St to 264 St widening and 264th to Whatcom improvement projects.
An example in the Southern Interior is the Highway 31 – Kaslo River Bridge Replacement Project, which is set to be completed in fall 2021. The bridge has a sidewalk connecting the urban town to one side and a more rural setting on the other side, and the guide was used to inform improvements to the paved shoulders and sidewalk.
What the guide is not intended be is as an assessment tool to measure existing facilities or to trigger rehabilitation projects. For example, when we resurfaced Highway 19A this past summer, we were questioned about the width of the shoulders, which remained unchanged after repaving. Thing is, the project scope was to enhance safety by resurfacing the existing roadway and paved shoulders.
Widening shoulders for active transportation demands a much larger scope – it's more costly, time consuming and may require multi-year planning for utility relocation, property acquisition, drainage changes, and so on. So, unfortunately, we can't always pursue this route as part of regular highway rehabilitation requirements.
While capital projects (new construction) will factor in active transportation design guidelines, resurfacing projects are permitted to replace the existing conditions from when the roadway was originally constructed.
Policy and Legislation: Getting in with the times
From e-scooters to e-skateboards, new technologies have ushered in more active transportation options over the years. Problem is, these devices aren't technically allowed on public roads and sidewalks yet. It's our job to bring the Motor Vehicle Act up to speed by working with communities to test ways to introduce them safely.
The electric kick scooter (i.e. e-scooter) pilot program is designed to do just that. Currently, the communities of Kelowna, Nanaimo, West Vancouver, North Vancouver (district and city), Vancouver, Richmond and Vernon are participating in a three-year pilot allowing the use of e-scooters in an effort to help us update our plans and regulations.
Active Transportation Education/Encouragement Programs
And just as this blog is meant to inform you about active transportation opportunities and encourage you to give it a try, we also work with community partners to support initiatives. For example, the EveryoneRides Grade 4 and 5, developed and delivered by HUB Cycling, teaches kids cycling skills and safety. The first two years of the program reached 9,235 students through a combination of online, in-class and on-bike learning. That's a lot of up-and-coming avid cyclists!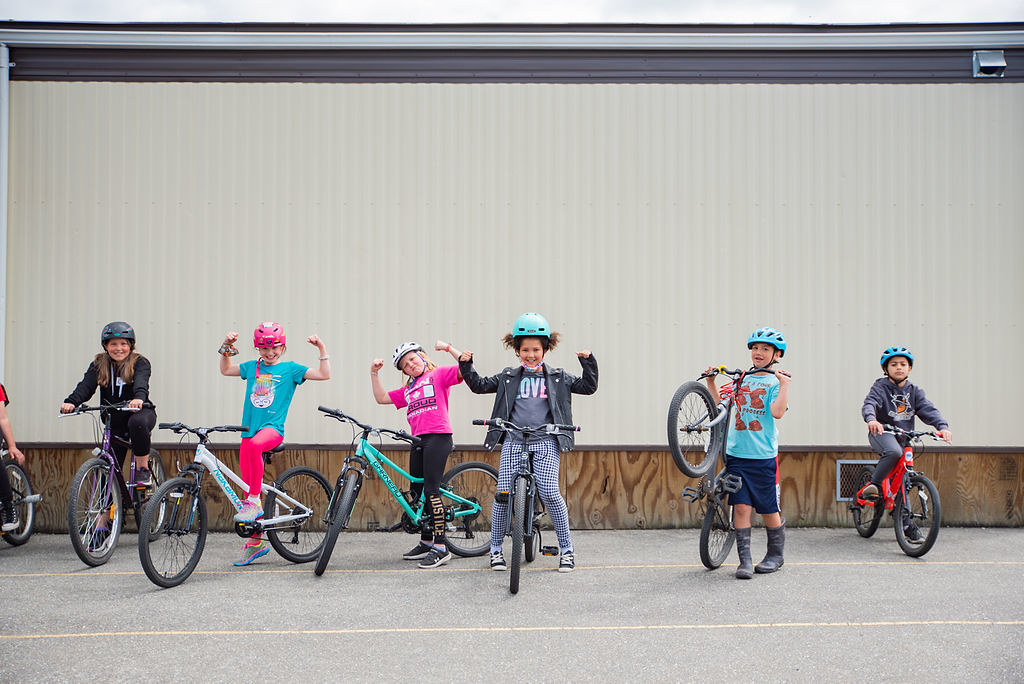 Old or young, there are many active transportation options out there for you. Interested in learning more? Visit our active transportation website or visit the TranBC blog for related posts, including:
>> How to Keep Active Transportation Going in Winter
>> How We're Keeping Cyclists Safe and Cattle in Place
>> How to Ignore Excuses Not to Bike (Try it!)
Share this page: