According to a general population survey, bad weather is the top reason people choose not to travel to work, school or other activities using active transportation (that's travelling by bike, on foot, wheelchair, skateboard, skis… the list goes on). And so it's no surprise the number of people fuelled by their own power drops with the mercury each winter.
It doesn't have to be that way. And remember, the benefits are worth it! We end up spending so much time indoors in winter. Making active transportation a part of your regular routine gives you much-needed fresh air to combat the winter blues. It also…
Increases your physical health and fitness
Reduces your environmental footprint
Saves you money: no gas, no pay parking
With a little preparation, you can reduce your dependence on motor vehicles year-round.
First off, it's important to remember winter is more a season than it is a specific condition. What we mean by that is the active transportation experience in the Lower Mainland – "Raincouver," for example – is going to be different than places in the north or interior. That said, the general approach is the same… plan ahead and adapt to your surroundings.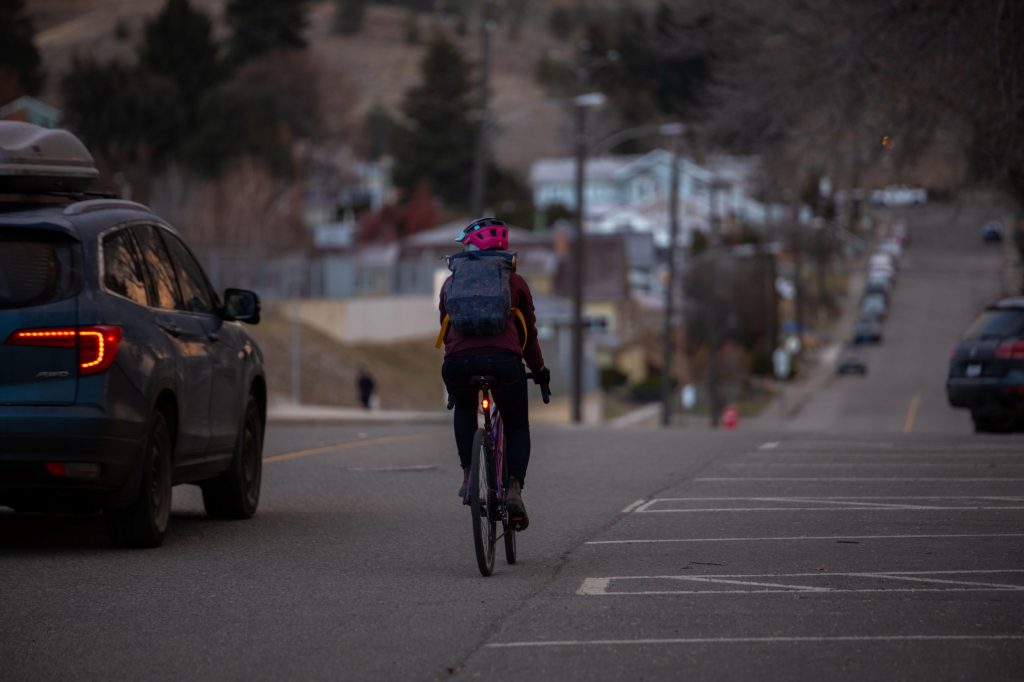 Prepare Yourself
We're referring to both the preparation of the mind and the body here.
Mind
Map out the safest route, and have alternatives if conditions prove challenging (for example, winter maintenance priorities differ depending on route classification).
Test and practise routes to build confidence. Weekends are best, rather than during rush hour or when you're in a time crunch.
Leave plenty of time to reach your destination.
Have an emergency kit with first aid supplies and basic repair tools on your bike or person.
Bring a backup bus ticket or bus fare just in case you decide conditions are too severe.
Body
Dress with layers. Being able to shed layers is important as your body temperature can increase during exercise.
Wear a waterproof and/or windproof outer shell to keep you dry and warm.
Wear gloves to protect your hands from cold and precipitation.
Have a hat and/or ear covers to help prevent body heat loss.
Wear warm socks to keep feet and toes insulated.
Put on winter boots or warm, waterproof shoes to combat any cold air or moisture.
Wear eye protection to shield from rain, snow and other debris.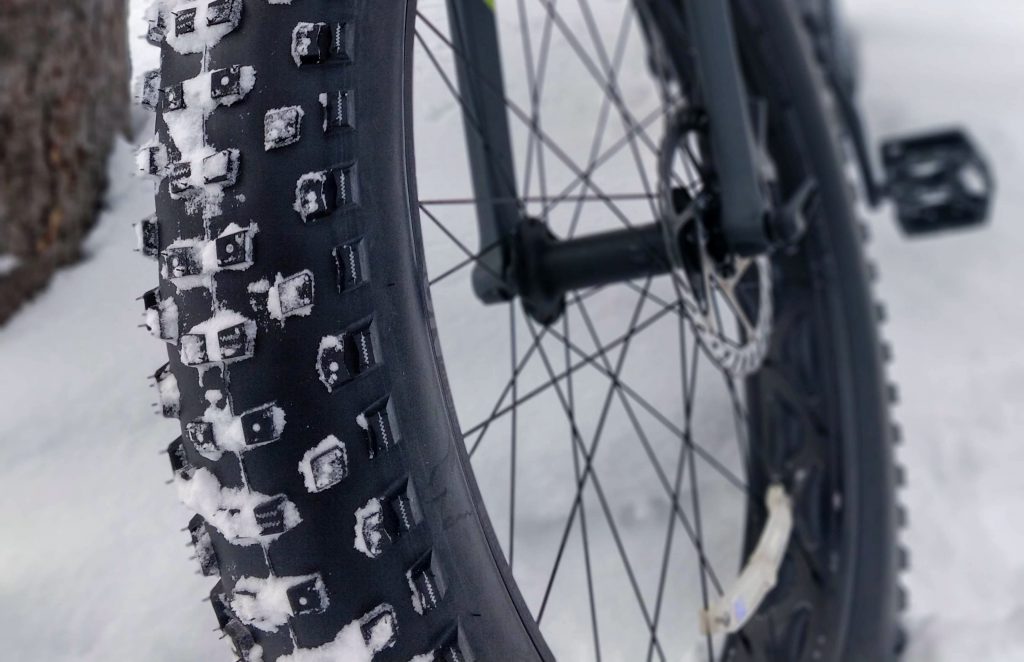 Prepare Your Equipment
Depending on conditions, some equipment is easier to prepare for winter than others. Longboarding in the snow? That'll be tough. Bikes, on the other hand, can be modified to better handle snow and ice.
Tires and Fenders
Lower air pressure to increase traction in cold, snow and ice. Lowering aire pressure allows the tires to contact more of the surface. Check the recommended pressure range on the sidewall and inflate at the lower end.
Go big to get home. Not everyone can have a winter-specific fat bike like that pictured above, but you can use wider tires with more aggressive tread (or even studded tires).
Block the spray. A front fender prevents water and muck from flying into your face (both annoying and dangerous); a rear fender keeps your behind clean and dry (no rooster tail!).
Stay Tuned… Up!
Check your components regularly to ensure they're in good working order, especially your brakes and pads.
Keep bike parts like your chain clean and well lubricated.
Wipe down your bike after each rainy/snowy ride to prevent rust.
Be Visible (this goes for everyone)
Place reflectors on your bike, scooter or person.
Install a front (white) light and a rear (red) light on bikes, scooters or other mobility devices.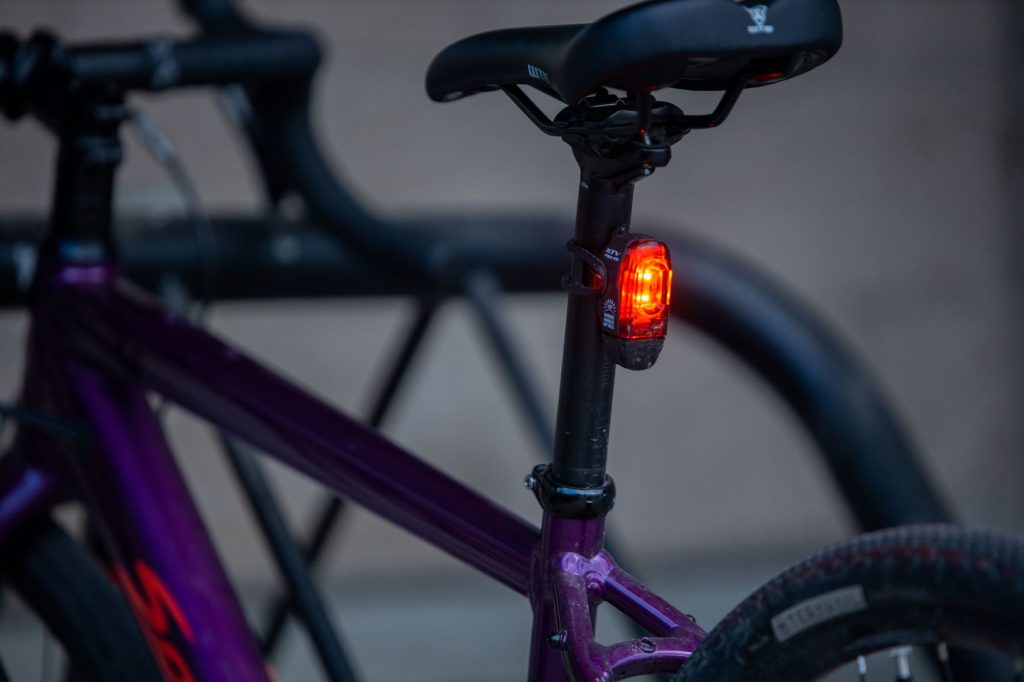 Now that you're all fired up to keep active transportation alive through the winter, be smart when it comes to taking on severe conditions. There may be weather that is simply too much to take on, and getting a lift or using public transit is a better option. DriveBC is a good place to find road condition and weather previews.
And to all those who choose to drive through the winter… that's OK, too. But please keep an extra lookout for cyclists, pedestrians, and other active transportation users. It's dark these days. Be sure to clean off your entire vehicle, including windows and mirrors, and triple check before turning, changing lanes, or making other maneuvers.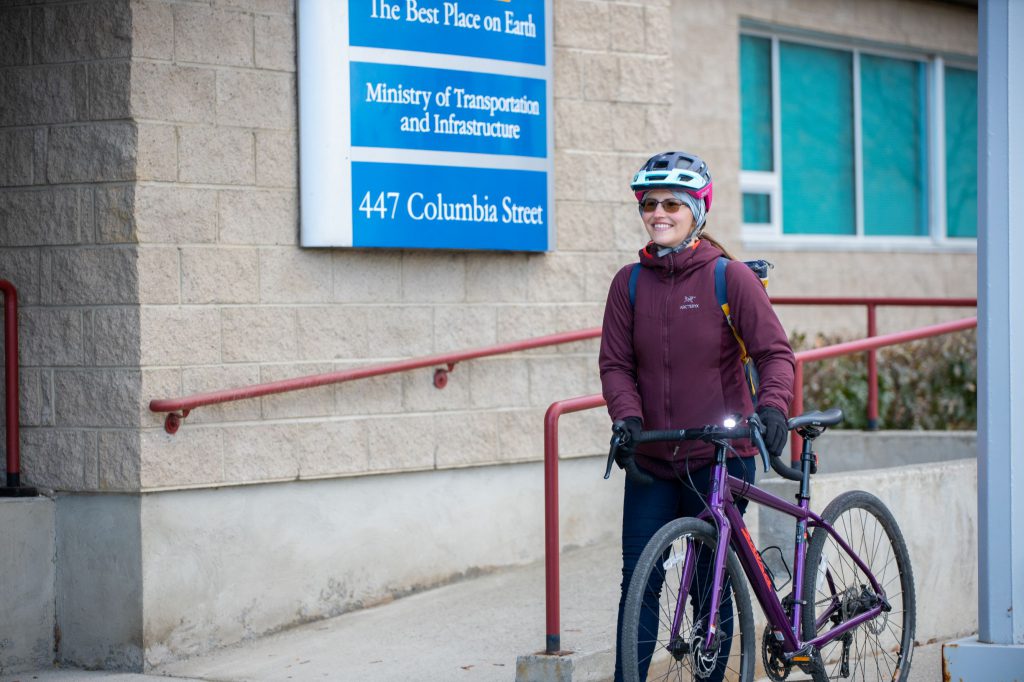 Interested in reading more about active transportation in BC? Check out the following blogs:
>> Why You Should Bike to Work (and School)
>> Behind the Scenes: Traffic Planning for Major Athletic Events
Got a winter active transportation tip? Let us know in the comments below!
Share this page: