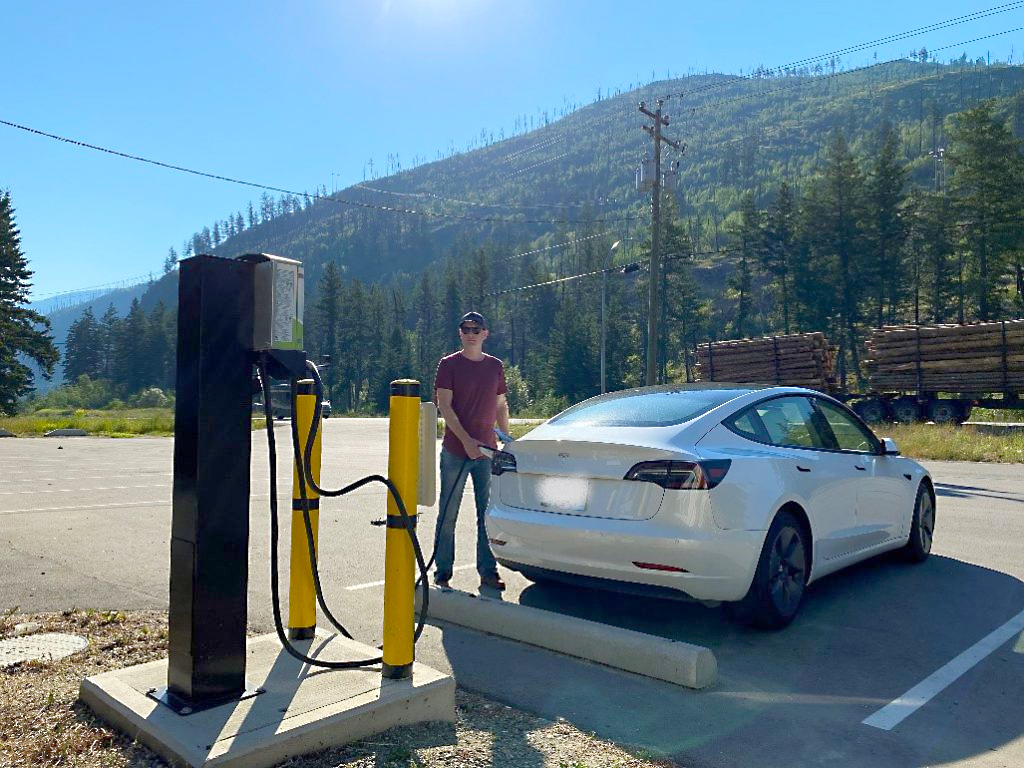 With electric vehicle travel accelerating in BC and becoming easier for drivers wanting to get around with fewer carbon emissions and reduced operating costs, we've got some advice to help you charge on with greener transportation.
We've compiled a list of helpful tips for electric vehicle (EV) drivers, and additional advice for those who travel in areas with fewer charging stations. We've also highlighted a powerhouse of information sources that answer all your EV questions, whether you own an EV, you're thinking of buying one, or you want to install a charger for your workplace, home or community.
Top EV Charging Tips
Read your operator's manual instructions thoroughly to understand your EV's charging function, how to charge up, and the range you can expect. Today's electric vehicles have about a 300-to-600-kilometre range per charge.
Find out if you need an adaptor to fuel up at various kinds of EV chargers, including Level 2 (slower) chargers. (Some EVs require an adaptor).
Plan charging stops around activities like meal breaks, short errands or when you'll want to stretch your legs. EV users report having favourite charging locations, sometimes based on nearby amenities like eateries, grocery stores and walking trails.
Plan at least a 15 per cent buffer to reach your next charging station, in case of accident re-routing or sudden inclement weather.
Check PlugShare for details about charging stations, including notes and comments from users, helpful (and striking) photos showing EVs being charged at the location, and notes about any service issues.
Try out mobile apps — many EV charging station providers, including BC Hydro, list the stations in their network.
Be considerate when using this shared resource. You don't have to stay with your vehicle while it's charging, but we suggest that you use a charging station app to monitor when your EV is charged and ready to go, to make room for other EVs. More charging etiquette from BC Hydro here.
Report any charger damage or breakdowns to the contact indicated at the charging site, and update PlugShare to alert other EV users.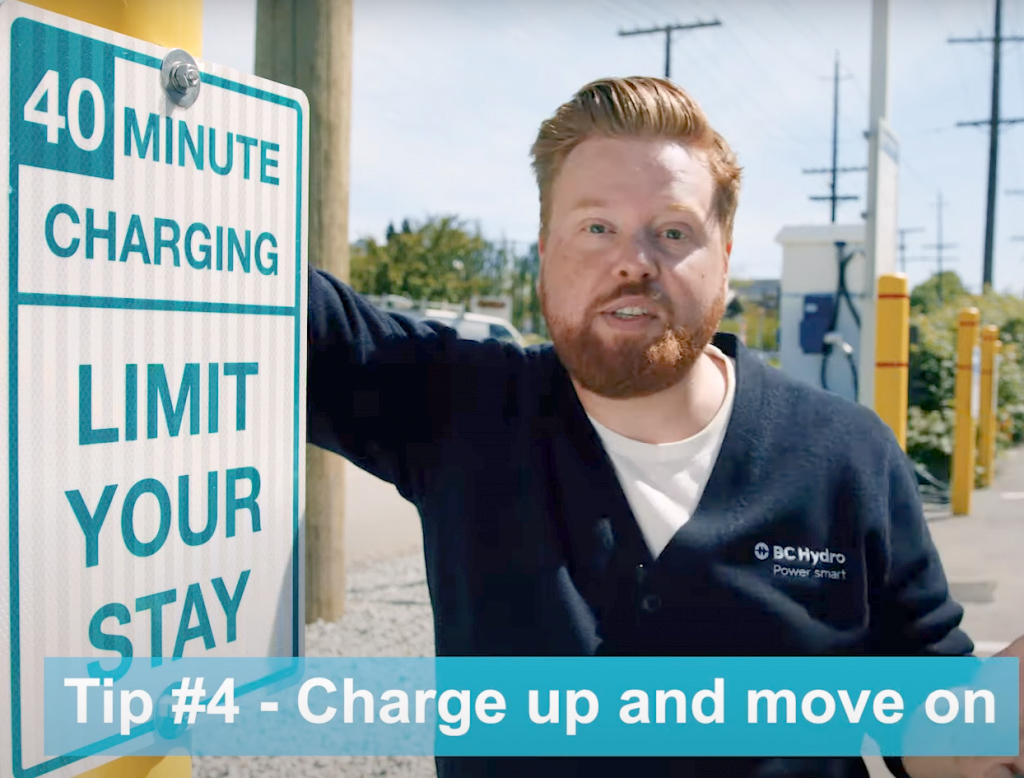 Tips to Extend Your EV Range
Most people live less than 25 kilometres from work, so most EV owners need to plug in only once or twice a week. For all EV drivers, including those who live in areas with fewer charging stations or want to plan EV travel further afield, we offer these strategies.
Plan to ensure you can reach the charging station TWO stations away. That way, should the next station happen to have problems, you can continue your trip.
Be flexible and have a backup plan. (Pack a winter emergency kit – a smart practice for travel in any vehicle – to ensure you're safe and comfortable should the unexpected occur).
Operate air-conditioning and heat with restraint – they require more battery power.
Maintain a steady speed — while EVs accelerate more quickly than gas-powered vehicles, accelerating depletes the battery. Consider using cruise control when travelling in clear conditions (but not in winter, reduced visibility or rain).
Be aware that steep hills and mountain driving can draw more energy. (But some can be regained on the downhill drive via regenerative braking.)
Consider installing a bigger battery if you're planning longer journeys on routes with limited charger availability.
Consider smaller radius wheels/tires – they produce more range.
Turn off extra functions — things like security cameras — when charging (especially on slower Level 2 chargers), for a faster charge.
Keep within the speed limit to get the range displayed on the range calculator (although strong wind will affect that).
Be aware that cold weather demands extra power from EVs – expect to travel 30-40 per cent fewer kilometres in temperatures of -20 C or lower. However, EVs warm up quicker and offer some other cold weather benefits. Using heated seats and turning the heat down a bit will use less energy.
Make sure your tires are inflated to your vehicle's recommended pressure, as it makes a difference on rolling resistance. Be aware that in winter, it's common to lose air from tires, as the colder temperatures cause shrinkage and air escapes more easily.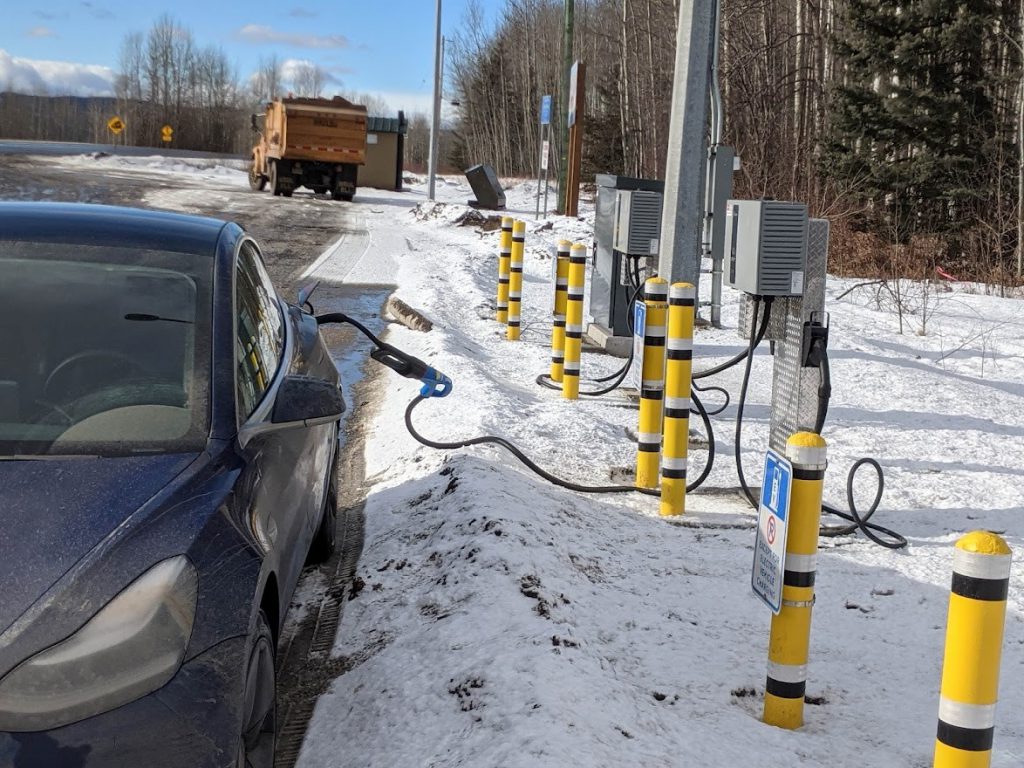 Bonus Tip #1:  Apply for an  EV decal if you travel in the Lower Mainland or Kelowna. The decal allows you to drive in high-occupancy vehicle (HOV) lanes, no matter how many people are riding along.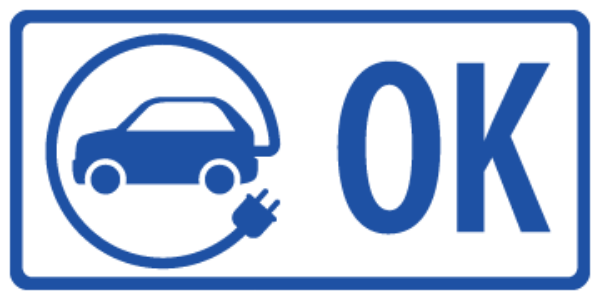 Bonus Tip #2:  Consider participating in an EV club near you – there are about a dozen clubs in BC. With EV vehicles still being relatively new, you can talk to or message others with your questions or concerns.
Electrifying Information Sources to Get There Green
Explore these well-stocked websites to find all the answers to questions you might have about buying and operating an EV, including some appealing incentives to get you going and keep you charged.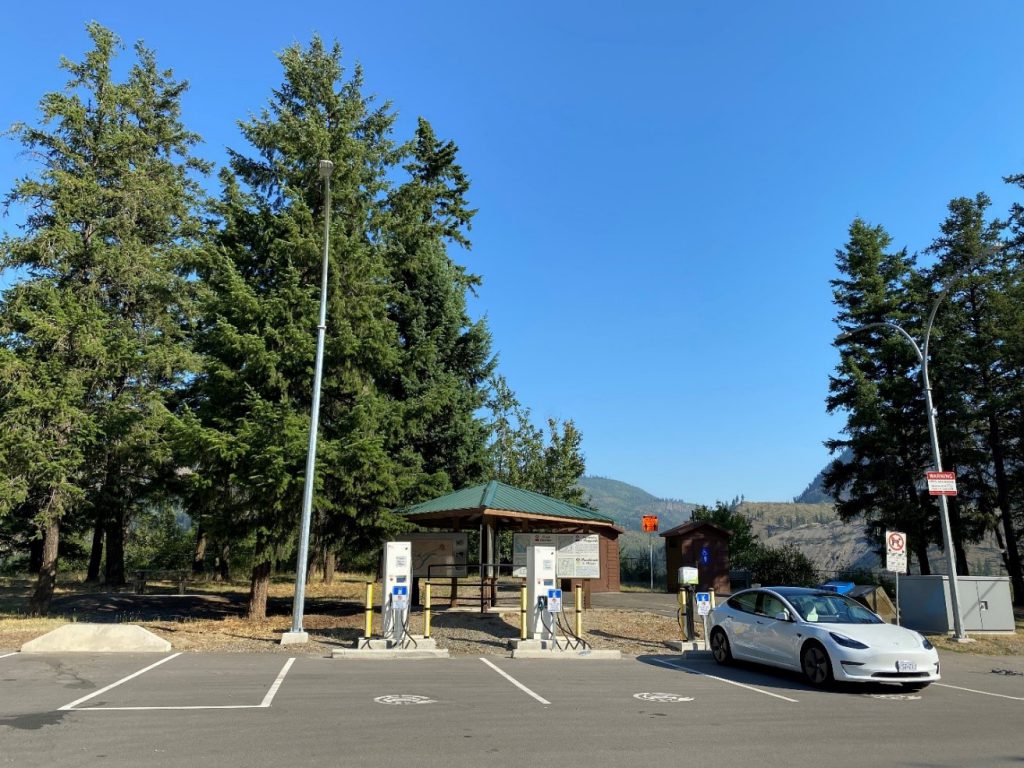 Charge On!
Currently, there are about 2,500 EV charging stations across the province, and more stations are coming on line. Manufacturers are producing new EVs in various price ranges – about 36 different kinds can be bought in BC. There are rebates to help make the switch from a gas-powered vehicle to an EV, and for individuals, businesses and strata councils to install chargers at places like single family homes, apartments, workplaces and condominiums.
The Ministry of Transportation and Infrastructure is part of the charging network, with about 27 EV charging stations at highway rest areas and other ministry-owned locations. You can fuel up for free there – it's a "no-charge charge!" (Note: a few rest areas are closed in winter, like Mount Robson and Wasa, so check our website when planning your charging route.)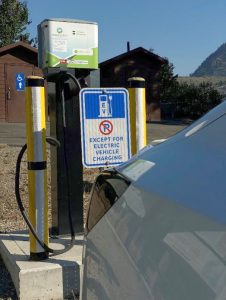 Our charging stations are part of the CleanBC Plan for a low-carbon economy that creates opportunities while protecting BC's clean air, land and water. The transportation aspect of the plan focuses on making getting around cleaner, more convenient and more affordable. Besides ways to increase EV use, the plan connects with active transportation grants to improve pedestrian and cycling infrastructure, compressed natural gas buses operated by BC Transit and the Island Discovery hybrid ferry launched in 2020 by BC Ferries.
We hope you've found this blog helpful for learning more about routes to greener travel in an EV, the best ways to drive (and charge) an EV and the rapidly expanding realm of EVs. Do you have any questions or EV travel experiences you'd like to share while on your quest for a cleaner commute or lower-carbon road trip? Please let us know in the comments section, below.
Share this page: