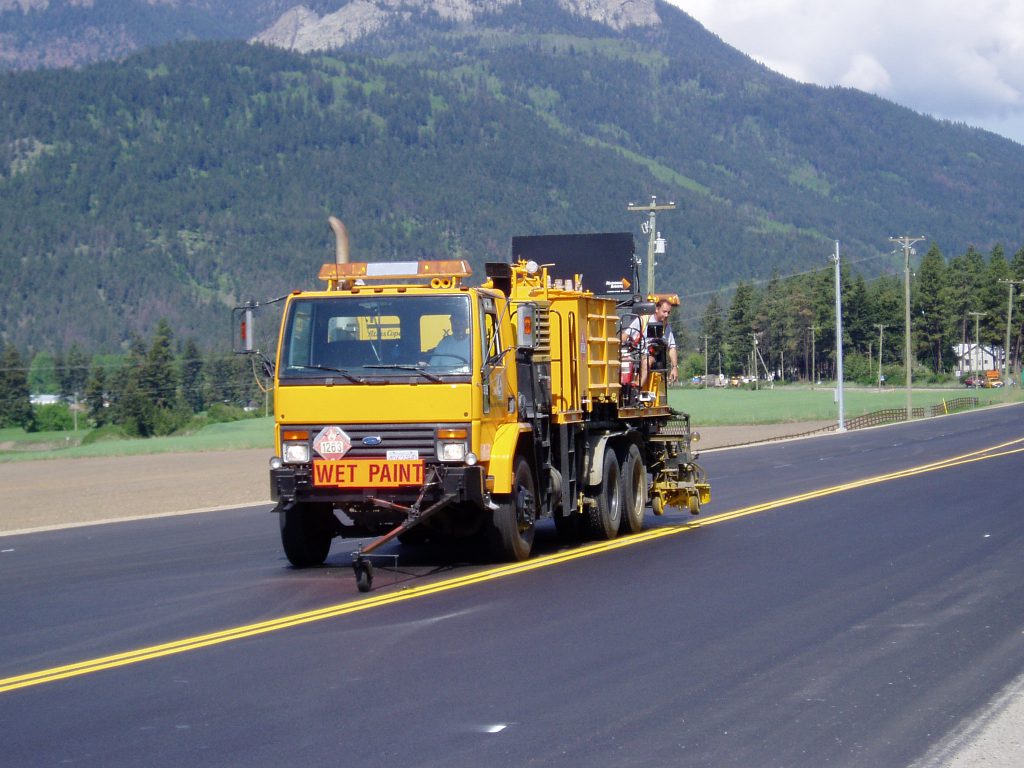 Line painting in BC has been evolving since oil-based paints were discontinued by federal regulations in 2010, due to concerns around the environment and worker exposure to volatile organic compounds.
We hear a lot of opinions about those old paints, and we understand the nostalgia. However, the fact remains that they're no longer available to us. So, we've been coming up with solutions and honing our approach, to help you stay safely within the lines.
Pavement marking now takes place throughout the province at a higher standard than previously. In 2019, new line painting service agreements came into effect, improving on previous contracts, and require:
20% more lines painted annually throughout the province;
larger glass beads in areas for increased reflectivity and visibility at night, and thicker paint for longer-lasting pavement marking;
second-coat application in areas that experience premature wear; and
enhanced contractor monitoring and auditing to maintain consistent performance.
Over the years, we've been testing and refining paint formulas – using low volatile organic compound alkyd and water-based formulas, and trying a variety of reflective glass beads that are put down with the paint.  We want the combination that gives us excellent visibility in darkness and low light, with durability, to help motorists to travel where they need to be on the highway. We've tested formulations in different climate settings where they perform differently.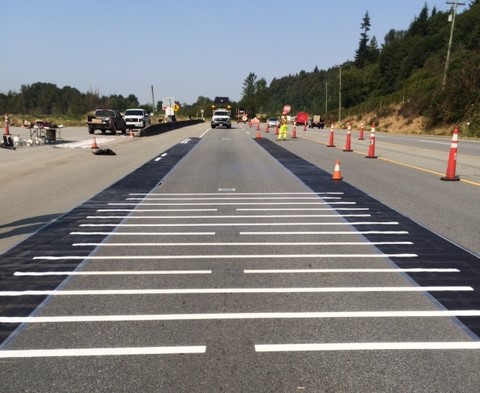 Finding that "sweet spot" of brightness and durability is a challenge. BC's mountainous terrain and winter weather is tough on pavement markings. The equipment we use to clear roads of ice and snow, and traction devices like studded tires and tire chains, wear away at line paint. Throw in winter abrasive and salt road treatments, and you've got grit that scours pavements markings, when vehicles roll over it.
Alberta, Alaska, Washington and Idaho have similar winters and high terrain, to us, so we all continue to share our findings.
Each year in BC, we paint more than 20,000 kilometres of highways and provincially owned side roads. Typically, the line painting season starts in the Lower Mainland and Vancouver Island in spring, due to milder conditions there. Pavement marking then takes place in the rest of the province, with schedules that are subject to change due to weather.
Lafrentz Road Marking is the contractor for BC's five pavement marking service areas: Vancouver Island, the Lower Mainland, Thompson-Cariboo, Okanagan-Kootenay and the North. Each area service agreement has a five-year term (to 2023) and includes an optional two-year extension.
** Please slow down, obey all traffic control personnel and signage, and use caution when driving through areas where crews are marking pavement. **
More blogs about line painting, that you might find interesting:
Do you have questions about our pavement marking?  Ask us below.
Share this page: