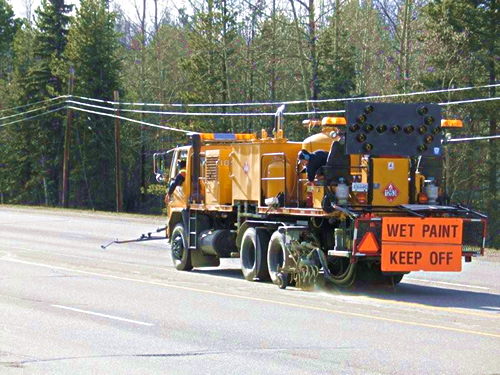 You see them every day. You follow them without thinking. They guide traffic and help keep everyone safe, but no one really notices them. Until they start to fade, that is, and that's when you see our line painting crews out in full force.
Line painting is another task in our long, annual to-do list. We have to do it every year, because the lines get worn through regular road use. This is especially true in the winter, with sanding, salting and plowing all doing their part to wear the paint away and make the lines less visible.
Did you know?
The paint we use reflects light because it has tiny, specially-designed glass beads in it.
Yellow is used in many countries for centre line markings for a reason. In addition to being recognized as a "warning" colour, it's also the most visible hue in the spectrum.
But keeping our roads well marked is about more than just putting down a fresh coat of paint. In recent years, we improved the standard for paint we use, so it's now easier on the environment without sacrificing durability or reflectivity. We've also been exploring new technologies to make things safer. Take inlaid durable pavement markings, for example. It might not roll off the tongue as easily as saying, "paint", but inlaid durable pavement markings are an exciting (we think) development in road safety. Being inlaid means that the markings will be even with (or slightly lower than) the pavement, allowing snow plows and other traffic to pass over them with little to no contact. That fact alone makes them last longer, and being made from a durable plastic helps, too.
We've also had some "bright" ideas to help guide motorists safely along highways. By using LED lighting in our reflector signs, and imprinting patterned "rumble strips" along highway centre and shoulder lines, we're lining the way to highway safety. We have also started using higher intensity sheeting around our signs. This super reflective material uses oncoming light to reflect at high levels, making it easier for everyone to see the sign.