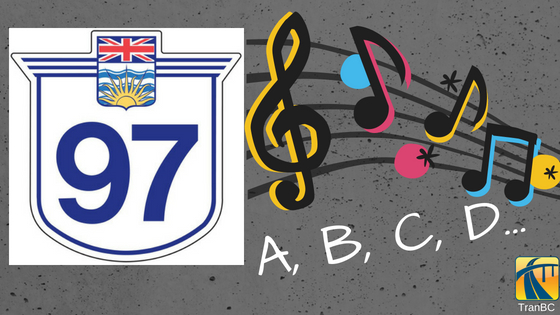 Scan around Canada's highway system and you'll find that BC is the only province to have an A, B, C and D version of a highway.
In this province, those letters are tagged onto Highway 97 – as in Highways 97A, 97B, 97C and 97D. But why is that?
It turns out that in the Okanagan, locals view Highway 97 as intrinsic to the region's identity. (After all, another name for Highway 97 which stretches from the BC/US border near Osoyoos through to Kamloops is the Okanagan Highway). When plans were afoot to link that section of Highway 97 with the new Coquihalla Highway around the 1990s, municipalities and chambers of commerce wanted to embrace "97" in the new highway's name, rather than have a newly numbered route.
We met with the communities and they told us it was important to keep the number and add a letter for the sake of branding. They wanted visitors from beyond the area, to see the locale as one region. The "97" would keep them on track.
Thus, the route which links Highway 97 and Highway 5 (the Coquihalla Highway) and extends from Merritt to Ashcroft, became Highway 97C.  Coincidentally and conveniently, the "C" also helps identify the highway's "connector" role. Fittingly, Highway 97C's other name is the Okanagan Connector, and it's also often referred to (unofficially) as the Coquihalla Connector.
Similar forces were at work for other Okanagan area highways – Highways 97B and 97D – as they connect communities in this popular vacation destination.
How About that "A", Eh?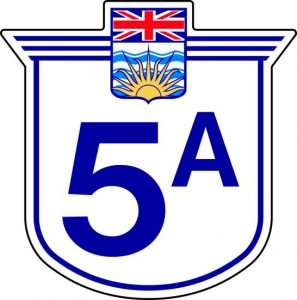 Going back to the start of the alphabet, "A" is the most common letter attached to a highway number, for example Highways 17A, 1A and 3A.  We add the "A" to a highway, when new alignments are built, and the original road is still viable and travelled but is no longer considered to be the main route. The new route has the number alone, while the first highway gets the addition of "A".
An "A" can also be a cue that it's an "alternate" route and can sometimes be a more scenic or leisurely drive. And as Canadians, we all find a certain appeal to "A," eh?
Letters More Popular in the Past
Once upon a time, BC had a small alphabet soup of "letter only" highways. "A, B, C, N, R, S, T and U" were attached to such roads as the Pacific Highway and the Banff-Windemere Highway. These letters were later converted to numbers. (There was once also a Highway 97E and 97W).
How Highways are Named Elsewhere in Canada
Numbers and letters are used a variety of ways across Canada.
Albertans add an "X" to their numbered highway names for routes that are new alignments or spurs of existing highways. Saskatchewan, Manitoba, Nova Scotia, and Yukon, NWT, Newfoundland and Labrador don't attach any letters to their numbered highways. New Brunswick has no letters attached, but has numbered routes that extend all the way up to Highway 970. (BC's biggest number is Highway 395).
Prince Edward Island sticks to "A" and Ontario has a few "As" and "Bs" attached to their numbered routes. Quebec once operated numbered highways accompanied by the letters "A" to "C" but in the 1970s the names were changed to numbers only.
If you're driving in Nunavut you don't have to keep track of highway numbers at all. There are only eight highways, which all together total about 850 kilometres, and none connect to any other parts of Canada. They go by descriptive names like Coral Harbour Airport Road, or Niaqunngusiariaq Road which links the capital of Iqaluit with the community of Niaqunguut, five kilometres away.  If you want to travel from one community to the next by motor vehicle, in most instances, you'd need to put your vehicle on a barge (or make a long and likely arduous journey by all-terrain vehicle or snow machine.)
Whatever routes you drive in BC or Canada – numbered, lettered or not – please mind your Ps and Qs and drive safely!
For information about the Okanagan and other fun and fascinating vacation routes, check out: https://www.hellobc.com/
We gratefully acknowledge Wikipedia, and all who contribute to it, as one of our sources of information for provincial highways in Canada.
Some other blogs about signs, that you may find interesting:
Share this page: