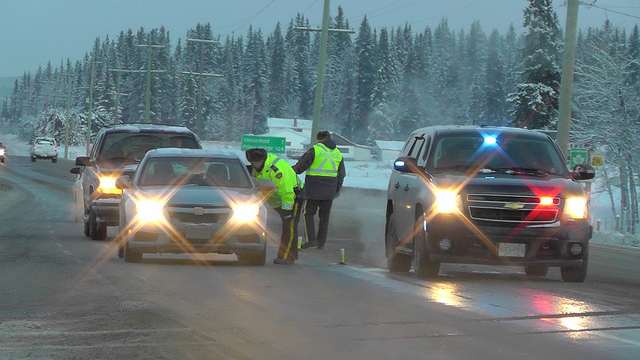 Police officers see it all in winter. Consider them experts in what to do (and not to do) to make the "shift into winter" and travel safely through the chilly season.
Staff Sgt. Pat McTiernan is one such officer. He's the Operations NCO for the North District Traffic Services (a division of the RCMP) out of Prince George. We recently talked to him to get some expert advice on how drivers can get ready for winter driving.
It's really not that difficult to prepare yourself and your vehicle for the snow, ice, freezing rain, fog (I could go on…) that pounds the province for months every year.
We'll let the Staff Sgt. take it from here…
1. Install Winter tires, winter tires, winter tires, winter tires (yes, all four of them!)
Pat says: "The key is that people in the north are generally dealing with temperatures and conditions that are below zero degrees Celsius. And we all know that when it's below 7C, your all-season radial tires become harder and not as compliant with road conditions. At the end of the day, your tires are not giving you the best contact with the roadway.
"I think it's key that motorists prepare their vehicles for winter in the fall. It is important for motorists to ensure their tires have sufficient tread depth to accommodate the road conditions, which is 3.5 mm. Tires with no traction leave motorists in situations where their vehicle will slide off the road, spin out in adverse weather conditions and affect steering. You need to have traction to have control.
There are those that drive their vehicles around town and feel there's no necessity for them to go through the expense and preparation. However, in a number of occasions here in Prince George, we've had a weather event and people needed to get to work and were driving their vehicles with summer tires with inadequate tire tread. Quite frankly, on those occasions, we actually charge the drivers with driving without reasonable consideration for other people using the road, and we remove them from the road with a tow truck. That is to protect the other people on the road who have prepared their vehicles for the weather and are trying to drive to the weather conditions."
Pat says: "At any time, all drivers should be prepared for an event to occur that is going to delay them on the highway. We often see instances where there is an incident and people don't have enough fuel in their vehicles, and they're idling at an incident scene for four or five hours and they don't have blankets, water, or anything to keep them sustained until the highway opens again.
"Look at British Columbia: if you left Vancouver and you're going to Fort Nelson – we're talking a couple of days – you should prepare before you leave and know that, anywhere along that route, you could be facing something, whether it's an incident, a landslide, an avalanche or another event, that's going to hold you up on the highway. You could be sitting in your car for some time."
3. Consider where you're travelling
Pat says: "BC is a very unique province in that we have so many different weather patterns and so many temperate zones.
"We get very nervous around the holiday season, when people start travelling long distances from places where they are not required to have winter tires. People are in a rush and they have a lot on their minds, and they come into areas where we have snow, or ice, or freezing rain, and they aren't used to that weather and they are not prepared.
"Many people do not put winter tires on their cars in Victoria and Vancouver because they don't generally see snow. But if you're going to travel into the northern part of the province, you've got to be prepared for the snow and other weather events that will occur. This winter, we had an interesting phenomenon where, in January, we saw temperatures that were varying between -10C and 10C over 24 hours. We had melting snow and water one moment, and then when the sun went behind the mountains, we had freezing rain and black ice. People who didn't have the proper equipment on their cars, and proper tires on their vehicles, ran into difficulties.
"The weather conditions are there. It's up to the driver to adjust their driving to the conditions and be prepared for them."
4. Remove all snow from your vehicle before driving
Pat says: "One thing we see a lot is people not cleaning their car off. When you get 10-15cm of snow, for example, we watch people who only clean part of their windshield so they can see out. They need to understand that it's an offence in British Columbia not to have your windows clean so you can see approaching traffic.
"We had an incident here where a young fella jumped into his car, pulled out, and was hit by a logging truck because he didn't see it coming. He didn't take the time to clean his windows and was looking through a little square in front.
"Driving is a multi-faceted task that requires your attention and the ability to react to anything. If you can't see it, you can't react to it.
"We also see vehicles driving with a foot of snow on the roof. The driver stops and snow comes off the roof and onto the windshield. You wouldn't have to contend with that momentary lapse of vision if you'd cleaned your car off. The same applies to anything that comes off the back of your car and goes into the car behind you. It's courtesy that your snow is not blowing into the windshield of the car behind you. If you're following a driver that hasn't cleaned the vehicle off properly you need to give yourself more space so you can see.
5. Check DriveBC, know before you go!
Pat says: "We use DriveBC and we work directly with the ministry to ensure, if we close the highway for any reason, the supervisor is advised and we post right away. It's key for the police. And motorists need to understand, we don't close the highway because we want to close the highway. We understand it affects not only the private vehicles out there, but anybody who has a business and are travelling for work, or the commercial industry. We try to keep DriveBC updated every single time, and we often refer the public to DriveBC to get road and weather conditions and find out when the highway is open or closed."
Some simple planning and vehicle preparation can make all the difference this winter. And if the weather is severe, ask yourself: do you really need to get in your vehicle? Or, are you better off fixing yourself a hot cup of cocoa and postponing your trip?
Do you have any more tips to add? Please share with us in the comments section below.
Want more winter driving tips? Visit www.ShiftIntoWinter.ca
Liked this blog and want to see more like it? Check out the links below:
Share this page: