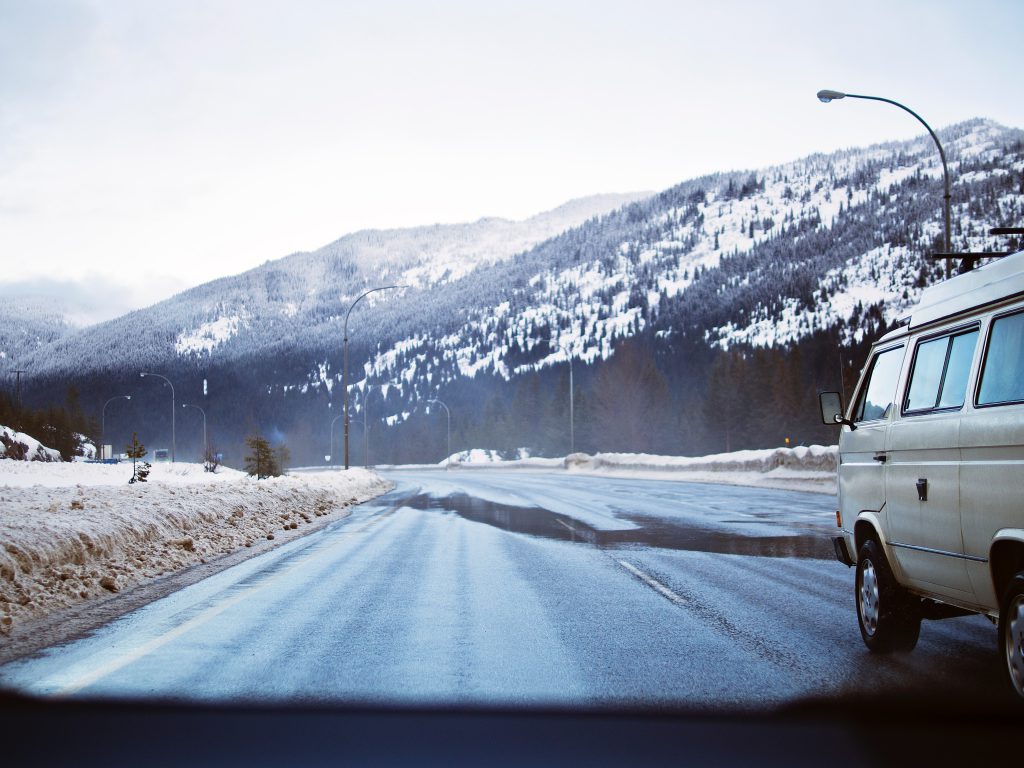 From world-class skiing to west coast storm watching, there are many reasons for visiting BC in winter.
So it's no surprise folks from out-of-province ask us questions like, "We're from Alberta – do BC winter driving tire and chain regulations apply to us?"
Short answer: yes! Simple as that, right?
Well, yes, but we also thought it a good idea to compile some more information that would be useful to people who may not be familiar with what winter looks like in BC.
Let's start by fleshing out that winter tire and chain question, shall we?
Winter Tires & Chains 101 for BC Beginners
All passenger vehicles and commercial vehicles travelling BC highways that are signed as winter tire/chain routes must abide by our winter tire and chain requirements.
Here's a refresher on what are considered legally acceptable winter tires and chains (note: tire classifications are consistent in North America, so look for the same identifying symbols on the tire sidewall, discussed in the "Passenger Vehicle" link below):
>> Passenger Vehicle – Tire and Chain Requirements
>> Commercial Vehicle – Tire and Chain Requirements
Winter Weather is… Different Here
Winter takes on many forms in BC. Generally, the Greater Vancouver and southern Vancouver Island areas see more rain than snow, along with milder temperatures than the rest of the province. Yeah, south coasters live in a bit of a bubble that way, with a few exceptions. These winter tire and chain route maps show what we mean by that.
And then there are the high elevation mountain passes – more than 50 of them, actually – where severe winter conditions strike hardest and, sometimes, without much warning. For example, you can be enjoying a mild, sunny cruise heading east from Vancouver, and enter a blizzard by the time you reach the Coquihalla.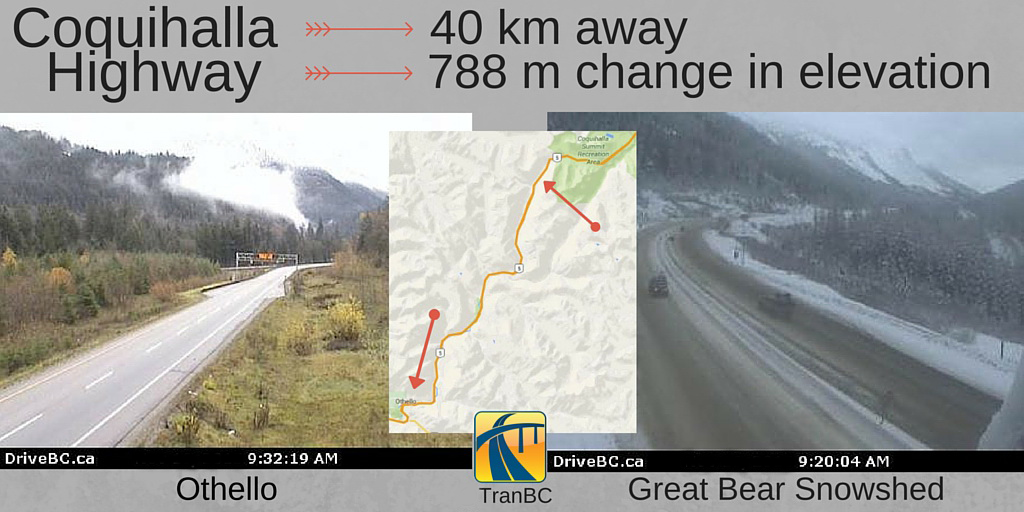 Known as The Coq, this popular highway is one of three Variable Speed Limit System corridors, which adjust digital speed limit signs based on road and weather conditions.
Environment Canada offers a BC Traveller's Routes forecast for high elevation highways. Really good link to bookmark.
Renting a vehicle?
Your rental vehicle needs will depend a lot on what part of the province you are visiting. Your average rental vehicle will be equipped with M+S (mud and snow) all-season tires, which meet the minimum legal requirement for winter tire routes. So, if you plan on staying within the Greater Vancouver or southern Vancouver Island areas, and the forecast is classic "wet coast" rain, you may wish to leave it at that.
However, if you plan on travelling the rest of BC, we strongly recommend asking your vehicle rental provider about getting a vehicle with full winter tires, which are identified by the 3-peaked mountain and snowflake emblem on the sidewall. Rental companies in BC offer vehicles with full winter tires for an additional fee.
While you're at it, may as well ask your rental company about their policy on tire chains. Although rental companies don't tend to include chains in their vehicles, they can be OK with customers using their own chains, or other acceptable traction device, if properly installed. Definitely something to consider if visiting tourist destinations such as Mount Washington, which has a mandatory chain requirement on its access road during severe winter conditions.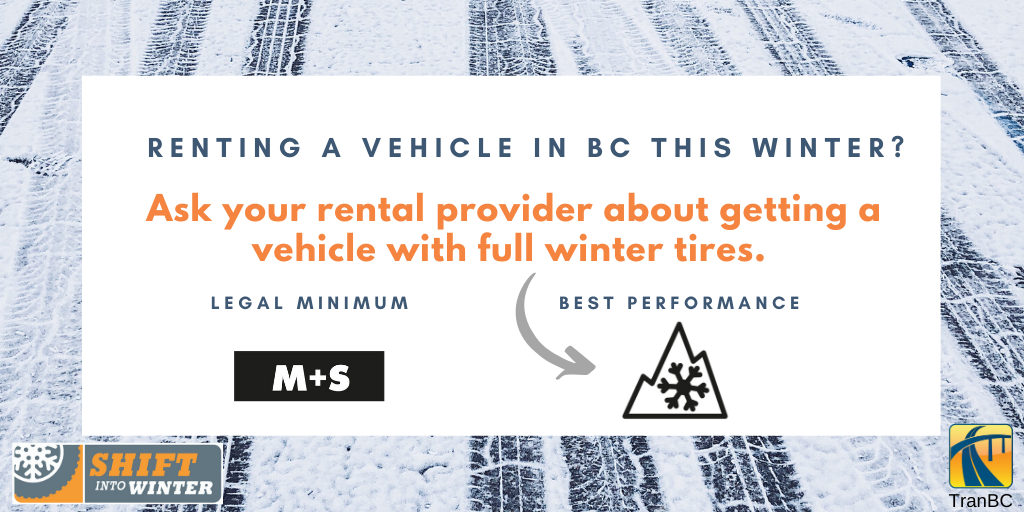 Know Before You Go!
Did you know you can scope out weather and road conditions before even stepping foot… er… rolling tire… in BC? There are more than 450 highway webcams strategically located throughout our highway network, allowing travellers to preview their routes by visiting the DriveBC Traveller Information System website. Here, you'll also find information about weather, road conditions, incidents, planned events impacting traffic, and more.
Bonus BC Winter Travel Intelligence
Rest Areas: Most of the approximately 170 provincial rest areas are open year-round, but some are only open seasonally. You can preview details about the rest areas along your route by exploring the BC Rest Areas map.
Inland Ferries: BC's 14 inland ferries are free-of-charge; however, some ferry schedules vary in the winter. Be sure to check the current schedules if you plan on using these crossings.
Time Zones: While most of BC is in the Pacific Time Zone, parts of eastern BC use Mountain Time, which is one hour ahead. This is good to be aware of, especially if you've got a specific travel agenda that crosses time zones. There's never a good time to be rushing on the roads, and winter is the worst of them. See this list of BC cities and their time zones.
Whether business or pleasure – got a trip to BC planned this winter? Welcome! Please let us know if there's anything else we can do to help you prepare for travelling our winter roads in the comments section below.
Share this page: