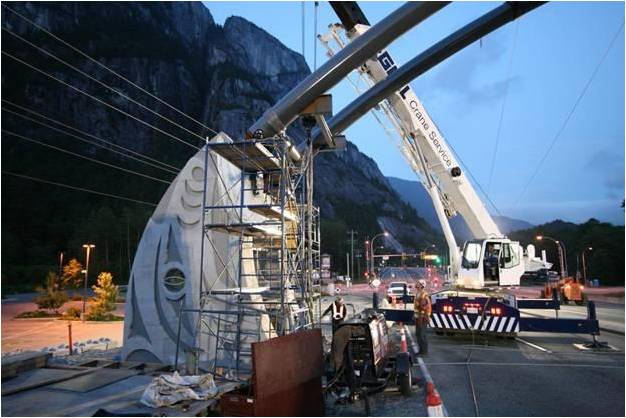 History has revealed some truly great partnerships in both the transportation industry and the art world. Think of the Wright brothers, who were the first ever to take flight. Then, of course, there are John Lennon and Paul McCartney, partners in rock who brought popular music to new heights.
But what happens when you combine structural engineering with a passion for art and culture?
Aesthetics and function collide at the new Squamish pedestrian overpass on Highway 99. The Ministry of Transportation and Infrastructure worked with the Squamish Nation to design a crossing that not only allows students to safely walk or bike to and from school, but also reveals a piece of cultural history to highway travellers.
"It's for the safety of our children, and our children's children, for our futures," said Squamish Nation councillor Dale Harry. "It feels really good in my heart that it has been done."
Squamish Nation artist Xwalacktun, also known as Rick Harry, designed the two sides of the pier wall as First Nations art pieces. Northbound Sea to Sky travellers heading into Squamish are greeted by a thunderbird on their right as they travel toward Black Tusk. Southbound travellers leaving Squamish see Xwalacktun's interpretation of a serpent head on their left as they approach the Stawamus Chief. In Squamish Nation legend, the thunderbird used Black Tusk as a perching place and the two-headed serpent travelled up the face of the Chief.
"The unique overpass is definitely catching travellers' eyes," said Xwalacktun.
"There are people talking about it out in West Van and other people from other areas. They hear about it and I'll say 'Oh, that piece? I designed that piece,'" he said with a smile. "It's pretty exciting to see where it's going and having one of the first pedestrian overpasses with artwork on it."
The site of the overpass posed some challenges for designers, such as nearby rail tracks (which the bridge also crosses) and overhead power lines. Engineers came up with a steel arch design in order to adapt to the space constraints. When crews brought the overpass to life in July, there was a buzz around the local community.
"It was really interesting to watch how [the Squamish Nation] really became quite excited about the overpass, particularly when it started construction," said ministry project manager Erin Moxon.
"When we had the night construction to actually do the arch erection, there were people coming out and watching from the reserve and they really got excited and engaged, and took ownership of it."
The Squamish pedestrian overpass continues the Sea to Sky Cultural Journey, combining transportation infrastructure with cultural enlightenment. Highways are meant to move you, and so can art.
More about how Indigenous culture and history intersect with transportation infrastructure in BC:
Share this page: