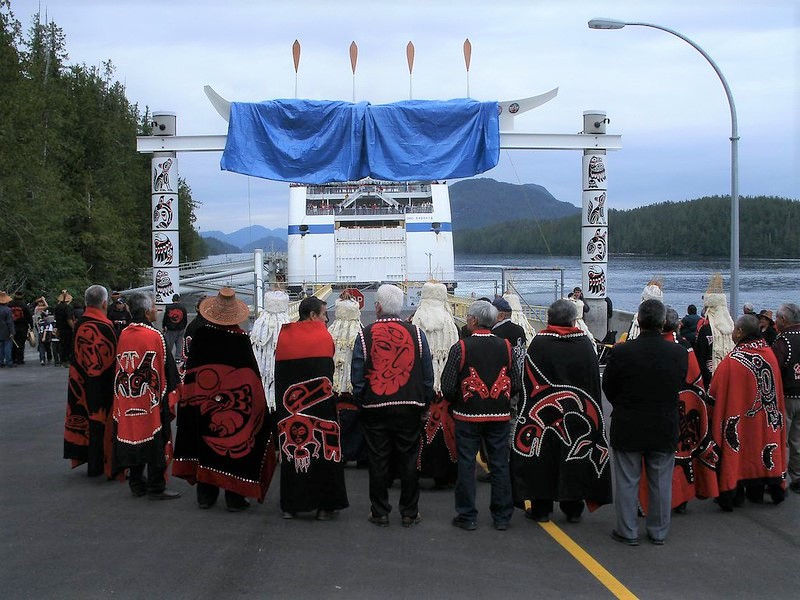 First Nations art meets function in a ferry terminal that was a project managed by the ministry and chosen as a double winner at the Northern Builders Awards around 2012.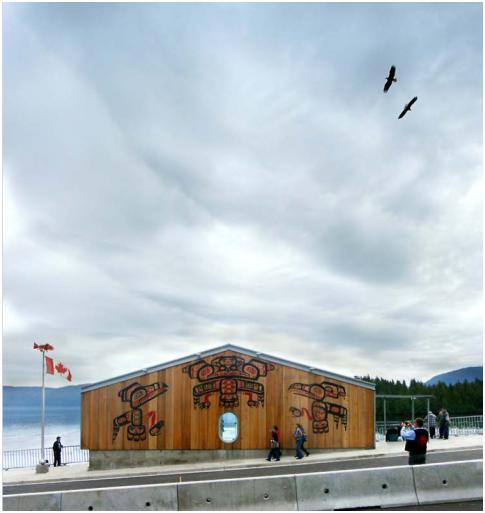 The Klemtu Ferry Terminal reflects the culture of the Kitasoo/Xai'xais people, who live in this remote village of about 400 residents on Swindle Island. The cedar-clad building was designed by Acton Ostry Architects Inc., developed by SNC-Lavalin and built by Bear Creek Contracting. It resembles a traditional long house and is rich with First Nations symbols, including crests and a salmon weather vane. A large welcoming figure, carved by famed Aboriginal artist Tom Hunt oversees safe passage for passengers and ships, and a canoe mounted over the terminal's gateway tells the story of Klemtu's creation. Nearby, a round wood symbol with a white bear represents Spirit Bear Lodge, and the village's location in the Great Bear Rainforest.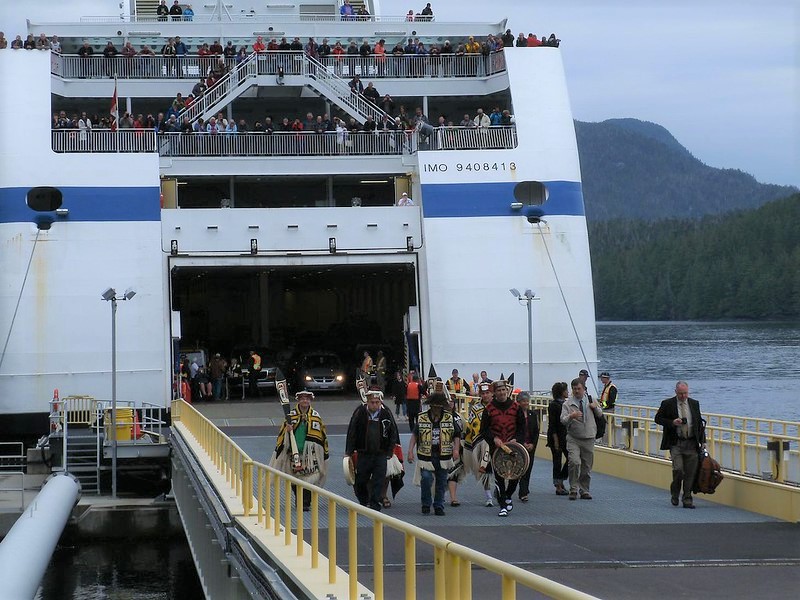 These striking features, developed in consultation with the Kitasoo/Xai'xais First Nation, earned the terminal a Northern Builders Awards prize in the Community Institutional category, plus the Judge's Choice Award for best overall winner. The Canadian Home Builders' Association – Northern BC, the Commercial Council of the B.C. Northern Real Estate Board and the B.C. Construction Association North held the event in April to recognize outstanding buildings completed over the last two years.
The new Klemtu ferry terminal was constructed two kilometres north of the old ferry terminal, as the berth provided the depth and orientation needed for BC Ferries' Northern Expedition. In addition to the award-winning terminal building, a vehicle and passenger ramp, and vehicle compound were constructed, and road improvements were made to the site.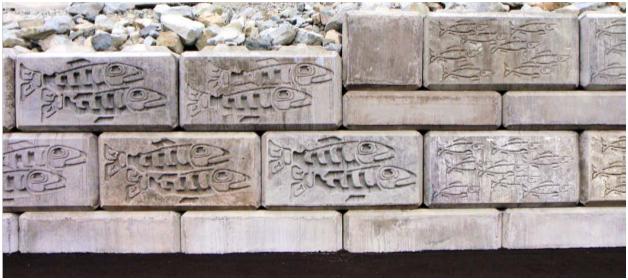 As Klemtu is accessible only by sea and air, all construction materials and equipment had to be barged into the community. Asphalt for the new road was heated and mixed at a plant in Kitimat. A special additive was put in to help with the asphalt's placement and compacting, because the material would cool, by the time it arrived in Klemtu up to a day later.
The new terminal is a major benefit to Klemtu community members who now travel more easily for health care, education and employment. It's simpler to move goods and services too – which opens up economic opportunities for Klemtu residents. Tourists who pull into the terminal on their scenic sailing from Port Hardy to Prince Rupert, will no doubt, be awed by the beauty of the facility and the setting.
Announced in Dec 2009, the Ministry of Transportation and Infrastructure was the lead agency in managing the delivery of the new terminal, which was officially opened on August 12, 2011.  This unique facility is a winner for everyone, and well worth celebrating.
Check out more photos of the facility and its opening day on Flickr.
More blogs highlighting the Indigenous imprint on transportation infrastructure:
Share this page: