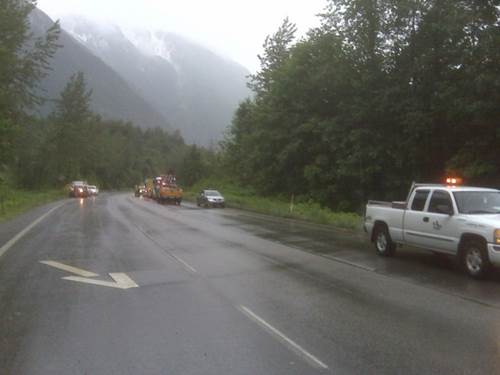 When any BC highway is closed due to a crash, some of the questions and comments we get are:
"Why is it taking so long to open the road?"
"Don't you just take some pictures and move the vehicles to the side?"
"Surely you can open one lane; there are lots of people waiting."
These are good questions, but unfortunately it's not that simple. When there is likelihood there may be criminal charges or someone is killed or seriously injured in the crash, the police close the road. And for good reason; this stretch of road may be a crime scene that needs to be investigated.
Here's a look at our role, the RCMP's role and your role when closures due to crashes happen.
Keep in mind, every incident is different, and the response doesn't always follow the same sequence. Usually, the initial management is by the first responder (police, ambulance and/or firefighters) until the protocols below fall into place.
Our Role – Managing Traffic Flow and Communicating
Initial response: The incident is reported and first responders and our maintenance contractor arrive on the scene. The first responder calls for any further assistance, eg. Jaws of Life, Search and Rescue. The responders and maintenance contractor assess the severity of the crash and determine which agency will take charge of the site.
Assess incident and implement traffic management: Our ministry and maintenance contractor staff assess the incident to determine:

How to protect emergency crews while they work.
If traffic can or should be directed to an alternative route.
If the highway can be re-opened either completely or with partial traffic flow (decided in consultation with police and other emergency staff).
Information required for motorists in the vicinity. For example, traffic control personnel may walk the line of traffic to advise stopped drivers of the incident, or set up signage to divert drivers away from the site.
What information may be needed for the broader public, via DriveBC, changeable message signs and media outlets.
What is needed for the well-being and safety of stopped motorists. In extreme situations, where the closure may be extra lengthy, we provide food, water and portable toilets for travellers.
Upon completion of this assessment, the maintenance contractor sets up a traffic management plan, and puts traffic control people and equipment to work.

Reopen the route: Once the senior ranking first responder advises that their investigation is complete, debris and traffic control equipment are removed.
The RCMP's Role – The Investigation
Crash sites are potential crime scenes, where possible negligent or criminal actions led to someone's life being altered in the blink of an eye. The RCMP has a legal and ethical responsibility to thoroughly investigate every vehicle crash, to ensure the causes are determined, fault is identified, charges are laid (if appropriate), and that all evidence is accurately documented.
Each crash scene is unique, presenting its own challenges to first responders, investigators and road maintenance crews; so closure times vary. In more remote areas like Northern BC, it may take some time for RCMP and other emergency personnel to arrive, as they travel long distances.
Securing the site: When the first emergency responder arrives at a crash site, their primary focus is to ensure the safety of those at the scene, and establish a safe work zone for arriving emergency crews. This may include stopping or redirecting traffic, and relaying vital information to incoming personnel.
Caring for victims: We identify who has been injured or killed, and if they need to be extricated from the wreckage, we assist fire/rescue crews in performing this dangerous and difficult task. At the same time, medical crews work to care for the crash victims. Getting people to hospital can be complex and time consuming, depending on the crash location and traffic congestion.
If there is a fatality, police notify the BC Coroners Service who come to the scene, investigate the death, establish the victim's identity and coordinate care of the victim's remains.
Examining the scene: In a critical injury or fatal crash, the RCMP call for one of their traffic analyst/re-constructionist officers. These experts gather evidence that focuses on factors that caused the crash. This involves extensive physical observation and detailed documentation which includes:
capturing a complex photographic record of the scene and detailed measurements
examining the affected road surface (often tens or hundreds of metres in length) for tire marks and crash debris, which is then plotted and recorded
observing and documenting the specific location of and damage to the vehicles involved
analyzing the location of victims, relative to the vehicles involved
These officers only get one chance at this work. Once they release the scene, and the vehicle salvage and road maintenance crews begin their clean up, the scene ceases to exist as it was originally found – meaning any overlooked evidence is forever altered and of diminished value.
The meticulous work of analyst/re-constructionist officers and first responders is necessary should a criminal charge be laid; the courts require a high standard of evidence. Family and friends want to know why their loved one is dead. Survivors and their families will seek answers about why the crash happened, and who is responsible. Work at the crash scene, enables the RCMP to provide those answers.
(Information provided by Cpl. Darren Lagan – Island District RCMP)
Your Role – Please be Patient
We ask that you please be patient in these circumstances. We're certainly not trying to ruin your plans or stop you from getting where you need to be, but safety and your mobility are our biggest priorities (in that order) and although you may not see us, we're working hard to make sure you can get where you're going. We do thank you and appreciate your understanding in times like these.
To help you, we work to share incident information as quickly as we can, through the DriveBC website (and mobile site), highway cams, Twitter (DriveBC and TranBC), RSS alerts (Really Simple Syndication which automatically delivers information to a computer or mobile device) and informing the local media, so you can make your travelling decisions based on the current situation.
We recognize there is frustration and inconvenience for travellers when our provincial roads and highways are closed during police investigations. We are committed to working with provincial policing agencies and our other incident-response partners, to reduce the duration of highway closures after crashes and other serious incidents.
So, now that we've answered your most-asked questions about highway closures and crashes, we hope that you have a better understanding of what's involved. Please let us know if you have any other questions.
Share this page: