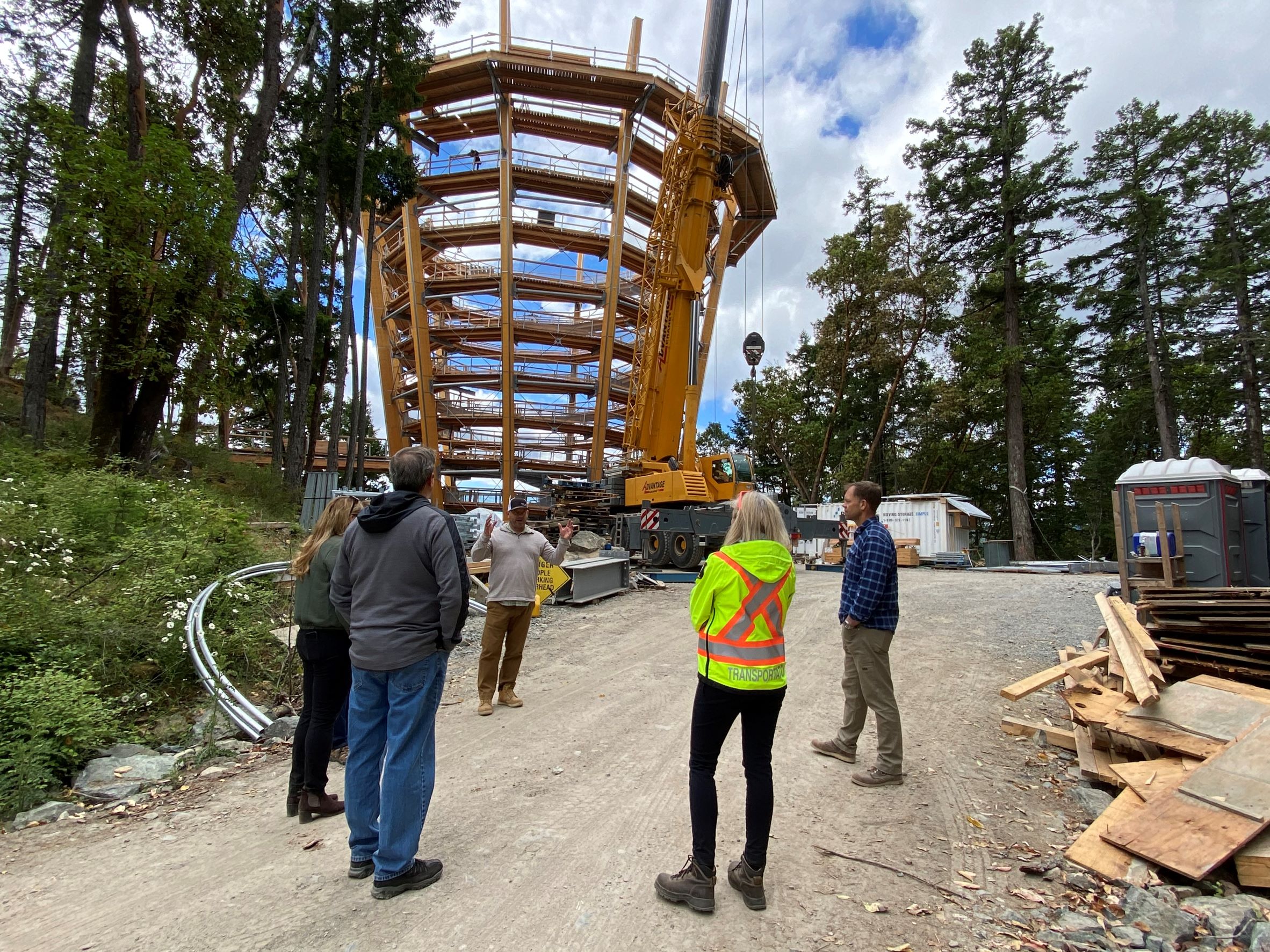 Before new services and attractions (i.e. the Malahat SkyWalk) are established on highways in BC, it's essential we consider any potential impacts to traveller safety and make appropriate adjustments.
First, what are considered services and attractions? Well, common ones include gas stations, restaurants, motels, campgrounds, airports, artisan businesses and tourist attractions.
There are key factors we must consider when any new service or attraction is introduced off a highway.
Things to Consider
How much will traffic volumes increase around the site? Depending on the scope of the project, traffic to the site may increase a little to a lot.
What types of traffic will be using the new site? Commercial truck drivers? Tourists?
How will driving behaviours change due to people entering and exiting the site? An increase in one type of maneuver (i.e. a left turn) may lead to safety concerns.
How will area residents and other stakeholders be impacted by the change?
Will visitors be able to easily find their way to the site? We operate under the principle that highways are safest when people can easily anticipate their destination. Service and attraction signs are a uniform method of pointing out conveniences to travellers. To be eligible for signing, tourist facilities must meet specified minimum standards and must be located within specified maximum distances from provincial highway turnoffs.
And, with all these factors considered, what other highway infrastructure (additional signage, line markings, barriers, traffic control devices, etc.) will be needed to maintain safety and efficiency despite the changes?
As a case study, let's take a look at our approach to the Malahat SkyWalk.
Open to the public as of July 15, 2021, the SkyWalk is set to be a popular tourist attraction, with owners anticipating more than 200,000 visitors per year.
That's a lot of new vehicle traffic entering and exiting 901 Trans-Canada Highway, which had been acting as a U-turn route for northbound traffic looking to travel southbound just north of the Malahat Summit rest area. The left turn out of the U-turn facility required crossing two lanes of traffic.
What's more, many of the people travelling to and from the attraction are visiting from outside South Vancouver Island; getting your bearings while driving in a new place tends to be more challenging than on roads you're accustomed to, right?
After reviewing the site and consulting the owners, the situation became clear: we needed to reassess the U-turn route, which was being used mostly by commercial vehicles working in the area. We determined the location could no longer operate safely as a U-turn route, so we needed to determine alternatives for people.
The area is safer now that we've added new highway features and taken advantage of pre-existing U-turn routes nearby.
How to Get to the Malahat SkyWalk
Northbound: People travelling northbound from Victoria can watch for a blue and white service and attraction sign alerting them of the Malahat SkyWalk entrance. As part of the ministry's development approval process, SkyWalk owners were required to expand the deceleration lane to help people safely turn right off the highway. The attraction also has its own sign at the entrance. Of course, the U-turn route signs have been removed.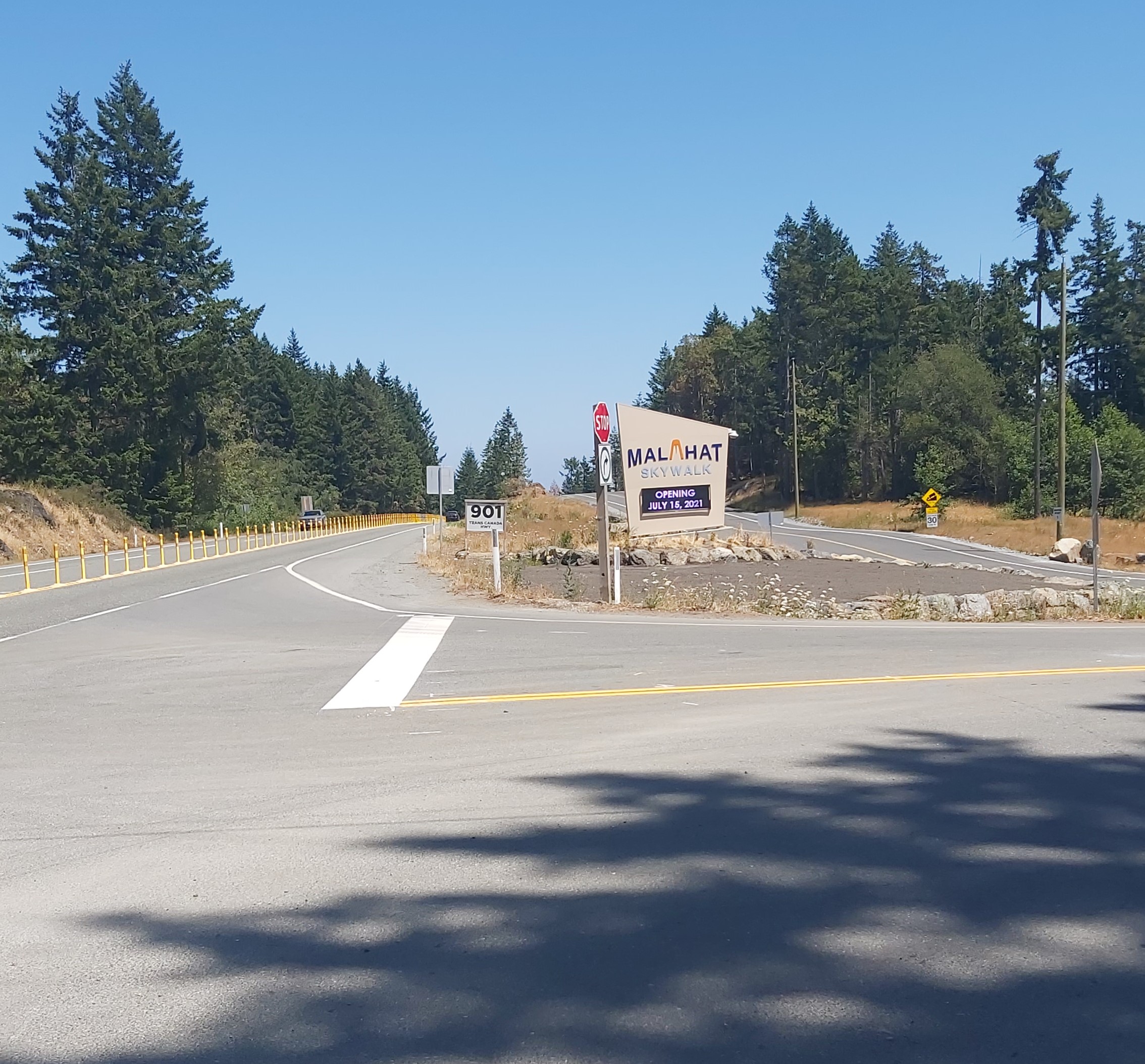 Southbound: People travelling southbound from Mill Bay can also watch for a blue and white service and attraction sign, except this sign also directs them to proceed past the Malahat SkyWalk entrance and use the existing U-turn facility at Malahat Chalet, which has a divided left turn lane into the chalet and a northbound acceleration lane to enhance safety while exiting and entering the highway. Note: turning left from the highway into the former U-turn route entrance was never allowed.
How to Leave the Malahat SkyWalk
Northbound: People heading northbound simply need to wait for a break in northbound traffic and turn right.
Southbound: People heading southbound will also turn right in accordance with a regulatory right-out only sign and exit at the Bamberton U-turn route, which is approximately five kilometres northbound down the highway.
Additional Safety Measures:
People will notice 480 m of yellow median barrier pickets preventing left turns into and out of the Malahat SkyWalk entrance. Additional pickets are being added to prevent illegal U-turns at the Arbutus and Split Rock rest areas (north of the Malahat SkyWalk).
The line markings at the entrance to the SkyWalk were refreshed and we added pickets to further separate traffic entering and exiting while making it clear to drivers how to access the SkyWalk driveway.
Additional lighting at the entrance/exit (coming soon)
The Bamberton U-turn was repainted as part of the maintenance contract.
Removing the U-turn route at the attraction's entrance requires some travellers to go a bit further, but reducing the risk of collisions is definitely worth it. Protecting the safety of Malahat travellers and SkyWalk visitors looking for a safe experience is our top priority.
If you found this blog interesting, and want to learn more about the Trans-Canada Highway, you may also enjoy reading these:
>> Trans-Canada Improvements (and Delays) Ahead: How You Can Be Prepared
>> BC RoadTrip Time Machine: The Malahat, circa 1966
>> Getting Goldstream River Going in the Right Direction
Share this page: