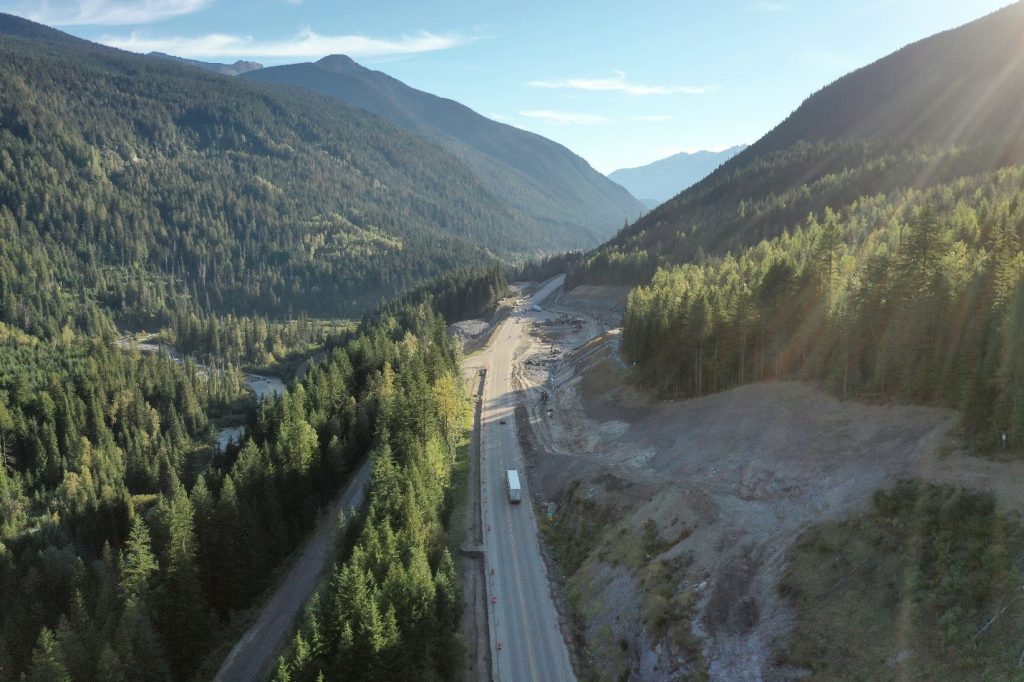 The Trans-Canada Highway is the primary route connecting BC to the rest of Canada and it's getting several improvements over the coming years, as a part of our Kamloops-Alberta Four-Laning Program. Much of what makes this route so awe-inspiring also presents some significant challenges during construction. Soaring mountains and rushing rivers don't leave us much room to work in some spots and that means we will be reducing traffic through worksites or, at times, detouring traffic around them altogether.
We're doing everything we can to minimize the impact this work will have on travel times along the corridor, but the reality is that delays (and some detours) are inevitable. Despite appearances and even with delays, this is still the most efficient route to take. Here's what you need to know about what we are up to and why, as well as a reminder to plan ahead and give yourself extra travel time if you will be travelling Highway 1 between Kamloops and the Alberta border over the next few years.
What You Need to Know

We're monitoring ALL the work happening on the corridor and providing estimated travel delay times via the project update page of the Highway 1 Kamloops – Alberta Border program website. We've broken delay times down into four sections (list below), along with estimated delay times for the entire stretch.
KAMLOOPS TO SALMON ARM
SALMON ARM TO REVELSTOKE
REVELSTOKE TO GOLDEN
GOLDEN TO ALBERTA BORDER
Delay times listed do not include unanticipated emergency and maintenance activities. If an emergency, such as a traffic incident does occur, that travel delay won't be captured in our estimated travel times. Like all unexpected incidents on BC highways, you can be assured that we are working hard behind the scenes to get the road open and moving again, just as soon as we can. If you encounter an unexpected delay, check DriveBC.ca for more information on expected delay times, etc.
Kamloops to Hope Delays
Travellers on Highway 1 – Kamloops to Alberta often continue their travels on the following routes. Following the November 2021 flooding on BC Highway 5 – please be aware that there may be additional delays due to other construction projects. Our advisory tables have been updated to include these additional, potential delays. 

Local Services
We're working closely with local communities along the route, such as the Town of Golden, the City of Revelstoke, the City of Salmon Arm and the City of Kamloops, as well as other key stakeholders to make sure travellers can access services, such as food, fuel and emergency services. Many of these local communities have even more to offer tourists and, if you have the time, we encourage you to build them into your trip.
Rest Areas and Wi-Fi
If you need to pull over and just take a break – we've got you covered. Some of our Rest Areas along the corridor even have WI-FI for you to use. (WI-FI is not always accessible on the corridor, so we encourage you to download the map below, in case you need it along the way.) You can also visit our Rest Area website to get detailed information on what other services are available to you at these locations.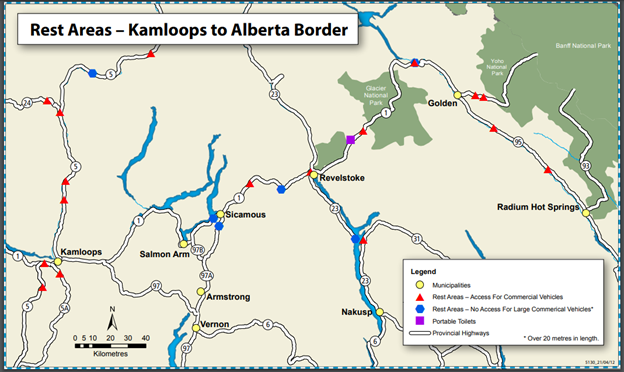 Closures to Expect
*Overnight and extended closures will be required.
We know its tough but, in order to really "dig in" to the work at hand, some closures will be required. We will be continuously updating the project website and DriveBC with information on closures and delays. There are several extended closures required, along with other overnight and shorter closures and delays, so don't forget to check the travel advisory page for updates! If you are planning a trip on BC Highway 1, please check these sites for traffic impacts so you can "know before you go". And don't forget to follow us on Twitter, Facebook and Instagram to get more info and project photos as these projects move forward!
When overnight and extended closures are in place, through traffic on Highway 1 between Golden to Castle Junction will be routed around the closures via highways 93 and 95, which will add up to 1.5 hours of travel time. We've installed signage on the Trans-Canada and our alternate routes, as well as DriveBC to make sure drivers have plenty of advance notification of closures, and alternate routes available.
Info on Highways Through Federal Parks 
Did you know that wherever a highway in BC passes through a national park (such as Glacier or Yoho National Parks) the road in that section becomes the responsibility of the federal government and Parks Canada? We're working closely with Parks Canada to make sure that any project work or other delays which occur on these stretches of roadway are included in the delay times reported to the travelling public. There are a number of projects which Parks Canada will be completing in tandem with our scheduled project work, in order to minimize the overall impact to the travelling public. Detours for the extended closures in Kicking Horse Canyon will also redirect travellers through Kootenay National Park.
Respect the Construction Cone Zones
All of this amazing work is being orchestrated on the ground by traffic personnel. Please watch for and obey construction zone speed limits and the directions of staff in the cone zone. The BC RCMP will be monitoring the corridor and ticketing for offenses. Thanks for your patience and understanding as we work hard to deliver on these exciting improvements.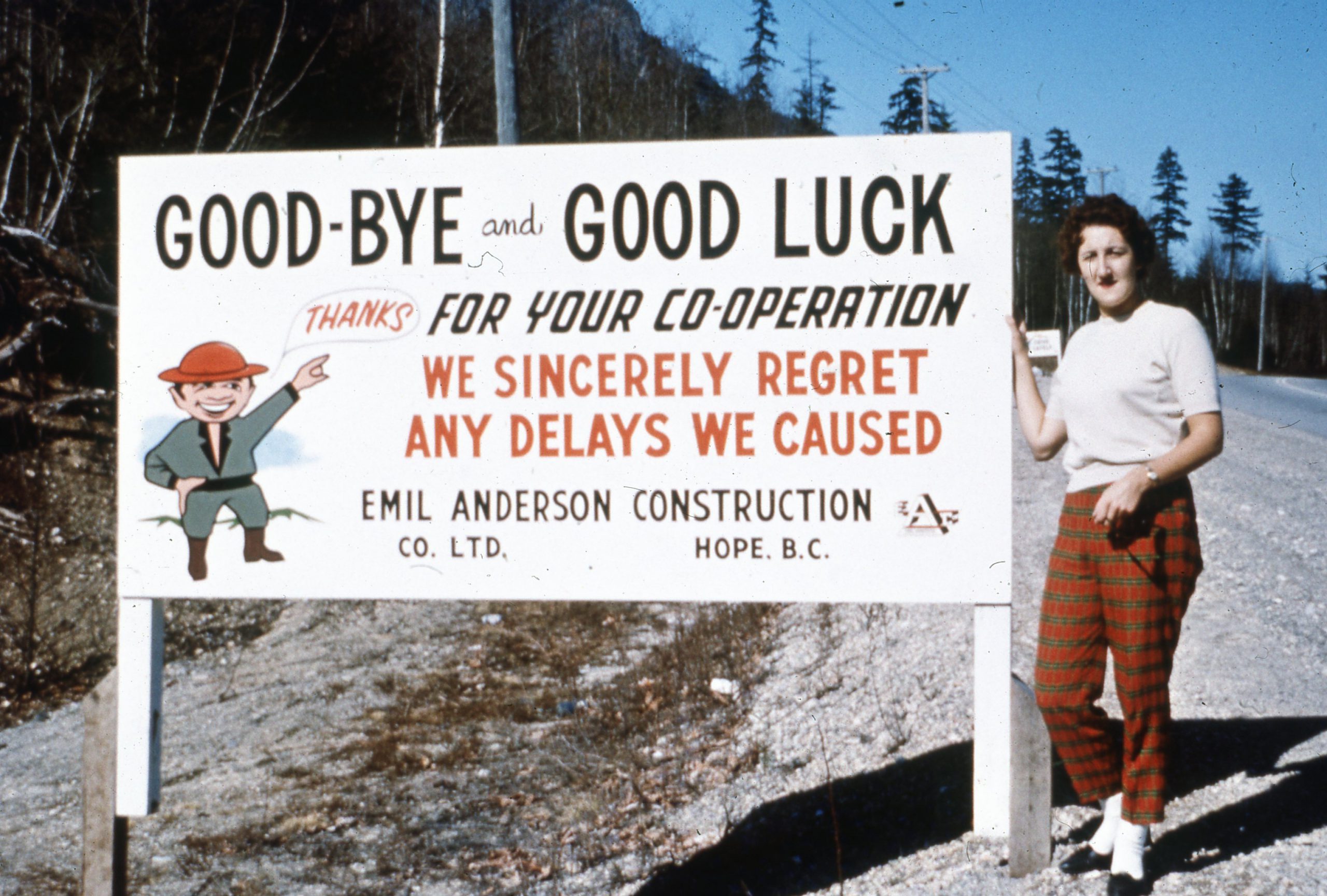 Have any questions or concerns about this, or anything else the ministry does? Let us know in the comments below.
Learn more about the Trans-Canada Highway in BC:
Share this page: