A while back, we posted an invitation to Drive a BC Highway in 15,000 Photos. It was a fast-paced tour of the Coquihalla Highway from 2008 and an introduction to our Photolog program.
That post received some positive reactions, so we thought we'd dig a little deeper and go a whole lot farther back in time. It meant combing through off-site archives and resurrecting some old-school tech, so we could watch and record reels of 16 mm film. And here's the results from our first session: travelling the Malahat (and the Trans Canada Highway) back in 1966.
The reel itself was about 10 minutes long. It began where you see it in this video and ended outside of Campbell River. That pace was a little too quick for comfortable viewing, so we slowed it down to 30 per cent of its actual speed.
Where Did These Videos Come From?
These videos are called "Photologs". They were created by the ministry as a tool to capture road condition information across the province and give our engineers the ability to study a particular stretch of road without having to travel into the field. These original photologs were collected by rigging a camera onto the dash of a car which took still images every 80 feet or so and then running them all together as a single film. You can see them all on our YouTube channel.
Video Moving Too Quickly?
Did you know that we slow these videos down to about 25 percent of their original speed before we share them? Even then, they can move pretty quickly. If you blinked and missed something – don't worry – we've done the leg work for you and collected a great selection of still images over on our Flickr channel. Otherwise, follow the steps outlined in the image below, to reduce the speed even further.
We hope you enjoy this peek into the past, and if you'd like to see more of this kind of content, please leave us a note in the comments below and let us know.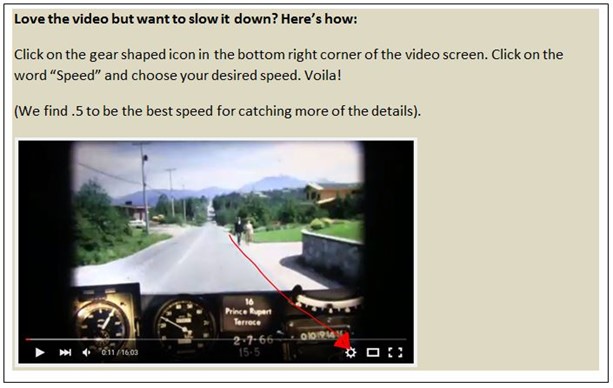 If you liked this content, you might be interested in these related links:
Share this page: