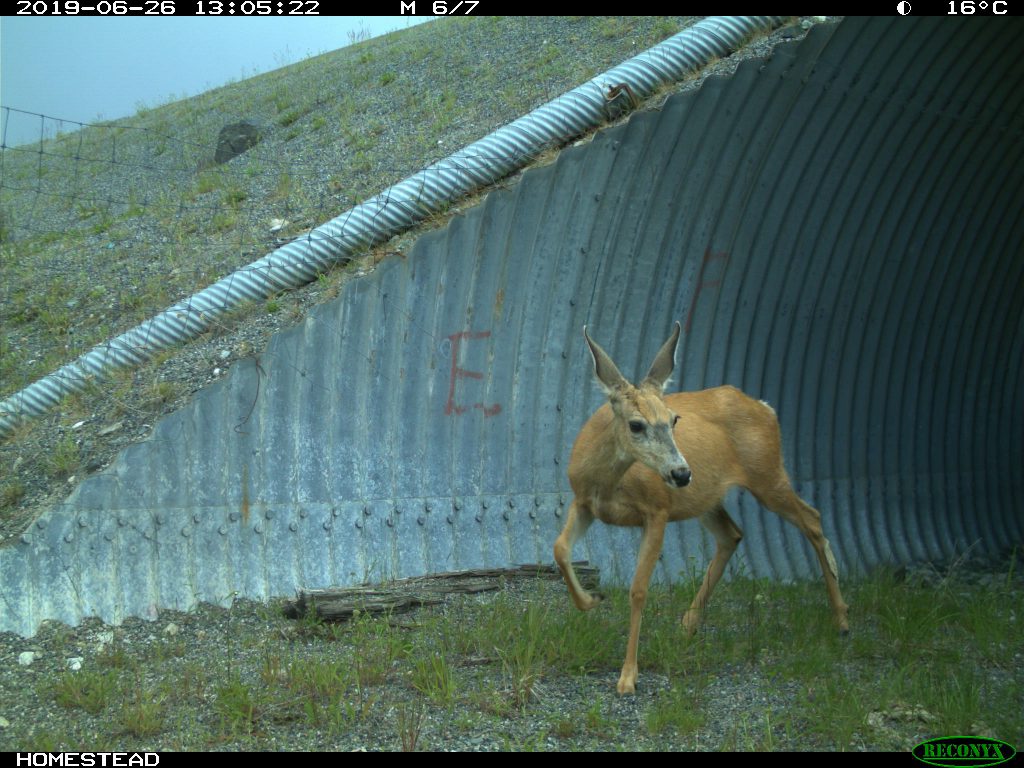 Not until now have we been able to demonstrate how important wildlife crossings are for preventing collisions between highway travellers and animals.
Sure, we can show photographs of moose, badgers, deer, snakes – you name it – from the many Wildlife Monitoring Program cameras located across the province. And we do. But on their own, these photographs don't show the big picture, the tremendous impact, quite like visually presenting an entire year's worth of wildlife crossing data for a single species in 30 seconds (in this case: our feature animal is the mule deer).
So, that's what we're doing now. We're pretty sure this is the first time, anywhere, wildlife crossing data has been presented on such a large scale. And we're very excited about it (can't you tell?).
What the Video Shows (and Why it's Important)
The video shows a map of the Okanagan Connector (Highway 97C) between Aspen Grove and Kelowna, which is prime mule deer habitat. The map includes the wildlife crossing locations of 11 underpasses and one overpass (most, but not all, wildlife crossings on this stretch of highway). The wildlife overpass is the location furthest to the east, nearest to the Highway 97 junction.
You'll notice the wildlife crossing locations start lighting up with triangles, slowly through the winter months, then faster through the spring and summer months as the mule deer become more active in their movements. It's evident that, as soon as the snow melts, the mass movement of mule deer proves to happen very quickly.
You'll also see the triangles vary in size and colour, depending on the number of mule deer and their direction of travel.
By the end of the video, mule deer are shown to have safely crossed Highway 97C 3,700 times using wildlife crossings.
"Watching those numbers climb really impresses me," says Dr. Leonard Sielecki, manager of our Wildlife Program.

"And this is only showing mule deer – not other types of deer, or other species of wildlife. It means the potential for 3,700 collisions with vehicles was eliminated. These mule deer were not hurt, killed or orphaned – they crossed the highway safely thanks to the crossings made for them."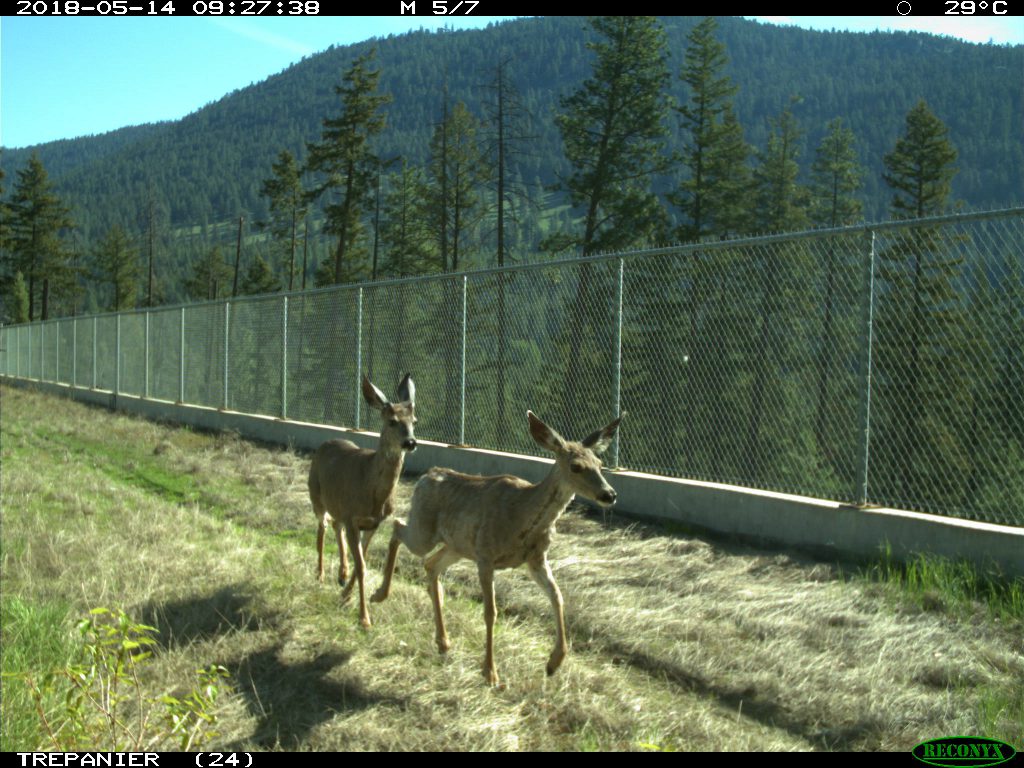 Daunting Data Collection
The quest to understand animal behaviour near BC highways is hard, and yet critical for reducing collisions between wildlife and travellers. In this case, species specialists manually sifted through thousands of images captured by wildlife cameras to determine the numbers of mule deer using each crossing in the video.
Going through all the images by hand takes time, but it also reveals valuable information beyond sheer numbers. Determining species, age, sex, and the size of herds gives us better understanding of the dynamic of herd movements.
It also helps us identify ways to improve crossings. For example, we noticed that some structures were becoming blocked with heavy snow accumulation, leading us to figure out how to modify entrances to keep them clear.
What's Next?
This is just the beginning – we plan on pulling together similar crossing data for other species in the future, most likely continuing with moose next. We're also working on ways to make the data collection more efficient. To speed up the analysis, for example, we're working with computer engineers to develop artificial intelligence and deep learning techniques for identifying species of wildlife in photographs.
We know people love BC wildlife. And this video is designed to make data about mule deer movements, and the ways they are protected, understandable for a wide range or people – from kids to academics.
If you found this blog interesting, please check out some of our related content:
>> Gettin' Licky With It: Intercept Salt Patch Saves the Day
>> BC Highway Wildlife Cam Captures Moose Selfie and More
>> Behind the Scenes: BC Wildlife, Trucks Save from Collision
>> Watch What Happens When Moose Meet Wildlife Underpass
Do you have a question about how we monitor and protect wildlife near highways? We welcome your comments below.
Share this page: