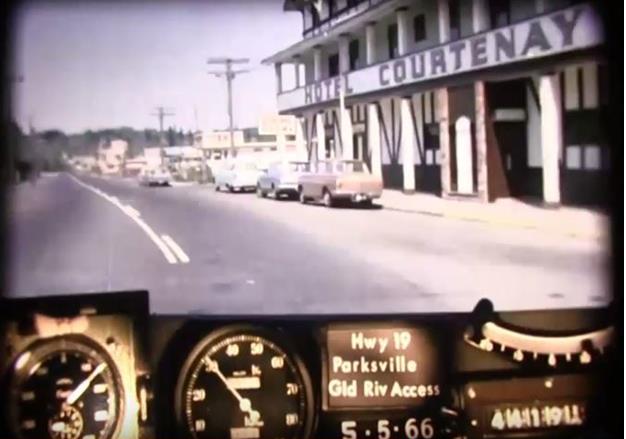 Does the busy modern world have you wishing you could step back in time? We're happy to say your wish has been granted with this trip down memory lane (or highway)! Climb aboard our BC Road Trip Time Machine and travel Vancouver Island Highways 1 and 19 (between Duncan and Kelsey Bay) as they were in the spring of 1966.
Island motorists young and old are sure to notice countless changes in these videos, along with some things that never seem to change (Dairy Queen in Parksville anyone?)
It's a long drive, so we have broken the video up into three sections for you: Duncan to Parksville, Parksville to Campbell River and Campbell River to Kelsey Bay.
Here's a list of some of the changes Highway 1 and 19 have experienced over the past 50 years:
Countless side road intersections have been improved with traffic lights and turning lanes, as well as acceleration and deceleration lanes, to keep travellers safe.
Rumble strips and reflectors have been installed along sections of both highways to improve safety.
Roadside clearing or "brushing" have improved sight lines on both highways.
Median and roadside barriers have been placed along both highways. Check out the "Next Generation" of highway barrier located in Nanoose.
Road-level railway crossings have been realigned.
Traffic volumes have increased dramatically in the years since this video was taken!
Old Howe Truss bridges along the route have been replaced to allow larger vehicles to travel the routes.
In 1992, the Vancouver Island Highway Project began, which when completed in 2002, created a new 4 lane divided highway between Nanaimo and Campbell River, now known as Highway 19. The existing Highway 19 was renamed to Highway 19A, the 'Oceanside Route', or the 'Old Island Highway', depending on who you ask!
Many stretches of BC Highway 1 are now four lanes wide.
The current alignment of Highway 19A though Courtenay bypasses the downtown core and the old 5th Street Bridge (seen here as it existed in 1966).
Kelsey Bay used to be the end of the line for BC Highway 19 in 1966 where BC Ferries originally began its northern route to Prince Rupert. It wouldn't be until 1978 that Highway 19 travelled from Campbell River to Port Hardy.
The Inland Island Highway (now called BC Highway 19) now travels outside the City of Nanaimo, rather than through it. It connects back up with the original alignment near Lantzville.
There was no Inland Island Highway, therefore no local Inland Island Highway connectors.
If you've been riding along with us, you'll know we've toured many other parts of the province in our BC Road Trip Time Machine travels. We recorded these nostalgic videos from 16mm film footage taken in 1966. The original photologs were collected by rigging a camera onto the dash of a car that took still images every 80 feet or so and then running those together as a single film in order to create a visual record of road condition information from across the province. This allowed our engineers to study a stretch of road without having to travel there. Pretty cool stuff, huh?
Vancouver Island has done a lot of growing up since 1966 to be sure. Did you notice anything else that has changed or have a question or comment? Let us know below.
Share this page: