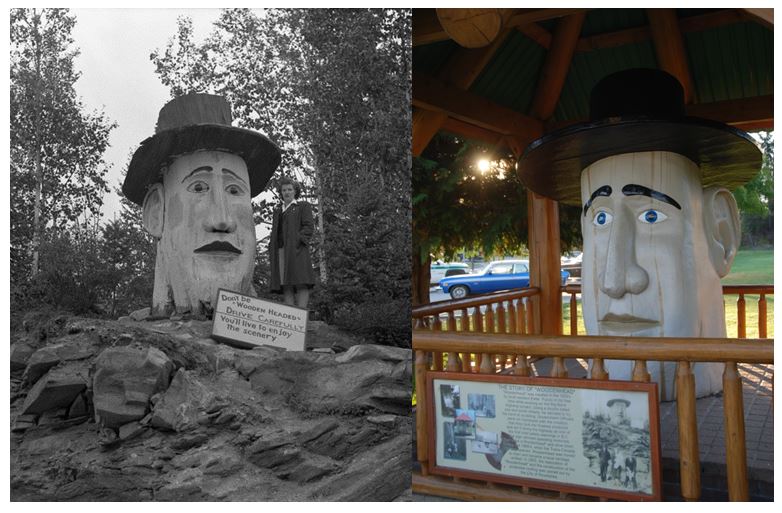 A man with a wooden stare is watching over the Trans-Canada Highway at Revelstoke, to see if motorists are driving safely.
The man, with his unblinking gaze, was once stationed along the Big Bend Highway and now resides in a park, named in his honour.
Just who is this man? Why it's Woodenhead – BC's highly original roadside attraction that started as a cedar stump!
Where Woodenhead Started
In the 1940s, a large stump was spotted by Peter Fuoco who was working as a timekeeper and first aid attendant for the federal government, on construction of the Big Bend Highway. Peter saw a resemblance to human facial features on the stump, and for something to do after hours at the tent camp, he shaped the wood into an oversized man's head, using a double-bitted axe and a chisel.
Peter thought that his creation – which he says was not intended to be "a classical piece of sculpture" – would stay rooted. He was surprised when he was asked by a supervising engineer, to free Woodenhead from his attachment to the earth. Woodenhead was then sawed off, and trucked to "the big bend" of the thus-named highway, at Boat Encampment. The Big Bend Highway was an in-road to minerals and timber which travellers followed north, along the east side of the Columbia River, to Boat Encampment, then headed right back south toward Golden.
When the Big Bend Highway opened, in June 29, 1940, Woodenhead presided over the grand opening. He stood as one of BC's first highway safety warning symbols, not be blockheaded, thick-skulled or well… woodenheaded. A sign mounted by the creation advised, "Don't Be Wooden Headed. Drive Carefully. You'll live to enjoy the scenery"
For the next 20 years, Woodenhead fixed his solid sights on the Big Bend Highway, where he warned and amused many a traveller. He was even featured on his own postcard.
Woodenhead on the Move
When the Roger's Pass section of the Trans-Canada Highway opened in 1962, there was much more traffic travelling the more direct route, so Woodenhead was relocated to Revelstoke. Eventually he became a heritage artifact, and in 2005, the City of Revelstoke restored Woodenhead and built a sheltering roof over his head. In the meantime, the Big Bend Highway became an in-and-out route (now Highway 23), when parts of the route were flooded for the construction of hydro-electric dams.
Today, Woodenhead continues his unflinching scrutiny of Trans-Canada Highway motorists, still standing as a reminder to slow down and drive with care. From his home in Woodenhead Park, he fittingly oversaw the official proceedings for the 50th Anniversary of the Trans-Canada Highway celebration in 2012. (He might even have cracked a smile, if you watched extremely close.)
His creator, Peter Fuoco, went onto a career with the provincial Department of Highways and Public Works (our name back then), until his retirement in 1976, as the office manager for the Penticton District.
It took Peter's creative mind and about six weeks of work to carve Woodenhead. What started as a pastime became a quirky and unique part of BC history, by a man destined to devote himself to the safe operation of highways in our province.
Have you met Woodenhead in your travels?
Thanks to Cathy English, curator at the Revelstoke Museum & Archives, for her helpfulness.
Share this page: