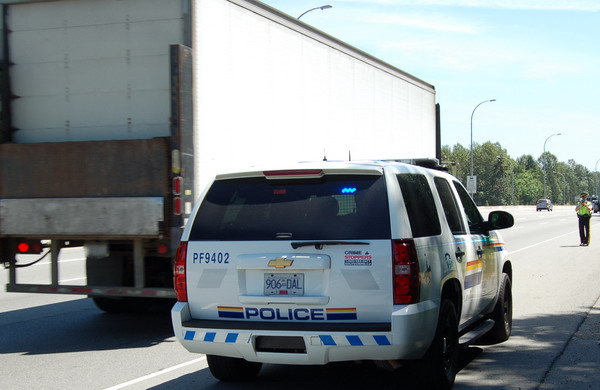 The BC RCMP recently confirmed the Slow Down Move Over rule is being ignored by many drivers.
Following a series of near misses and collisions with roadside vehicles, RCMP Traffic Services members performed "Operation Shield" on Highway 1 in Surrey and Chilliwack. The results were not good.
Police officers issued 20 violation tickets, each coming with a $173 fine and 3 penalty points.
If it was safe to pull over multiple vehicles at once, several more violators would have been stopped and ticketed, according to Cpl. Ronda Rempel of BC RCMP Traffic Services.
"Officers observed numerous trucks failing to slow down to the 70 km/h and move over," says Cpl. Rempel.
"With the sheer weight of these vehicles, a crash would most likely be fatal for the officer and the driver who was stopped. Drivers of passenger vehicles were also guilty of the same offence, some passing the fully marked police vehicle at speeds greater than 100 km/h."

Like many rules of the road, the Slow Down Move Over law is based on common sense. These simple actions give the people on the roadside a buffer from traffic, minimizing their chance of being hit.
It really should be as automatic as signalling before a turn, or looking both ways before leaving a stop sign (or, dare we say, keeping right and letting others pass?).
So many jobs require workers to perform on or next to roads and highways. More than you may think. Here are a few:
| | |
| --- | --- |
| ·         Police | ·         Park Rangers |
| ·         Firefighters | ·         Conservation Officers |
| ·         Paramedics | ·         Utility Workers |
| ·         Tow Truck Operators | ·         Land Surveyors |
| ·         Highway Maintenance Workers | ·         Animal Control Workers |
| ·         Commercial Vehicle Safety Enforcement | ·         Garbage Collectors |
You probably know a few people who would fit somewhere above. Let's help keep them safe by respecting a pretty simple rule of the road. As Cpl. Rempel says:
"Roadside workers need BC drivers to be the protectors now."
Do you, or someone close to you, work roadside? What do you want drivers to keep in mind when approaching roadside vehicles with flashing blue, red or amber lights. Speak out in the comments section below.
Did you enjoy this article? You might be interested in these related links:
Share this page: