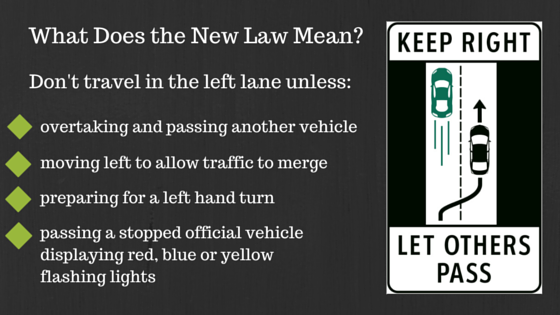 If you've ever found yourself stuck behind a slow moving vehicle travelling in the left lane of a BC highway, we have some good news for you.
What's happening? British Columbia has a new law requiring motorists to keep right and let others pass.
Why are we doing this? From November 2013 to January 2014, we undertook a province-wide Rural Highway Safety and Speed Review. During the review, complaints about drivers "hogging" the left lane – despite direction in the Motor Vehicle Act that slow drivers should use the right lane, were a prominent theme. The safety of the travelling public is our primary goal and slower-moving vehicles, such as recreational vehicles, travelling in the left lane not only reduce the efficiency of the highway system, they cause driver frustration. This results in aggressive and erratic driving behavior which is unsafe for everyone.
What is the law? The new legislation prohibits driving in the left lane unless a motorist is:
overtaking and passing another vehicle
moving left to allow traffic to merge
preparing for a left hand turn
passing a stopped official vehicle displaying red, blue or yellow flashing lights, such as: police cars, ambulances, tow trucks, maintenance or construction vehicles.
Who does it affect? The law applies to all motorists travelling on BC highways with two or more lanes of traffic travelling in the same direction and a posted speed limit of 80 km/h or greater.
When does it start? June 12, 2015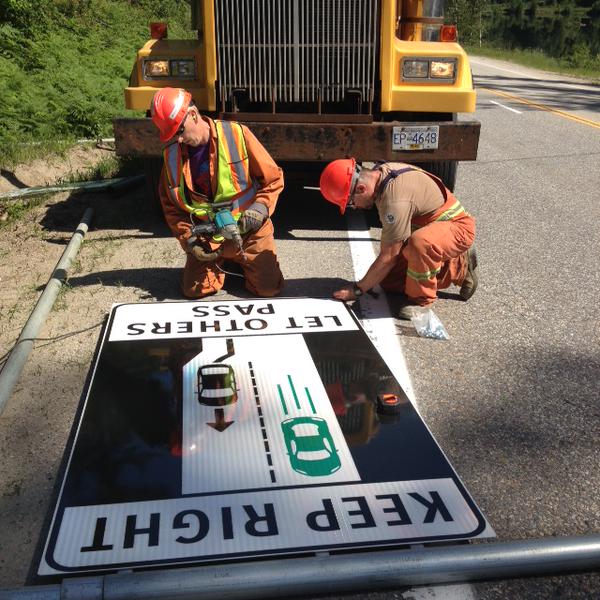 What can you expect? Signs demonstrating the new law are now in place across the province. Line markings have also been changed and now direct traffic into the right lane. This new legislation is fully supported by ICBC and provincial law enforcement agencies. Drivers failing to keep right can be fined $167 and three driver penalty points.
Do you have any questions or comments about the new law? Let us know in the comments below and we will try to get you an answer. You can also connect with us on Twitter and Facebook or search out some Frequently Asked Questions.