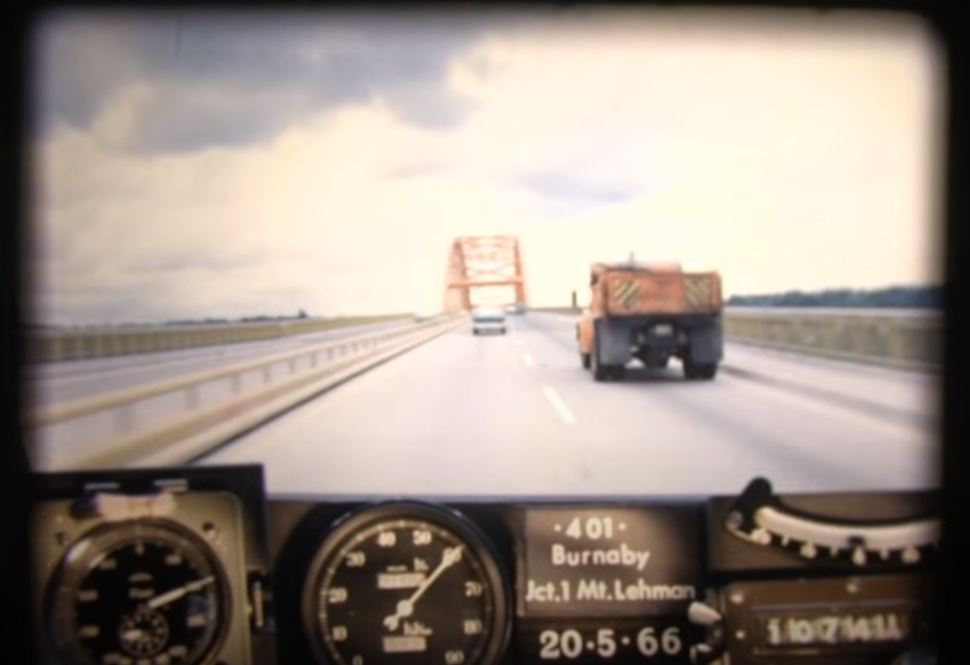 By now, you may have already experienced what it's like to go back in time through our BC Road Trip Time Machine series. Using an old 16 mm reel from our Photolog program archives, we started by recreating the drive along the Malahat (and Trans-Canada Highway) in 1966.
We had a good hunch people would like it, and we weren't wrong. Whether reliving the experience from your youth or seeing it for the first time and being shocked at how different the landscape looked, a flood of positive feedback from you encouraged us to continue sorting through dusty reels and loading (and rewinding – oh, the rewinding!) our vintage projector.
The latest release takes us on a ride along Highway 1, and over the old Port Mann Bridge, in 1966. Both highway and bridge, not to mention the entire cityscape, have come a long way since the Trans-Canada Highway was completed 50+ years ago (1962).
Keep an eye on the dashboard – you'll notice it's marked "401." From 1964 to 1973, the freeway section of the Trans-Canada Highway from North Vancouver to Hope was designated the "401 Freeway." It's been known as Highway 1 ever since.
Whether you live in the Greater Vancouver area or beyond, this is a trip you won't want to miss.
Share this page: