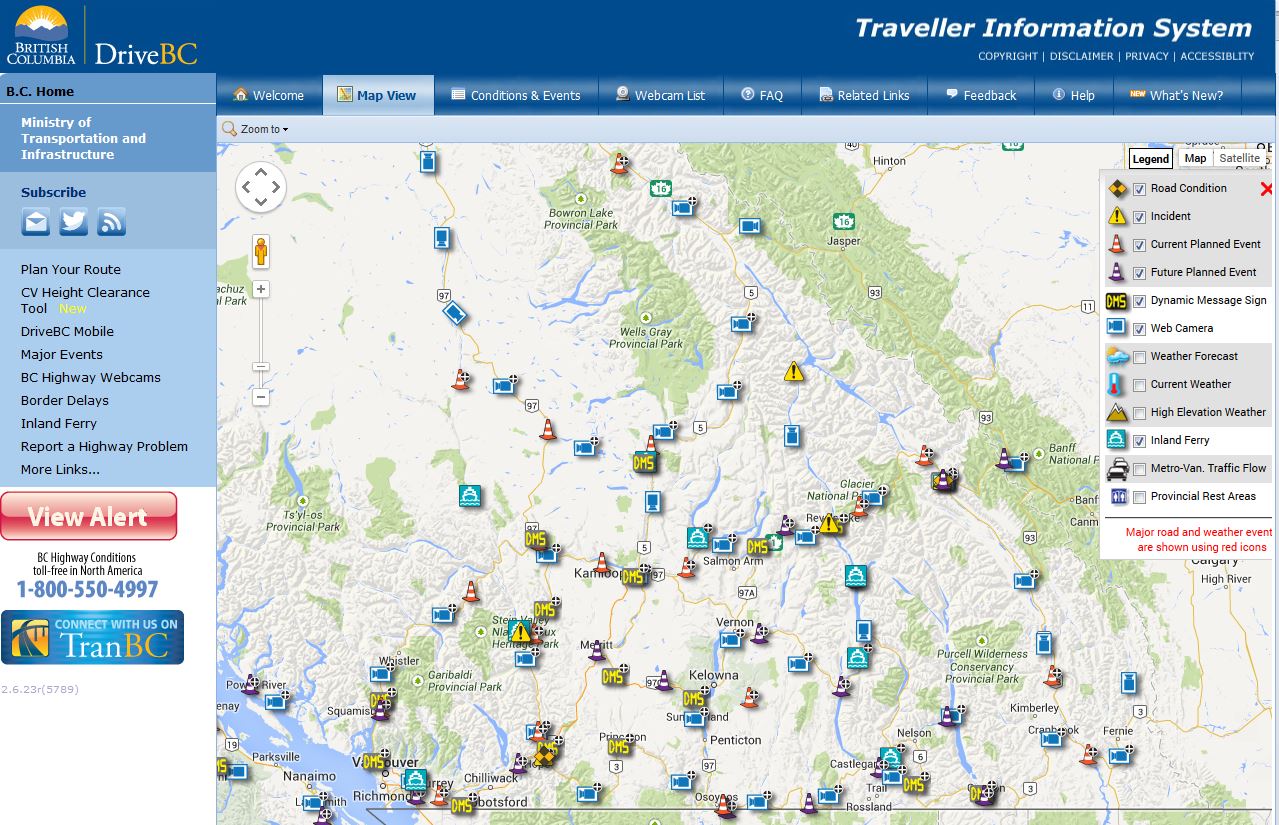 DriveBC is our most popular website and it's easy to see why. It's the place you go to find out everything you need to know about road conditions and events across the province and to make informed decisions about travelling, before you head out on the highway.
Some of you have asked us how and when information is updated on the site. It's a good question and one we are happy to answer (along with a couple of other popular questions). Read on:
1. Where does the information come from?
When an event happens on a provincial highway, whether it's planned or un-planned, our goal is to get the word out as soon as possible.
Getting and sharing the right information in a timely way means that we have to draw on multiple sources for updates, including:
emergency services (police, ambulance, fire),
ministry staff,
ministry maintenance contractors,
visual confirmation (BC HighwayCams)
and – last but definitely not least YOU – the travelling public.
You are one of our most important sources of DriveBC information. That's why we've made it easier for you to report a problem. If you see something that should be included on DriveBC please visit- Report a Highway Problem, to find a contact in your area. You can also find a list of our maintenance contractors and their contact information here. Thanks!
2. How often are events updated on DriveBC?
DriveBC is all about communication and boy is there a lot of communication going on behind the scenes during the lifecycle of an event! Our operations staff, contractors and emergency services are in constant communication during an event to make sure that you have the latest information.
We update DriveBC information every four hours or as conditions change. As soon as there is a development or change in a road condition, it is updated on DriveBC.
The time between receiving updated information and posting updated information on DriveBC is typically around two minutes (that is how often our servers refresh their information). If you are watching our site to see an update and you think your data/image is not current, try refreshing your page. DriveBC does not automatically refresh your screen for you (but we are working on it!) Once an incident or road condition clears, the event is terminated and an "all clear" message is displayed on the website, and a notification is automatically sent to DriveBC subscribers.
3. What kind of events appear on DriveBC?
DriveBC displays information on current road conditions, incidents and future planned events on the provincial highway network.
Wondering which is which?
Road conditions are weather related events such as fog, black ice, compact snow and freezing rain.
Incidents are unplanned events that affect the flow of traffic such as police incidents or debris on the road.
Future planned events are scheduled events that affect the flow of traffic, such as maintenance, special events and construction.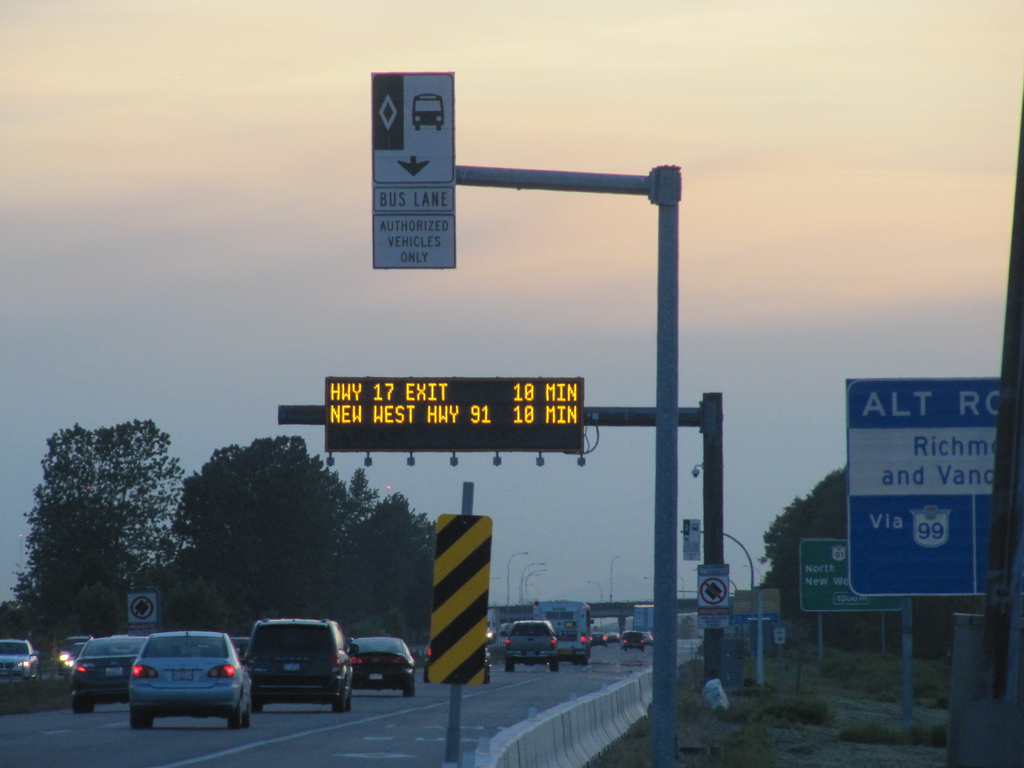 Dynamic message signs found along our highway corridors also display DriveBC messaging and road safety advice and are updated with messaging provided by ministry and maintenance contractor staff as well as our safety partners like police and ICBC who advise us on what BC motorists need to know.
Other Interesting Things You Might Not Know About DriveBC
We try to keep our messages short and to the point, and if there is a need for more information (such as a longer term emergency situation), we will direct you to a webpage with more details to help you make informed travel decisions.
If a road condition involves a long stretch of road, events are broken up into multiple smaller sections. We do this because conditions sometimes change in one area and not the other. The multiple events allow us to terminate one and leave the relevant information up for the other areas.
The map on DriveBC does not show linear events (events that stretch out over multiple kilometres), so it is common practice for staff to input a road condition at the "end" point of an event.
You can get the latest information on DriveBC by visiting the website, following @DriveBC on Twitter, calling our toll free phone system (1-800-550-4997), subscribing to receive notifications via email, Twitter, text message or RSS feed. More of a visual learner? Check out our DriveBC tutorial playlist on YouTube.
We are always looking for ways to improve DriveBC and your comments help us better understand ways to do that. Submit your comments through the DriveBC feedback portal or by leaving a comment below.
Share this page: