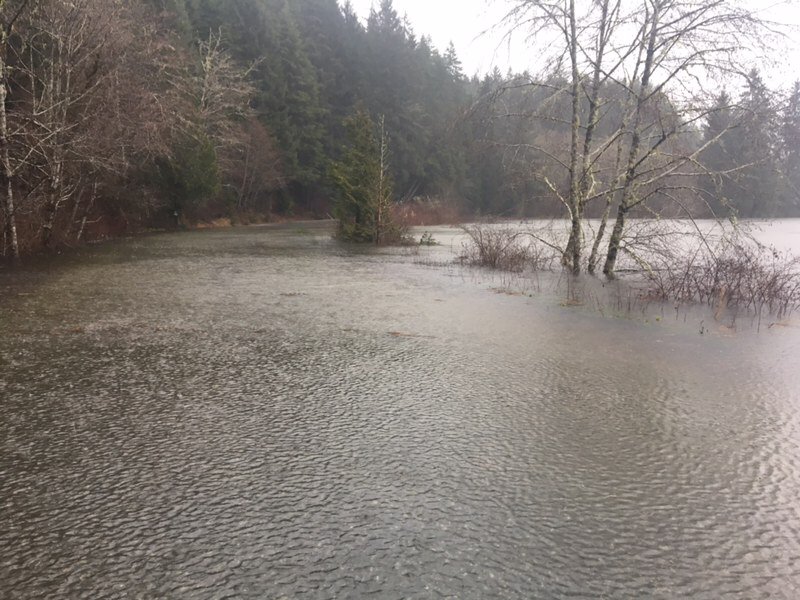 If you're Flood Smart you also drive smart – or you don't drive at all. During a flooding situation, road closures can take place across BC and driving your vehicle can become increasingly hazardous. DriveBC's safety partner, Emergency Management BC, wants to remind British Columbians of these important points before getting into their vehicles:
Plan & Monitor: Know the risks before getting into your vehicle. Monitor your local radio stations, TV, local government websites, and DriveBC's road closure and weather information. Don't forget to check Emergency Info BC for the latest evacuation alerts and bulletins. If in doubt, turn around or don't drive at all! Stay alert and contact your local maintenance contractor if you are concerned about travel routes in your community.
Move It, Don't Lose It: Get pro-active and move your vehicle to higher ground if a flooding situation is expected. Protect your vehicle and help BC emergency responders by staying clear of flood areas and emergency disaster routes. Help keep your vehicle safe and protect the environment from potentially leaking oil, gas and fluids from your vehicle.
Mind the Signs: During a flooding situation, NEVER cross any road barriers put in place by local emergency officials. It is not only dangerous but you could face not-so-nice fines for ignoring barricades or other road closure signs.
Avoid Wash Out: Road beds can quickly wash out under flood waters. Fact – it only takes 30.5 to 45.7 centimetres of flowing water to carry away most vehicles, including large SUVs! If flooding is taking place, move to higher ground FAST and leave typical flood areas such as ditches, ravines, high rivers and waterways. NEVER attempt to drive through flooded roadways.
Vehicle Stalled, Now What? If you are driving and your vehicle stalls, abandon it and move to higher ground. Watch your footing. Just 15.2 centimetres of fast-moving flood water can sweep a person off his or her feet!
Vehicle Safety Check: If your vehicle has encountered flood waters, it's always a good idea to test the brakes before driving. If your vehicle has stood in a flooded area for a prolonged period, contact your local insurance provider or dealer for further advice. If your vehicle has stood in a flood for a short period, drive with extreme caution and take the vehicle to be checked at the earliest opportunity.
Protect Yourself First: Your personal safety is the most important consideration in any flood event or disaster scenario. Cars and possessions can be replaced – you and your loved ones cannot!
Be Prepared: Take the time today to be ready for an emergency tomorrow. Make sure your car has an emergency kit and supplies which you can grab and go at a moment's notice. You just might be glad you did!
Did we miss anything? Share your flood smart tips on Twitter @DriveBC, or @TranBC and get the latest flood alerts and bulletins at @EmergencyInfoBC. Help us keep B.C. families safe at home and on the roads!
Share this page: