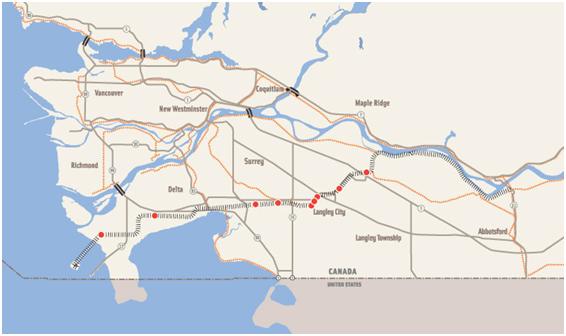 Road-rail crossings are never a welcome obstacle for drivers and passengers, even for most rail buffs. When we're eager to get moving but left idle watching a row of passing railcars roll by, it's easy to forget how important trains are for fuelling our economy.
So, where are these trains heading? Many of those travelling through the Lower Mainland pass through the Township of Langley, City of Langley, Surrey and Delta on their way to Deltaport. Demand for trade travel along the Roberts Bank Rail Corridor (RBRC) continues to grow as the area becomes an increasingly important hub for international trade.
The Roberts Bank Rail Corridor Program was developed in response to growth in trade related rail and truck traffic with the goal of easing impacts on local communities. Currently, the corridor has about 66 road-rail crossings and carries up to 18 trains per day. Over the next decade, the number of vehicles crossing rail tracks is expected to increase from 388,000 to 560,000 per day.
Luckily, there is a plan in motion to handle such a massive influx of traffic.
A unique collaboration of 12 public and private sector partners, including the Ministry of Transportation and Infrastructure, have teamed up on nine construction projects designed to send vehicles up, over and around many of the busiest train crossings along the corridor. For example, eight new vehicle overpasses will significantly reduce wait times and prevent clogged roads, and the improved flow will also make roads safer.
You may have already driven on some of these overpasses, Delta's 41B Street Overpass and a new 80th Street Overpass, also in Delta. Where is most of the action taking place along the corridor? In Langley, the Mufford/64th Avenue at Highway 10 project and the "combo project" in Surrey and Langley, consisting of three separate overpasses, is the program's largest centralized construction initiative.
Besides improving local traffic and safety, the improvements are designed to:
Provide clear paths for emergency vehicles;
Reduce idling vehicles, energy use and greenhouse gas emissions;
Reduce or eliminate noisy train whistles;
Enhance rail operation efficiency and safety;
Accommodate anticipated growth in trade-related traffic;
Increase the movement of goods through the province
So, the next time you see a passing train, imagine what it may contain and where it may be headed. With BC supplying all sorts of goods to Asia – from forest products to seafood – there's a good chance it may end up on the other side of the Pacific. Then again, you may not have much of a wait to sit and wonder about railcars at all, especially when cruising up, over or around them.
Share this page: