From Port Hardy on the northern tip of Vancouver Island to the extreme west coast conditions of Ucluelet and Tofino, you will find ocean, rain, rushing rivers, sunshine, dense rainforest, snow – even glaciers! The island has it all. Along with such a diverse landscape comes a broad range of road and maintenance issues. It's National Road Safety Week: let's take a closer look at the ways one of our maintenance contractors help to keep our highways safe for the motorists who travel on them.
As the ministry's maintenance contractor for two of the three service areas on Vancouver Island, Emcon Services deals with an incredible variety of challenges to keep island highways running safely and smoothly. Specializing in highway maintenance, paving, bridge construction and equipment hauling, they patrol and maintain roads across the island including: a portion of the Trans-Canada Highway 1, Highway 19A between Parksville and Campbell River as well as the Inland Island Highway.
Winter might be over, but when Old Man Winter hits the island, driving conditions here are among the toughest in the province because the snowfall is heavy and wet. This makes road maintenance challenging at the best of times. If you have visited our YouTube channel, you have probably seen our video "Say Hello to the Tow Plow", which now has almost a half a million views! This special piece of equipment is actually two plows in one and allows one truck and operator to do the equivalent of two passes in a single trip. This means winter roads are cleared twice as fast – a real bonus when you have a lot of ground to cover.
During the spring, when precipitation over Vancouver Island is not falling in the form of wet and heavy snow, it is probably falling as rain, rain and more rain – which means maintenance contractors here must also be specialists in flood response. In the fall of 2011, heavy rain flooded Highway 19 near Holberg, located at the northern tip of Vancouver Island and ultimately resulted in a mudslide which covered the road. Working around the clock to restore the highway, the contractor was able to reconnect local residents with the rest of Vancouver Island.
Snow and rain take their toll on pavement, making the resurfacing and repair of island highways a real priority. This includes the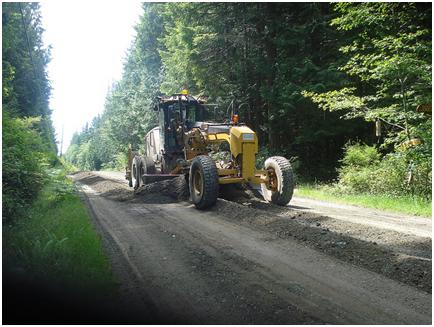 roadways of some of the Gulf Islands, such as Denman, Hornby, Quadra, Gabriola, Lasqueti and Cortez.
So if you live on Vancouver Island, or you are visiting and see a maintenance contractor hard at work on those island roads, say hello!