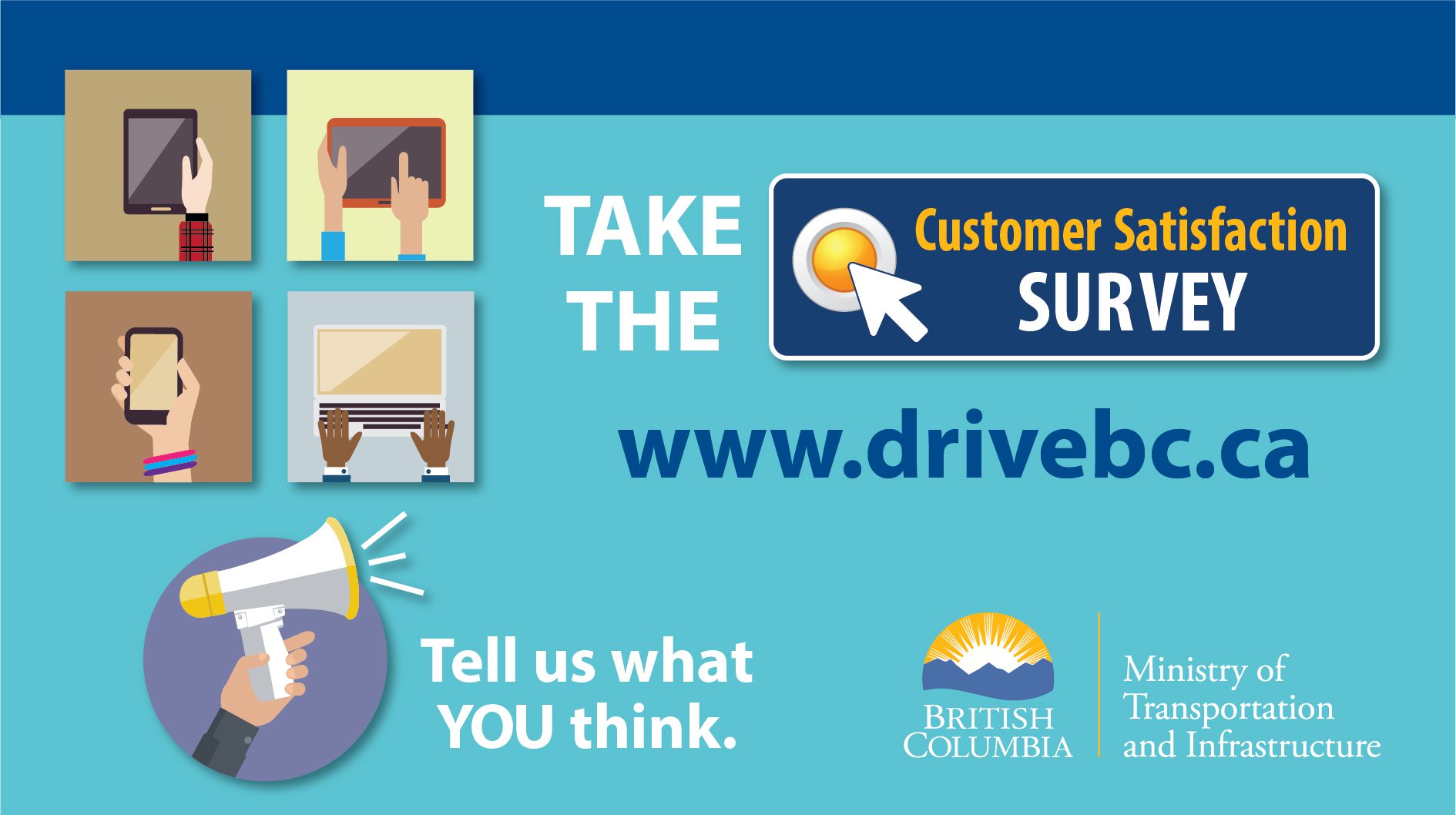 **THE CUSTOMER SATISFACTION SURVEY IS NOW CLOSED**
We'd like you to tell us how to make transportation better, by taking our BC Transportation Survey  The survey helps us know what areas to focus on to make road travel in BC better, and how we can continue to provide helpful customer service.
Customer service is a major part of what we do at the BC Ministry of Transportation and Infrastructure. From maintaining highways, to handling development permits, to building major highway improvements, our goal is to provide the best service we can. Of course, there's always room for improvement. That's why we're asking you to take our 17th annual Customer Satisfaction Survey, between July 5 and Aug. 31, 2021. NOTE: THE SURVEY HAS BEEN EXTENDED TO SEPT. 30, 2021. 
This year, we have some new questions we'd like to hear back from you on. We want you to tell us about your experiences and thoughts on winter highway maintenance, active transportation, CVSE and Passenger Transportation Branch priorities, and COVID-19 travel information. We removed a few questions from the survey offered previously, so completing this year's should take roughly the same time – about 10 minutes.
Past Participation
In 2019, we received more than 7,330 responses from folks across the province, including 773 people who were interviewed face-to-face by our employees. We learned a lot about what matters to you, including:
Highway signage and line markings
Cycling infrastructure
Commercial vehicle safety and enforcement
Traffic management
Rest areas
DriveBC webcams… and more
This year's Customer Satisfaction Survey builds on our past surveys and includes opportunities for you to provide feedback on any customer service interactions with the BC Ministry of Transportation and Infrastructure, in the last 12 months. As in previous years, there are open comment sections for you to share more detailed thoughts. Your input provides a wealth of information that helps us set priorities moving forward and make transportation better.
This is the 17th year we've asked the public to complete the survey. Last year – 2020 – was the first time we didn't offer the annual Customer Satisfaction Survey. This was due to the demands and uncertainty of the COVID-19 pandemic, and this year the survey will be available online only. We'll miss talking with you face-to-face on your travels, but with physical distancing recommendations, we need everyone to stay safe.
Share the Survey!
We're sending the survey directly to stakeholders and others that we have worked with over the past year, so you might receive an email invitation to complete the survey. Or, take the BC Transportation Survey online now – it's open to everybody. Feel free too, to encourage others to take the survey.
Help us focus our efforts on what matters most to you as you travel in BC. What do we need to improve on? What are we doing right? Tell us what you think.
Share this page: